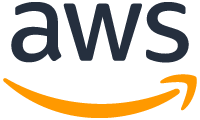 Fully Managed MongoDB on Amazon Web Services
Set up, scale, and operate MongoDB across AWS with just a few clicks.
MongoDB Atlas is the best way to deploy, manage, and grow MongoDB on AWS.
Atlas allows you to focus on your applications by taking care of tedious administration tasks such as provisioning, patching, upgrades, and backup. As the only MongoDB service built and maintained by the team that engineers the database, Atlas incorporates learnings and best practices developed from optimizing thousands of deployments — both massive and small — across startups and the Fortune 100.
Secure by default
Authentication, network isolation with VPCs, VPC peering, encryption, and role-based access controls help keep your data protected.
Fully automated operations
Deploy new clusters in minutes or modify existing deployments with zero downtime. Independently and elastically scale storage and memory at any time.
Point-in-time data recovery
Easily restore to any point in time with MongoDB Atlas's fully managed backup solution. Query snapshots and get back the data you need in a matter of minutes.
Always on and globally distributed
Take advantage of fault-tolerant, self-healing deployments backed by an uptime SLA, and Global Clusters, which allow you to geographically distribute your data to deliver low-latency reads and writes anywhere your users are.
Simple & transparent pricing
Straightforward hourly pricing ensures that you only pay for the resources you need. There is no lock-in, upfront costs, or termination fees. You can cancel at any time.
Real-time monitoring & optimization
View optimized dashboards that highlight key historical metrics, see performance in real-time, customize alerts, and receive automated recommendations to help optimize your deployment.
MongoDB Atlas integrates with AWS services you use
MongoDB Atlas is available in an AWS region near you
Americas
US East
N. Virginia, Ohio
US West
N. California, Oregon
Canada
Central
South America
São Paulo
EMEA
Europe
Dublin, London, Frankfurt, Paris
Asia
Asia Pacific
Singapore, Sydney, Tokyo, Seoul, Mumbai
Simple and straightforward pricing
Pay only for the resources you need. There are no upfront costs and you can cancel at any time with no termination fees. Customize your own cluster for as low as $9/month.
No additional options for this cluster
No download necessary, deploy a free cluster now