What is an example of a data model?
Imagine a scenario where you are building an application for the users of a library. How will you model this database?
Gather requirements
First, you will speak with the business analysts to understand the entities that need to be part of your system. You'll likely find out that the following entities must be included:
Books: The library has millions of books, and they all have a unique ISBN. The users will also need to search books by title or by author.
Users: This library has thousands of users and each user has a name and address. The library will also assign each user a unique number found on their library card.
Understand entity relationships
Understanding how these data entities (e.g., book ISBNs, user names) will interact with each other is also key. These interactions will comprise the relationships in your model.
Interaction example:
Users borrow books: The library will need to know which books have been borrowed by which user. Each user is entitled to five borrowed books at a time.
These business rules enable organization of the information needed to build the conceptual model as you now understand the data necessary to build the first software iteration.

Organize the necessary data and show the main entities
Identify the data structure
It's now time to create a logical data model. As part of this modeling step, you might realize that some data structures are more complex and require new entities. For example, the author names may be better represented as their own entities in order to enable searching for books by author.
(Note: To simplify the example, assume that there is a single author per book.)
After considering the addition of new or modified entities, relationships between various data model objects will also begin to emerge. Consider the logical data model illustration below.

Showing the relationship between authors, books, and users.
Apply design patterns
Now you're ready to choose your DBMS and build your physical data model. At this point, thinking in terms of the type of database chosen will determine how the data is stored. For example, if using a document database, such as MongoDB, you'll model relationships using embedding or document references. As you establish the relationships between various objects, you'll also find the IDs and unique values representing your items.
Returning to our library example in the following diagram, you can see that "author" was embedded in the "books." This will make it easier to create indexes, enabling the full-text search capabilities of MongoDB Atlas Search. The books borrowed are listed as an array in the user document because this information will generally be retrieved all at once on the application's main page.
However, a different use case with the same library data might have called for a different physical data model. The ISBN and CardNum fields are unique for the documents and could be used as the ID field. They could also be used as a sharding key if there is a need to scale to multiple clusters.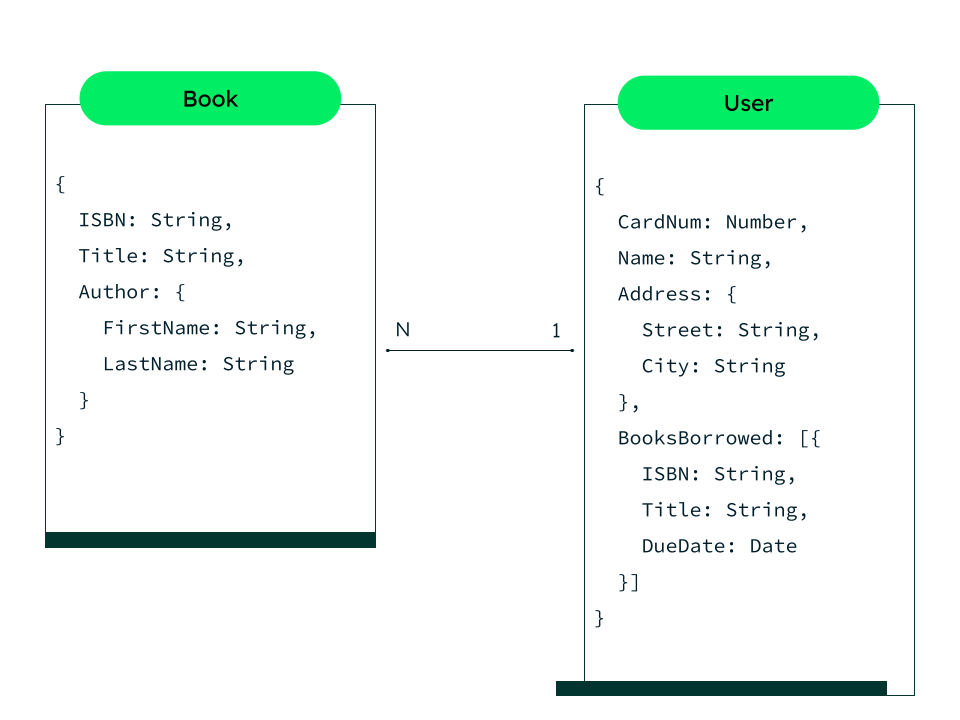 Physical data model representation for a document database
If you decide to go with a traditional relational database, the physical data model will look very different. In this example, the authors and books tables are linked through a one-to-many relationship. The authorId field is the primary key in the authors table, and the authorId field is the foreign key in the books table. A joint table is added to keep track of the borrowed books along with the due dates.

Physical model representing relational database
Remember, just as selecting the right pattern is an important step in data modeling, it's also critical to avoid schema design anti-patterns. To learn more, read MongoDB's A Summary of Schema Design Anti-Patterns and How to Spot Them.
Through the progression of the data modeling steps in this example, an entire database model that describes how to store entities and address relationships among them has been created. These steps have also provided insights into keys and indexes as well.