Building with Patterns: A Summary
As we wrap up the Building with Patterns series, it's a good opportunity to recap the problems the patterns that have been covered solve and highlight some of the benefits and trade-offs each pattern has. The most frequent question that is asked about schema design patterns, is "I'm designing an application to do X, how do I model the data?" As we hope you have discovered over the course of this blog series, there are a lot of things to take into consideration to answer that. However, we've included a Sample Use Case chart that we've found helpful to at least provide some initial guidance on data modeling patterns for generic use cases.
Sample Use Cases
The chart below is a guideline for what we've found after years of experience working with our customers of what schema design patterns are used in a variety of applications. This is not a "set in stone" set of rules about which design pattern can be used for a particular type of application. Ensure you look at the ones that are frequently used in your use case. However, don't discard the other ones, they may still apply. How you design your application's data schema is very dependent on your data access patterns.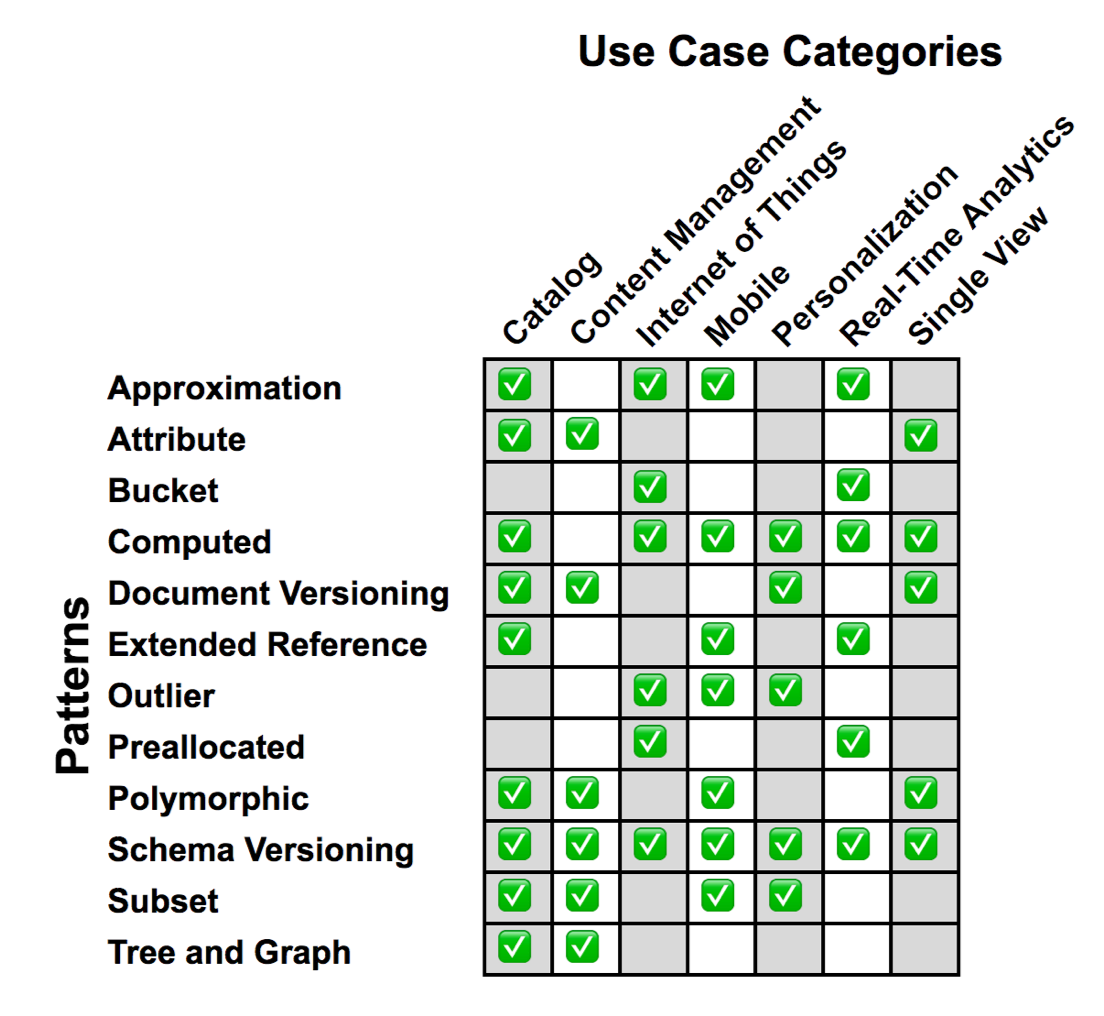 Design Pattern Summaries
Conclusion
As we hope you have seen in this series, the MongoDB document model provides a lot of flexibility in how you model data. That flexibility is incredibly powerful but that power needs to be harnessed in terms of your application's data access patterns. Remember that schema design in MongoDB has a tremendous impact on the performance of your application. We've found that performance issues can frequently be traced to poor schema design.
Keep in mind that to further enhance the power of the document model, these schema design patterns can be used together, when and if it makes sense. For example, Schema Versioning can be used in conjunction with any of the other patterns as your application evolves. With the twelve schema design patterns that have been covered, you have the tools and knowledge needed to harness the power of the document model's flexibility.