How does an in-memory database work?
An in-memory database works in a very similar way as any other database, but the data is kept in RAM rather than on a traditional disk. Replacing the disk access with memory operations highly reduces the latency required to access data.
Using RAM as a storage medium comes with a price. If a server failure occurs, all data will be lost. As a way to prevent this, replica sets can be created in modern databases such as MongoDB with a mix of in-memory engines and traditional on-disk storage. This replica set ensures that some of the members of the cluster are persisting data.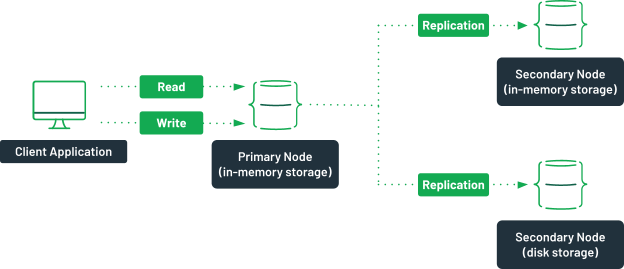 A replica set with both in-memory and traditional storage.
In this scenario, possible with MongoDB Enterprise Advanced, the primary node of the replica set uses an in-memory storage engine. It has two other nodes, one of which uses an in-memory storage, the other one using the WiredTiger engine. The secondary node using the disk storage is configured as a hidden member.
In case of a failure, the secondary in-memory server would become the primary and still provide quick access to the data. Once the failing server comes back up, it would sync with the server using the WiredTiger engine, and no data would be lost.
Many in-memory database offerings nowadays offer in-memory performance with persistence. They typically use a configuration similar to this one.
Similar setups can be done with sharded clusters when using MongoDB Enterprise Advanced.