Healthcare Compliance Platform Enables Hospitals to Achieve Significant Savings in Drug Discounts
MongoDB Delivers Performance, Scale and Functionality to Help Verity Solutions Drive Competitive Advantage with Data-intensive Application
Verity Solutions is driven to help healthcare organizations save money so they can extend care to those who need it most. Their technology enables hospitals to maintain compliance and maximize cost savings related to the healthcare industry law known as 340B. Enacted in 1992, 340B provides hospitals with economic relief from the financial burden of servicing indigent, under-insured, or uninsured patients.
The Verity 340BTM platform built on MongoDB ingests data from a variety of hospital systems, including prescription, patient health, admission, discharge and drug provisioning data. It then matches that data against internal hospital dispensaries and third-party pharmacies to determine which prescriptions are eligible for discount. In turn, qualifying hospitals can take advantage of significant discounts off average wholesale drug prices. One hospital using Verity is able to provide millions in indigent care due to savings achieved through use of Verity's product.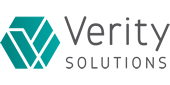 When a pharmacy needs to replenish inventory, getting medications on the shelf is of utmost importance. The MongoDB-powered Verity platform delivers the operational reliability and availability to ensure hospitals can quickly restock prescriptions, all while avoiding non-compliance penalties and optimizing savings on qualified transactions.
MongoDB gives us a competitive edge for our data-intensive application," said Mark Cassidy, CTO, Verity Solutions. "We consistently hear from hospitals that tasks that require up to ten minutes to complete on competitive solutions are performed in mere seconds on our MongoDB-powered platform.
MongoDB fit Verity's requirements for scale, performance and operational efficacy. Developers are able to be more productive throughout the lifecycle with MongoDB's document model that makes schema changes effortless, while ongoing administration, management and scaling operations have proven to be easy and efficient. MongoDB Cloud Manager, which provides comprehensive performance visibility and monitoring, also simplifies how Verity performs snapshot backups.
MongoDB will also enable Verity to store all customer data in a single database in order to create benchmarks across hundreds of hospitals. With no standard reference currently available, this will be one of the first time hospitals have insight into how they compare with the rest of the industry on drug spend. If a hospital's non-discounted drug spend is higher than others in a similar cohort, for example, the new insight provided by Verity will help the hospital identify new opportunities for cost savings. At the same time, if a hospital is doing well with their savings rate, Directors of Pharmacy gain concrete ROI data to share with the CFO. Leveraging this data across their entire customer base translates to competitive advantage for Verity.
The more we can leverage the data assets we have, the more types of data we can ingest and apply various types of analytics that can be offered back to our customers," said Cassidy. "With MongoDB, we have access to a wider scope of data that enables us to build new applications we may not have thought about in the past.
Try MongoDB Enterprise Advanced