What is big data?
Data that is huge in Volume (size), Variety, and Velocity (speed) is known as big data. In this article, we will explore what big data is and how it's transforming businesses to help them increase revenue and improve their business strategies and processes.
Picture this: You watch a video on YouTube, like it, and share it with a few friends. You then purchase groceries and medicine online, and search for cool places to vacation. You open Netflix and watch your favorite web series. You pay your parents' phone and electricity bills, and update their details on a health portal to apply for insurance. A friend calls you up to like their content on Instagram, so you log into your account and post comments on a few of their photos.
Then, you book your flight to your parents' place for next weekend.
With all these transactions, you keep generating data and sharing personal information about yourself and people you are related to—your parents, your friends, your favorite series, your favorite travel destinations, and more.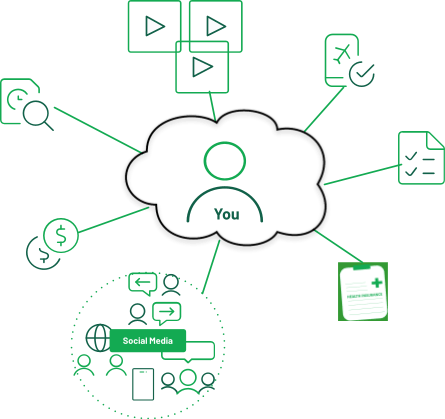 As you keep transacting in various ways, the magnitude and variety of data grows at a very fast rate. And that's just your data! Imagine the amount of data each of the 4.66 billion active internet users worldwide produces daily! You can generate data in various ways—from the fitness app that you use, doctor visits you schedule, or videos you watch, to the Instagram posts you like, grocery purchases you make online, games you play, vacations you book—and every transaction that you make (or cancel) generates data. More often than not, that data is analyzed by businesses to better understand their users and present them with customized content.
Big data is used in almost all major industries to streamline operations and reduce overall costs.
For example, big data in healthcare is becoming increasingly important—early detection of diseases, discovery of new drugs, and customized treatment plans for patients are all examples of big data applications in healthcare.
It's a complex and massive undertaking to capture and analyze so much data (for example, data about thousands of patients). To perform big data analytics, data scientists require big data tools, as traditional tools and databases are not sufficient.