South America gets MongoDB Atlas Free Tier
English
We're excited to announce that we're adding GCP São Paulo to the regions where you can try MongoDB Atlas for free. We know from the number of Atlas registrations we see from Brazil that there are a lot of developers who want to use MongoDB's approach to data for modern applications. With this new region, we're making that experience even better.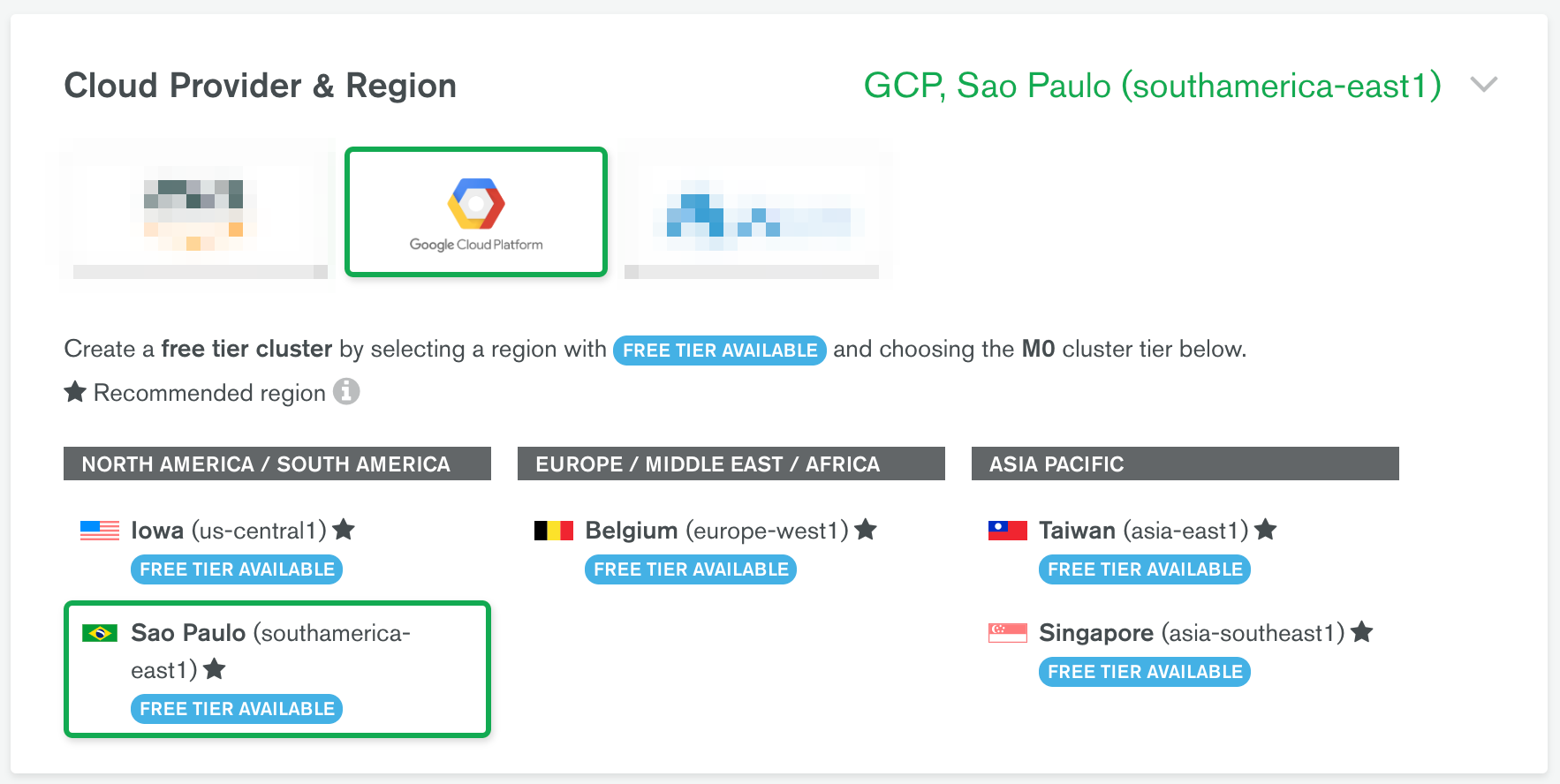 Across South America, you can now deploy a free M0 cluster with 512MB of storage and use a range of Atlas services with low latency connections. To get an idea of how much faster it is, when Google opened the GCP São Paulo region they reported 80-95% reductions in round trip time across Chile, Argentina and Brazil compared to using US regions from those countries. You can also try our M2 or M5 tiers, which offer more storage and start at $9/month.
With these new options available at your fingertips, you'll be able to experience and learn MongoDB more smoothly than ever before. Enhance your learning with free MongoDB University courses now available with English transcripts covering all aspects of MongoDB. Find out how to be more agile with your data, more flexible with your schema and more ready for change as you evolve your applications.
And when you're ready to grow your business, you can move up to the paid tiers already available on GCP São Paulo and beyond to Global Clusters when you're ready to span the world. Atlas now accepts payments with PayPal in addition to major credit cards, making it just a few clicks away from becoming your production database of choice. The journey starts with your first MongoDB Atlas Free Tier M0 Cluster: Sign up for one in São Paulo today.
---
Portuguese
Estamos felizes em anunciar que estamos adicionando a região Google Cloud São Paulo para você testar MongoDB Atlas de graça. Há muitos desenvolvedores que querem usar a abordagem da MongoDB de dados para aplicativos modernos no Brasil ecom esta nova região, estamos tornando essa experiência ainda melhor.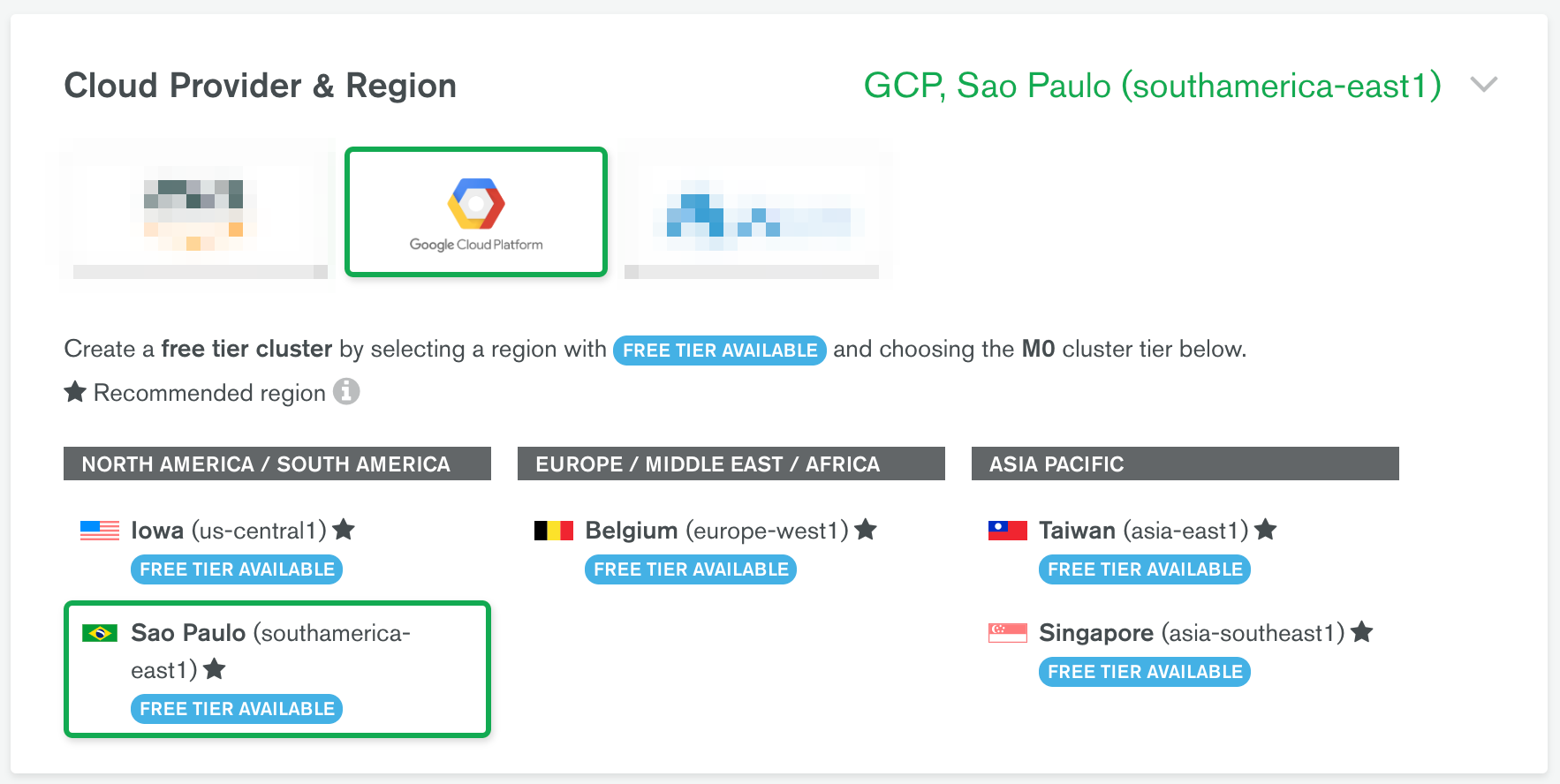 Em toda a América do Sul, agora você pode implantar um cluster M0 gratuito com 512MB de armazenamento e usar uma variedade de serviços Atlas com conexões de baixa latência. Para se ter uma idéia de quanto mais rápido é, quando o Google abriu a região GCP São Paulo eles relataram reduções de 80-95% no tempo de ida e volta (round-trip-time) em todo o Chile, Argentina e Brasil em comparação com o uso de regiões dos EUA desses países. Você também pode experimentar nossos níveis M2 ou M5, que oferecem mais armazenamento e começam em US$ 9/mês.
Com estas novas opções disponíveis ao seu alcance, poderá experimentar e aprender o MongoDB mais facilmente do que nunca. Melhore a sua aprendizagem com cursos gratuitos da Universidade MongoDB agora disponíveis com transcrições em inglês cobrindo todos os aspectos do MongoDB. Saiba como ser mais ágil com seus dados, mais flexível com seu esquema e mais pronto para a mudança à medida que você evolui suas aplicações.
E quando você estiver pronto para expandir seu negócio, você pode passar para os níveis pagos já disponíveis no GCP São Paulo e para os Clusters Globais quando estiver pronto para se estender pelo mundo. Atlas agora aceita pagamentos com o PayPal, além de grandes cartões de crédito, estando apenas a alguns cliques de distância de se tornar seu banco de dados de produção. A jornada começa com seu primeiro Cluster MongoDB Atlas: Inscreva-se gratuitamente para um em São Paulo hoje.