MongoDB Atlas Arrives in Italy | MongoDB Atlas Arriva in Italia
We're delighted to announce our first foray into Italy with the launch of MongoDB Atlas on the AWS Europe (Milan) region. MongoDB Atlas is now available in 20 AWS regions around the world, including 6 European regions.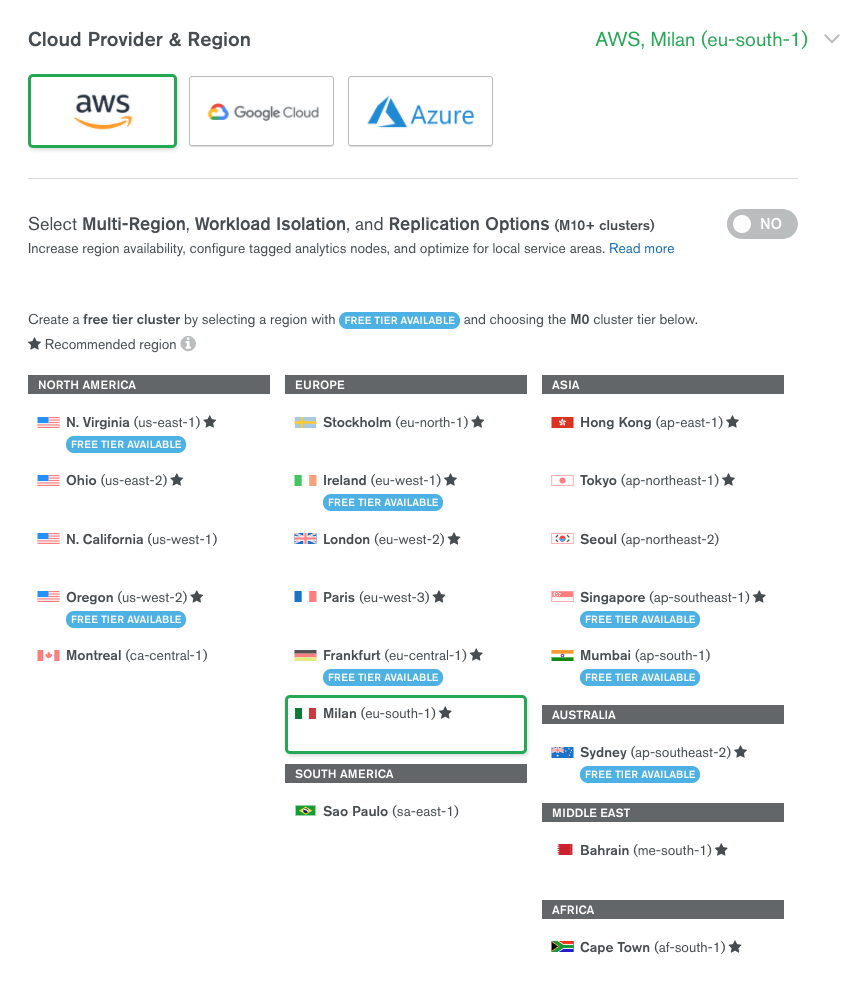 Milan is a Recommended Region, meaning it has three Availability Zones (AZ). When you deploy a cluster in Milan, Atlas automatically distributes replicas to the different AZs for higher availability — if there's an outage in one zone, the Atlas cluster will automatically fail over to keep running in the other two. And you can also deploy multi-region clusters with the same automatic failover built-in.
We're excited that, like customers in France, Germany, the UK, and more, Italian organizations will now be able to keep data in-country, delivering low-latency performance and ensuring confidence in data locality. We're confident our Italian customers in government, financial services, and utilities in particular will appreciate this capability as they build tools to improve citizens' lives and better serve their local users.
In Italian, courtesy of Dominic:
Siamo lieti di annunciare la nostra espansione in Italia rendendo disponibile MongoDB Atlas nella regione AWS Europa (Milano). MongoDB Atlas è ora disponibile in 20 regioni AWS nel mondo, comprese 6 regioni europee.
Milano è una Recommended Region; questo significa che ha tre Availability Zones (AZ). Quando viene creato un cluster a Milano, Atlas distribuisce automaticamente le repliche sulle diverse AZ per aumentare la disponibilità e l'affidabilità — nel caso in cui avvenga un disservizio in una zona, il cluster Atlas utilizzerà la funzionalità di failover per restare in esecuzione sulle altre due. Eventualmente è anche possibile creare cluster multi-region che incorporano la stessa logica di failover automatico.
Siamo felici che anche le realtà italiane possano scegliere, come i nostri clienti in Francia, Germania, UK, ed altrove, di mantenere i propri dati all'interno dei confini nazionali, dando risposte a bassa latenza ai propri utenti ed assicurando loro la fiducia nella localizzazione fisica dei dati. Siamo sicuri che i nostri clienti in Italia, in particolare nel settore pubblico, nei servizi finanziari, e nelle utilities, apprezzeranno queste nuove possibilità per la creazione di nuovi strumenti per migliorare la vita dei cittadini e servire meglio i loro utenti in Italia.