Time series data examples
Time series data can be found in a variety of industries — from financial markets to sports to climate change. Let's see some examples of time series data and time series analysis as advanced techniques of forecasting methods.
Financial time series data
Time series data is essential to financial markets and stock market analysis. The market is a system with complex behavior, and forecasting and collecting data from it can be a hard task. Various models and algorithms can be used to forecast such systems and conduct trend analysis — a linear model, non-linear, neural networks, etc.
Stock prices change over time. The price can be recorded over time. The recorded time series data can be analyzed to find trends and predict future activity. The following chart visualizes time series data of the closing price of a stock.
The x-axis is the week of the year, and the y-axis is the average closing price of the stock for that week. The time series data source is a collection of documents, each document representing the stock price on a given day.
Using statistics to forecast stock prices
Financial data and stock prices are analyzed and forecasted with statistics called indicators. Common technical time series analysis indicators include the relative strength index (RSI) and the moving average convergence-divergence indicator (MACD). We'll talk more about the moving average in a minute.
You can easily calculate and visualize RSI, MACD, and other indicators using window functions. Window functions perform operations on a span of documents in the collection (a "window").
For example, you can get the first three observations in the same time period and calculate their average. Then, you calculate the average of the second, third, and fourth observations.
After repeating the process for all observations in the period, you're going to have a list of averages, also known as a moving average model. Moving average is another financial indicator used for "smoothing out" price data (also called the exponential smoothing technique).
To learn more about calculating indicators with the help of window functions, check out the blog post series on Currency Analysis with Time Series Collections.
Sports time series data
Sports are another great source of time series data and time series analysis. For example, the number of people attending a sports game can be recorded over time. The recorded time series data can be analyzed to find trends and correlate with other data.
But there's one sport where the scientific and objective time series analysis of the game is so important that it has its own name. Sabermetrics is the analytical time series analysis of the game of baseball.
In the critically-acclaimed Hollywood film Moneyball, the Oakland Athletics baseball team uses sophisticated sabermetrics models for scouting and analyzing baseball players. The film showcases the importance of collecting data and time series analysis for modern sports teams.
Visualizing attendees per game
Sabermetrics and scouting sports talent are broad topics that are quite beyond the scope of this article. Instead, let's take a look at a much simpler example. Coincidentally, we'll be looking at data points recorded from the Oakland Athletics' rival in the Bay Bridge Series — the San Francisco Giants. The following chart visualizes the time series analysis of attendees per game. We can observe that the number of attendees is increasing over time.
Time series data is widely collected and analyzed in the sports world — for marketing, sports betting, team performance, and more.
Climate change time series data
Climate change is a big topic in the world. The earth's climate is changing over time and has been tremendously accelerating, and time series analysis can help to examine the impact. The risks can be assessed and predicted based on recorded weather data. The recorded data can be analyzed to find trends, and correlate with other data from various time intervals.
The following line chart visualizes the CO2 emission rate of the Earth's atmosphere over the past 60 years.
Univariate vs. multivariate time series data
Univariate time series data follows a single target variable over time. For example, the closing price of a stock is a univariate time series data where the price is the variable. In this case, time series data analysis looks at this one independent variable over time to identify trends or patterns.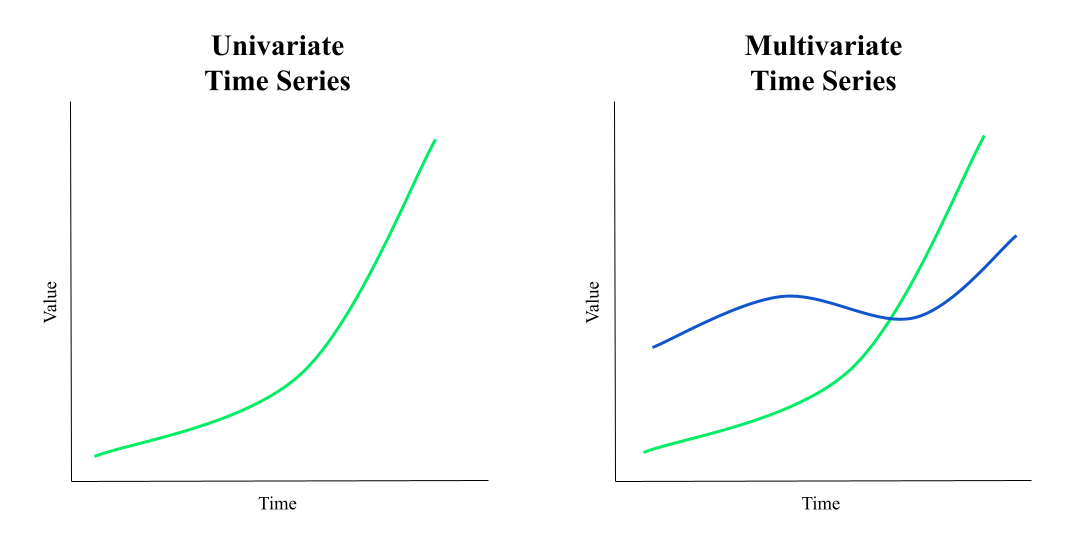 Multivariate time series data is a collection of observed variables (cross sectional data) that are related to each other. For example, the time series collection of the current weather may be multivariate time series data where the pooled historical data variables are temperature, humidity, wind speed, etc.
The cross sectional data variables are not only related to their previous values, but also to one another. This dependency should be considered when forecasting future trends and values.