Architecture
Elasticsearch: A Bolt On approach
If a database's internal search features are not adequate to satisfy the desired user experience, then another option is to bolt on a dedicated search engine, such as Elasticsearch, alongside the database.
This provides the search features demanded by customers, but it does so while imposing additional constraints on developers and ops teams while driving up data duplication and technology sprawl.
A bolt-on specialized search engine alongside your database mandates synchronizing data between the two systems. While users get the rich search experience they expect, this comes at a significant cost. The application stack gets more complex and unwieldy. All of this translates to reduced developer velocity, compromised customer experience, and escalating costs.
How search works with a bolt-on solution: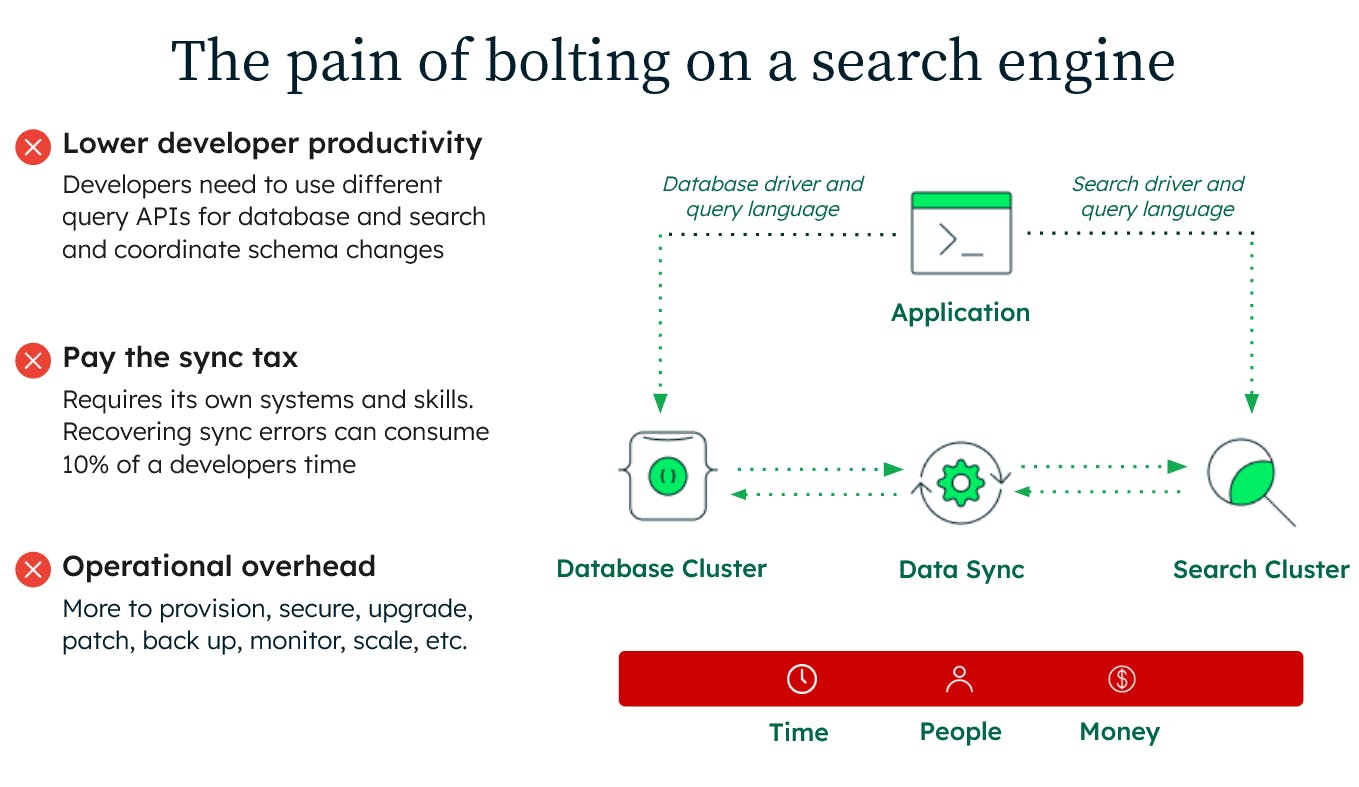 Synchronization Overhead
To surface relevant and up-to-date search results, the database and search engine need to be kept synchronized, duplicating data between systems.
This means engineering teams need to create a synchronization mechanism that replicates data from the database to the search engine. Typically they will create a data pipeline with custom filtering and transformation logic built on top of messaging systems such as Apache Kafka, or using packaged connectors from specialized providers. Whether building or buying, the process takes time and adds ongoing costs. The synchronization mechanism also has to be deployed onto its own nodes, creating additional hardware sprawl.
Once the synchronization mechanism has been deployed, it needs to be monitored and managed, adding more engineering overhead.
It is important that replication to the search engine keeps pace with database writes so that search results do not excessively lag the database and break application SLAs. Monitoring the replication process is necessary to identify and remediate synchronization issues. This becomes especially complex if the search index falls so far behind the database that it has to be resynced from scratch, causing potential application downtime. It is not uncommon to find that 10% of engineering cycles are lost to manually recovering synchronization failures.
New application features that necessitate changes to the database's schema often need both the synchronization logic and the search engine schema to also be updated at the same time. This creates more dependencies that slow down the pace of rolling new features to production.