What does the cloud landscape in Austria look like and what are the major trends we see in the market? We discuss these and more questions in this interview with Gustavo Loewe, Area Vice President at MongoDB, and Barnabas Poeltl, Senior Enterprise Account Executive at MongoDB.
In the conversation, we cover the trends in the world of data in Austria this year and the importance of putting developers first when it comes to modern software development.
In this context, we also talk about the process of digital transformation, modernizing legacy systems and reducing the cost of complex IT architectures.
Lastly, we touch on the move to the cloud – or going multi-cloud. According to the 2021 Cloud Monitor Study by KPMG, 54% of Austrian enterprise companies use multi-cloud computing, and 44% use multi-cloud strategies to increase redundancy and avoid cloud outages. Apart from this, a multi-cloud strategy allows companies to avoid vendor lock-in.
However, there are also common concerns and challenges when moving to the cloud, such as balancing development speed vs. risk, and finding the right way to monitor and manage risks.
If you would like to know more about how you can move your data to the cloud with MongoDB Atlas and reduce the cost of your IT infrastructure by moving to a single developer data platform, reach out to us and talk to one of our experts today: https://www.mongodb.com/contact.
In the Interview: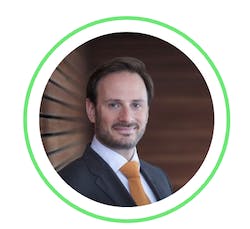 Gustavo Loewe, Enterprise Area Vice President, Central and Eastern Europe, MongoDB
Zurich, Switzerland
Barnabas Poeltl, Senior Enterprise Account Executive, MongoDB
Vienna, Austria