What This Year's MongoDB World Diversity Initiatives Mean for the Future of Tech
While there's no question that the murky—if not absent—history of diversity has long been a problem in the tech world, many companies and organizations are now quietly revolutionizing the industry image, working to create more visibility and opportunity for the underrepresented voices of the community.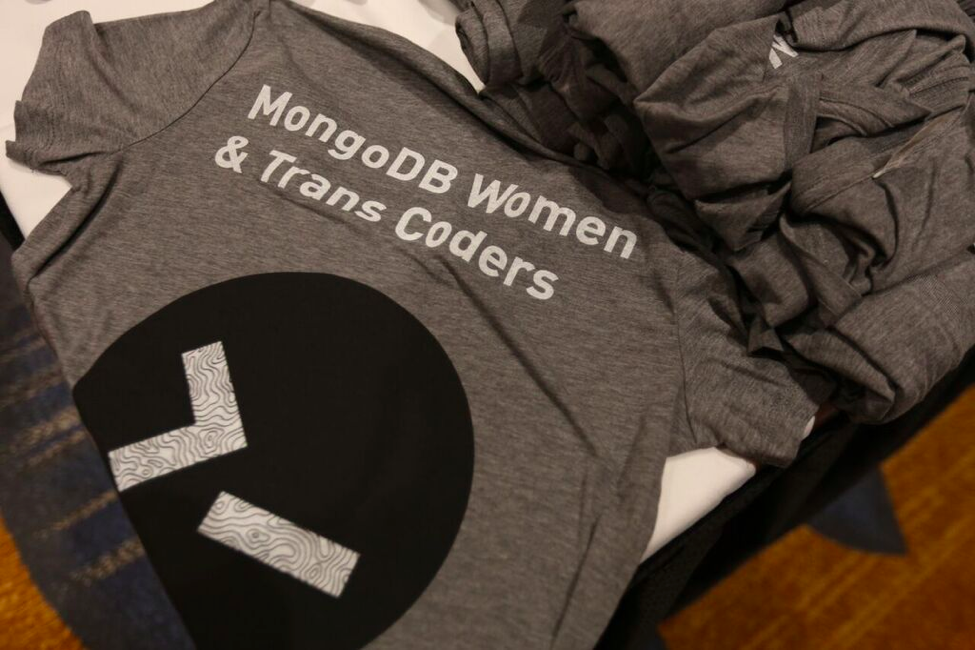 Since 1994, the Anita Borg Institute for Women and Technology, partnered with the Association for Computing Machinery, has been hosting the Grace Hopper Celebration of Women in Computing (GHC), a conference that brings together the community of women technologists and, as its name denotes, celebrates their contributions to the field.
In the last five years alone, the industry witnessed a new wave of diversity forces, with conferences and organizations like Tech Inclusion, TransHack, Black Girls Code, Trans Tech Social, and Free Code Camp not merely providing necessary recognition and education to those frequently shunted aside in tech, but stripping away the old boys' club image of the community to give way to something more innovative and imperative.
At MongoDB, diversity is still a challenge. But like others in our field, we're working to implement the critical change we believe vital for future generations of tech. At this year's World, we were excited to announce two new diversity initiatives: our Scholarship program, which provided support to often marginalized groups in tech, including people who identify as women, Black, Latinx, LGBTQ+, low-income, and people with disabilities who may not have otherwise had the opportunity to attend MongoDB events; and our Innovators program, which invited some of the leading women in the industry to participate alongside the Diversity Scholars in various sessions throughout the conference.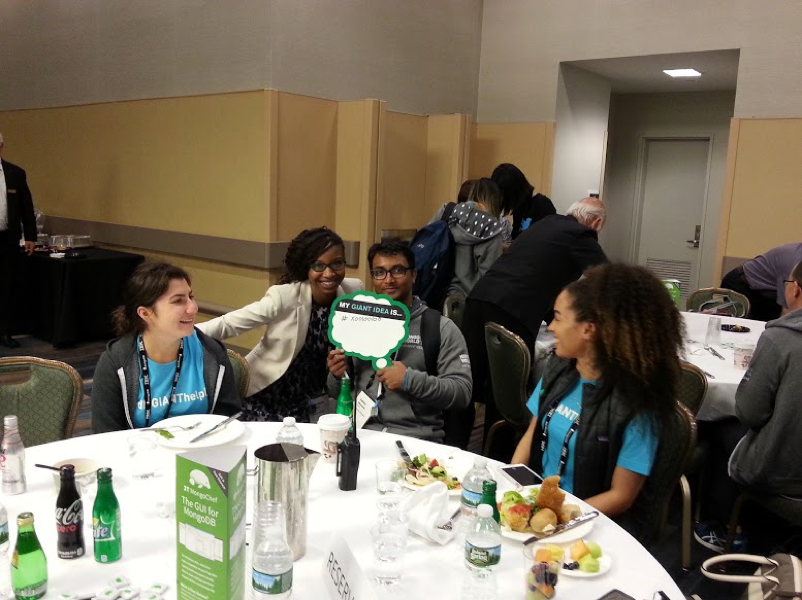 *MongoDB's Sam Auerbach and Danielle James with Innovator and Scholarship recipients*
Stressing the importance of implementing these two separate programs, MongoDB's Marketing and Events Specialist—and leader of diversity initiatives at MongoDB World—Danielle James explained,
There is a big emphasis on increasing gender diversity in technology, something we seek to address through the Innovators program, but there is [also] a much starker ethnic/racial divide in technology that tends to receive less attention than gender stats. Increasing this type of diversity is equally important, and is the reason I created the Scholarship.
This year, we welcomed nine Scholarship recipients and over 50 Innovators. All received complimentary admission to the conference, and Scholars were offered the additional opportunity to attend a free pre-conference of their choice and were given a MongoDB certification voucher and three-month access to paid MongoDB University courses.
Thanks to these attendees, we were able to not only learn from key members of the community, but provide them with their own space to talk tech and industry experience. This space, the Women and Trans Coders Lounge (run by our Women and Trans Coders group here at MongoDB), acted as a networking and programming hub throughout World—and a refreshing escape.
*Conference attendees at lunch in the Women and Trans Coders Lounge*
At a conference like World where it's not unusual to get swept up in the ebb and flow of men, typically white men, migrating to and from various sessions, I found it inspiring to enter the Lounge, where new voices were given a platform and creative energy a place to flow. When I asked some of the people attending the Lounge's Day 2 Techtonic Plates Lunch—one of two events offering technical talks by members of MongoDB, Google, and more—if they felt like the space was too niche, a measure to check off the "diversity box," the answer was wholeheartedly no. "Absolutely not," said one coder, before launching into a debate with her neighbor, MongoDB Lead Product Manager Asya Kamsky, about an idea for a new application. "When you are part of a minority," said Scholar Lina Lora, "you have to be prepared for two challenges: overcoming stereotypes and finding opportunities. The first can be done with time, by proving hard work and improving your skills. But finding opportunities needs networking, interacting, and explaining what you've done and what you are good at, and looking for chances out there."
Building on this networking emphasis, fellow Scholar Krystal Flores added, "The Techtonic Plates Lunch planted small seeds; as more conferences continue to hold relationship-building sessions like those of MongoDB, leaders from underrepresented groups will find each other. They will bond and create support networks that will be catalysts for the next generation of coders."
Of course, from here, we can only further our initiatives. While World was certainly a step in the right direction, our efforts towards building a more diverse community still need strengthening. As Scholar Mwai Karimi noted, "Being a vehement advocate for women, I was particularly impressed and challenged by the ladies I met at the Women and Trans Coders Lounge. … The message was clear, that you can't avoid this group of people. It's an unstoppable force. I only wished that [the] influential people who spoke in the different sessions were present during the lunch. We can't talk about having diversity in companies and just put diverse people in one place alone without some of these guys."
And just as it's not enough to group the underrepresented members of tech together without broader integration, it's not enough to limit their voices to a lounge, a lunch, or even a conference. Says Flores, "Industry leaders, do you want more diversity in your companies? … Find the most able, engaging leaders. Encourage their successes. Let them shine. When young black boys or young Latinas or any other child see older versions of themselves professing the power of databases or any specific coding language, perhaps then the children, the future, will be galvanized into action. The numbers can be changed."
As we move forward from this year's World, we are continuing to develop programs to grow diversity at MongoDB. We will be kickstarting MongoDB Europe's Scholarship program later this month, and are always looking for ways to expand the reach of our internal groups, Women and Trans Coders, MongoDB Women's Group, and MongoDB Queeries Group. Since June, we have also been excited to support Girls Who Code by offering those who download MongoDB an opportunity to donate to the nonprofit. For more information on how you can help, click below:
Get involved
*About the Author - Eloise Giegerich*
Eloise recently joined MongoDB as a Product Marketing Coordinator. She graduated from Barnard College with a B.A. in English and a concentration in Film, and when she's not in the office, works as a freelance editor for Boston's NPR News Station.