The Top 5 Data Trends Driving Competitive Advantage Today… — and Tomorrow
The latest market research from Cloudflight, a leading analyst firm based in Europe, identified 12 major technology trends for the current year. The trends found a radical shift in cloud adoption and an acceleration toward digital as people, society, the economy, and the environment all responded to the coronavirus pandemic.
During a recent webinar, Dr. Stefan Ried (Cloudflight) and Mat Keep (MongoDB) shared key industry insights and explored in detail five of the most prevalent trends. The session found that, as the need for technological innovation grows, a company's competitive advantage is increasingly tied to how well it can build software around its most important asset: data.
In this post, Dr. Stefan Ried breaks down those five key trends and analyzes how businesses can drive data innovation to stay ahead of the field. Mat Keep then offers practical next steps to get started as data is increasingly managed in the cloud.
Trend 1
Data becomes the differentiator — even beyond software
Initially, many startups disrupted the incumbents in their industries with innovation based on software. All the while, non-digital-native enterprises caught up. Now data has become more important than software algorithms.
Here's an example: Imagine a traditional automotive company. The business could purchase components and software from a supplier to implement autonomous driving in its cars, but without enough learning data out of every region its cars wouldn't drive reliably. In this case — and many more — the automotive firm cannot just buy a software competitive advantage off the shelf. Instead, it must build that advantage — and build it using data. It's why data is quickly becoming the differentiator in all industries and why delivering a modern customer experience is increasingly reliant on this underlying infrastructure.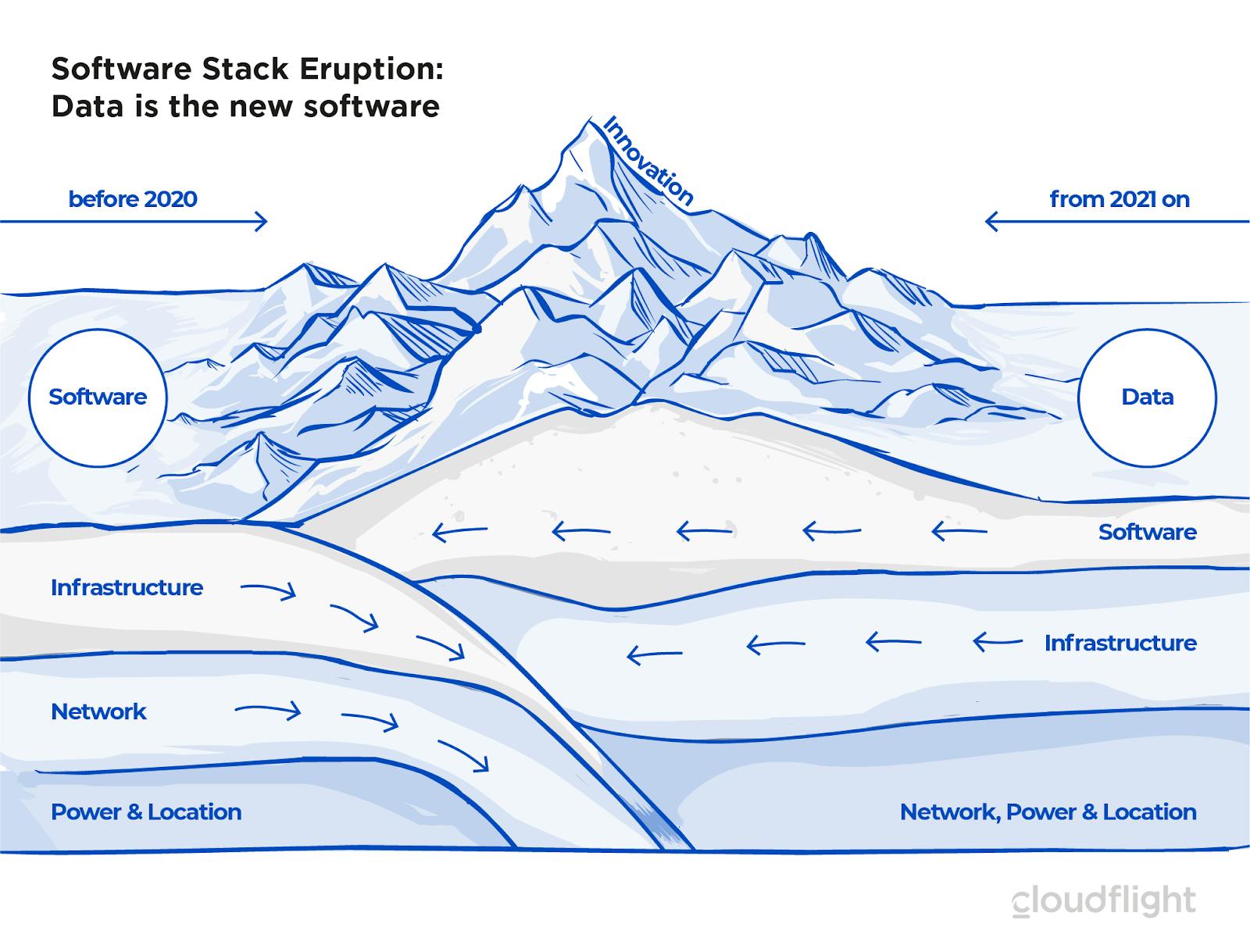 The above image illustrates just how the tech stack is evolving. Data quality is quickly becoming the outstanding differentiator compared to software algorithms. That's why we consider the access, ownership, and quality of data to be the mountain of innovation in this decade and moving forward.
Trend 2
Europe embraces various cloud scenarios
Cloud adoption in Europe has always been behind that of the United States. One reason is obvious data sovereignty and compliance concerns. It would be an intriguing thought experiment to reflect on how the U.S. public cloud adoption would have developed over the past 10 years if the only strong and innovative providers were European or even Chinese companies.
Europe, however, is now at an important inflection point.
Global hyperscalers finally addressed these national privacy issues. Platform service providers, including MongoDB with MongoDB Atlas, have significantly increased support for these privacy requirements with technical features such as client-side-encryption and operational SLAs. This achievement enables enterprises and even public government agencies across Europe to embrace all three basic types of cloud scenarios.
Lift and shift, moving existing legacy workloads without any change to new IaaS landscapes in the cloud.
Modernization and decomposing existing application stacks into cloud-native services such as a DBaaS. Modernized workloads could leverage the public cloud PaaS stacks much better than monolithic legacy stacks.
The new development of cloud-native applications and building modern applications with less code and more orchestration of many PaaS services.
Trend 3
Hybrid-cloud is the dominant cloud choice and multicloud will come next
Nearly 50 percent of participants in our recent webinar said hybrid-cloud is their current major deployment model. These organizations use different public and private clouds for different workloads.
Just 20 percent of the attendees still restrict activities to a single cloud provider. Another equally sized group claimed the exact opposite approach to multicloud environments,where a single workload may use a mixture of cloud sources or may be developed on different providers to reach multiple regions. See below.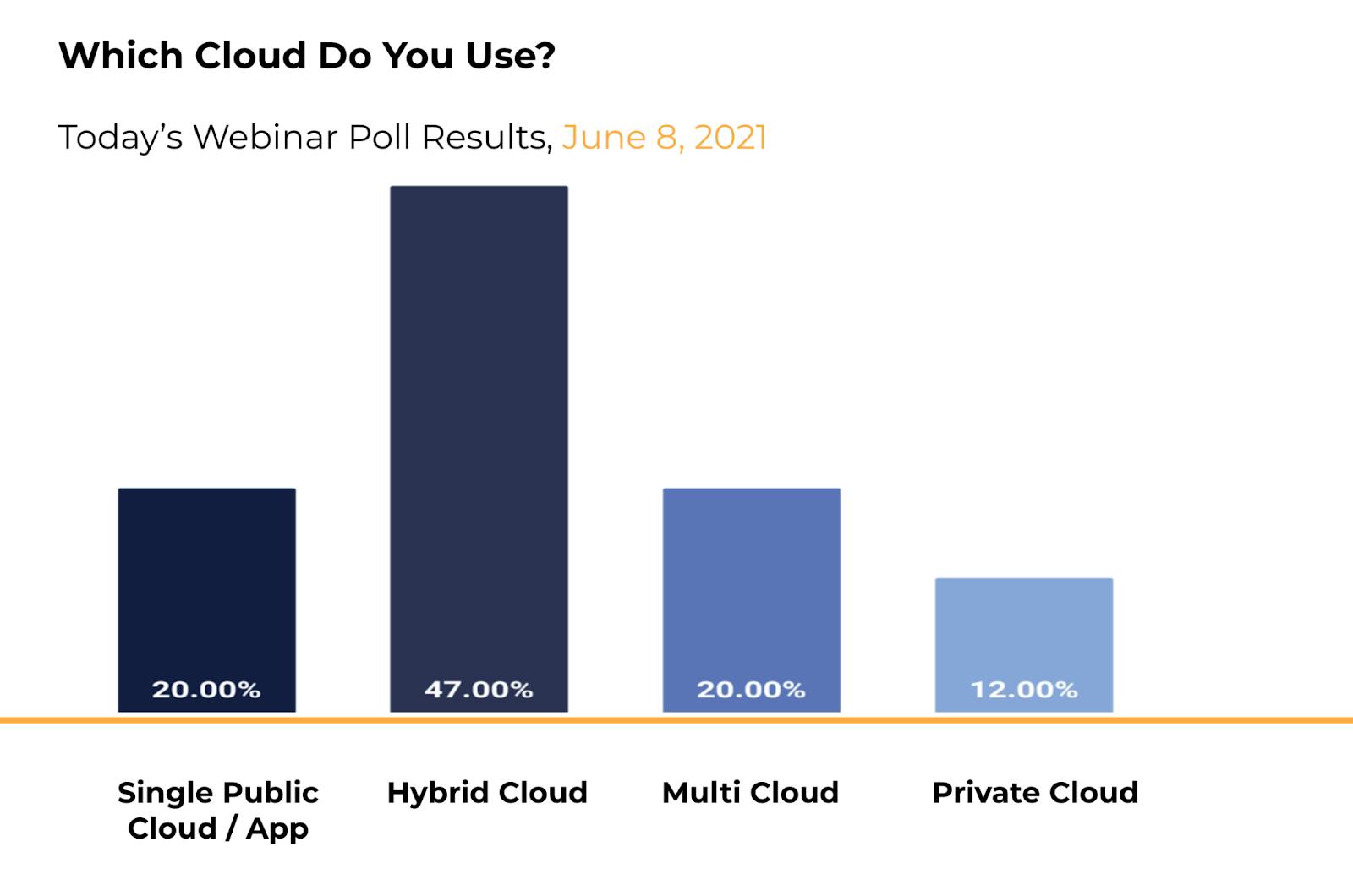 The increasing adoption of these real multicloud scenarios is yet another major trend we will see for many years. Less experienced customers may be afraid of the complexity of using multiple cloud providers, but independent vendors offer the management of a full-service domain across multiple providers. MongoDB Atlas offers this platform across AWS, Azure, and GCP, and paves the road for real multicloud adoption and innovation.
Trend 4