MongoDB Rated an "Overall Leader" by Technology Analysts KuppingerCole
KuppingerCole, one of Europe's leading technology analyst firms, has recognized MongoDB as an "overall leader" in a new report focused on enterprise databases in the cloud.
In the report, KuppingerCole acknowledged MongoDB's unique position as a database platform designed for the cloud age and well-suited to the applications that drive disruption, innovation, and competitive advantage.
"Designed from scratch as a general-purpose database platform for the cloud age, MongoDB has grown into the world's fastest-growing NoSQL ecosystem and one of the preferred engines for modern cloud-native applications," wrote Alexei Balaganski, lead analyst for KuppingerCole.
The report noted that, as the only overall leader in cloud databases that is not also a cloud services provider, MongoDB is uniquely committed to making sure data can move easily between multiple cloud providers (AWS, Microsoft Azure, and Google Cloud).
In addition to the overall leadership accolade, KuppingerCole gave MongoDB its "Strong positive" designation – the highest possible rating – in seven important areas: security, functionality, interoperability, usability, deployment, innovativeness, and market position.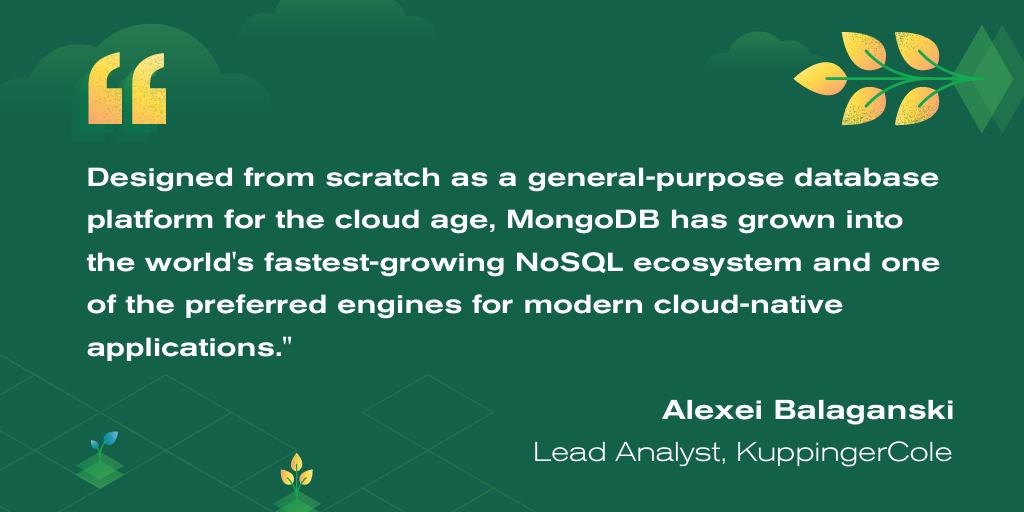 Excellence in Product, Innovation, and Market Position
MongoDB was one of only four database services to achieve a leadership designation in each of the three areas key to the final categorization as an overall leader: product leadership, innovation leadership, and market leadership.
Product Leadership. Here, KuppingerCole singled out MongoDB Atlas as the core of MongoDB's cloud-agnostic database product, offered as a managed cloud service across the three major cloud platforms (AWS, Azure, GCP).
Balaganski also refers to MongoDB's popularity among developers, who have rated it the "Most Wanted" database four years running in StackOverflow's annual survey. "MongoDB offers maximum deployment flexibility and an interface for developers so familiar that other vendors chose to implement the MongoDB protocol for their own databases," writes Balaganski.
Innovation Leadership. KuppingerCole defines leadership in innovation not so much as a constant flow of new features, but as a customer-oriented upgrade approach. The analyst firm wants to see backward compatibility, especially at the API level, and it wants to see new features that meet emerging customer requirements. Clearly, MongoDB delivers. KuppingerCole lauded MongoDB's history of listening to its customers and delivering new and relevant features. The result, the analyst firm said, is that MongoDB has been, "One of the most popular NoSQL databases for years." KuppingerCole specifically pointed out Atlas Search, Atlas Data Lake, and mobile support.
Market leadership. MongoDB was rated a leader in this category as well. While Oracle has, "Arguably the largest number of on-prem database customers," it was far from assured that all of them would migrate to Oracle Cloud. KuppingerCole said MongoDB, "Dominates the NoSQL database market across all major cloud platforms."
MongoDB Atlas' Unique Advantages
In its analysis of the "overall leader" cohort, KuppingerCole showed why it could confidently claim that MongoDB and the MongoDB Atlas cloud platform, "Provide a simple, universal alternative for developers that do not want to replicate the complexity of their legacy on-prem infrastructures in the cloud and would rather avoid a plethora of specialized database engines, opting instead for a single interface to manage, query, and analyze all of their data."
Two other prominent vendors, said KuppingerCole, focus on a database portfolio strategy, offering a purpose-built database for every conceivable need. But KuppingerCole said that approach runs the risk of locking data in silos, and complicates analytics across silos. The analyst firm said that management capabilities can vary between different database engines. It also noted that another leading vendor's database engine was not well-suited to highly distributed modern application architectures.
MongoDB addresses those challenges. Among its strengths, KuppingerCole noted that MongoDB provides a single platform for transactional, search, and analytics workloads. It also mentioned MongoDB's multi-cloud availability in AWS, GCP, and Azure; its advanced security features, such as client-side field-level encryption; and comprehensive developer support with drivers, tools, and additional services. That makes it, as Balaganski writes, "A one-stop platform for developing modern highly scalable, and distributed cloud-native applications." And, of course, an overall leader.