Innovation Velocity: the Key Driver of Cloud Adoption
Cloud computing can help make organizations more agile, proactive and responsive than ever. According to MongoDB's 2016 Cloud Adoption Survey, the most often-cited rationale for cloud adoption was accelerating time to value with 40% of respondents indicating cloud adoption reduces time to app delivery and 30% reporting cloud enables them to scale to new geographic regions and markets more swiftly. Cost, which has been considered to be the leading driver of cloud adoption, has been replaced by time to market, and it's easy to see why.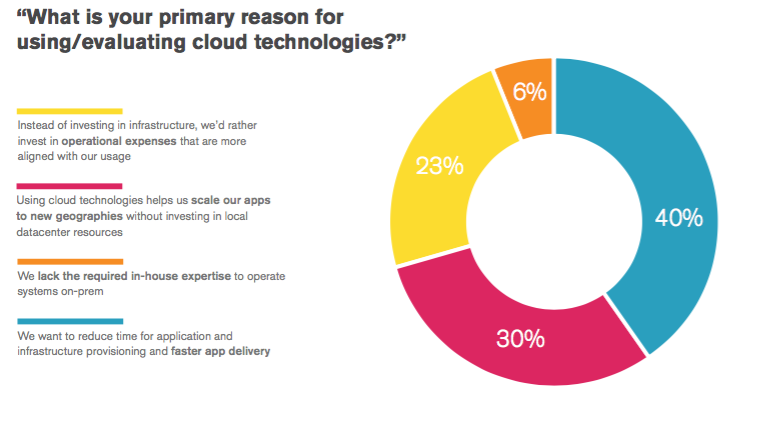 Time to Market is critical to Innovation. Innovation is key to driving revenue.
Inability to innovate is a huge risk for organizations today. If organizations can't increase their innovation velocity, they lose out on new markets and new revenue streams, and often, IT is seen as a blocker to the velocity that is essential to remain competitive in today's global, digitally connected market.
Organizations need IT to enable the business, and move fast to beat out existing competitors and potential upstarts to market. They need tools and practices that allow them seize opportunities, and resources focused on developing new applications rather than just maintaining old ones. By outsourcing underlying infrastructure to a vendor, or in the case of private cloud to an internal organization, product teams can focus on app delivery to enter early into new markets and meet customer needs.
Technology can be an enabler, but it is not the only thing to consider when you want to change how your organization delivers new products to market. How should you go about adopting new cloud services for this purpose? Some things to consider
Which functions will you move to the cloud? Don't just adopt the cloud to follow the trend. Consider what within your organization can be optimized with less operational overhead. Is it your database maintenance, monitoring service, or your entire application development infrastructure? Take into account data governance policies in your organization, and roles and responsibilities that will be adjusted as a result. Also consider whether you should plan out initiatives to build a private cloud for your entire organization, or work with an external vendor.
How will you align business and IT to deliver products faster? Cloud adoption can lead to business process transformation, and this opens up an opportunity for business units to work more closely with product teams, offering feedback not only during the requirements phase but throughout the development lifecycle. Setting your teams up for success in this area will only lead to bigger gains. that will be adjusted as a result. Also consider whether you should plan out initiatives to build a private cloud for your entire organization, or work with an external vendor.
What will need to change? How will you adjust your cultural and developmental practices to accommodate this new infrastructure? Encourage your teams to move quickly, fail fast and leverage the operational efficiencies offered by the cloud. Failure, when part of iterative development can be low cost and high yield -- and it can decrease the potential of deploying faulty software. Work with your team to ensure you can adjust your development processes, possibly moving to agile development methods, new project management roles, delivery pipelines and continuous integration software so you can spot problems early.
The 2016 Cloud Brief includes insights on the progression of cloud computing based on responses from over 2,000 technical stakeholders. We've compiled the full results of the survey into our Report, which will help you see how the fastest growing database community views the progress of and barriers to cloud adoption in their organizations.
Read the 2016 Cloud Brief