Being Latine in Tech: Two MongoDB Employees Share Their Advice on Building Careers in Engineering
Ashley Naranjo and Martin Bajana, members of MongoDB's employee resource group QueLatine, share their career journeys and offer insight into how other members of the Latine community can build careers in tech.
Jackie Denner: How did you make your way into the tech industry?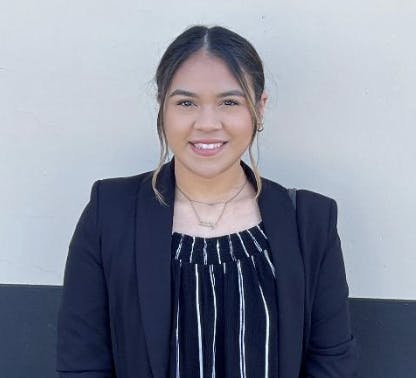 Ashley Naranjo: I am a first-generation Latina with a passion for Information Technology and a knack for problem-solving. After graduating early from high school, I embarked on a career in Nursing. I chose Nursing initially because I wanted to make a difference and help others, but my path took an unexpected turn when COVID-19 reshaped our world.
In light of the circumstances, I reevaluated my options and decided to seize an opportunity with a program called Year Up. During the intensive six-month training and deployment phase, I not only completed rigorous coursework but also obtained IT Google Coursera certifications and actively pursued CompTIA certifications. This experience allowed me to secure an internship at Meta (Facebook) as an Enterprise Operation IT Support Tech, where my love for technology blossomed.
During my time at Meta, I had the privilege of assisting diverse Meta users worldwide with a wide range of technical issues, including troubleshooting, software and hardware support, internal access permissions, and more. The exposure to a global tech environment further fueled my passion for the field. When my internship concluded, I was offered a 1-year contract role with Meta to continue my work as a support tech for the same team.
Throughout that year, I immersed myself in all aspects of technology, maximizing my learning opportunities and applying my networking skills. As time went on, I knew I needed a new challenge. This led me to embark on a search for an exciting role, which eventually brought me to MongoDB.
I am passionate about driving technological innovation, and MongoDB is a place where I can make an impact.
Martin Bajana: My interest in technology stems from a variety of sources. From a young age, I developed a strong passion for video games and exploring new technologies. Whether it was experimenting with the latest gaming consoles or delving into computer hardware, I relished the opportunity to learn and understand the inner workings of these technologies.
In school, I discovered my affinity for mathematics, which further solidified my decision to pursue a career in the tech industry. Choosing to study computer science in college was a natural progression for me, as it allowed me to combine my love for technology with my aptitude for problem-solving.
After completing my education, I was recruited by Verizon, where I worked on front-end applications and Android development. Although the transition was initially challenging, I persevered and regained my confidence. It was during this period that I realized a career in technology was my long-term aspiration.
Throughout my tenure at Verizon, I embraced opportunities to work across various teams, acquiring valuable experience and honing my skills. Eventually, I made the decision to join MongoDB, which has provided me with an enriching journey and the chance to shape my career in the tech industry.
JD: Have there been any challenges you've faced throughout your career?
AN: Imposter syndrome has been a significant challenge for me throughout my career, and it's something I still deal with to this day. When surrounded by my talented colleagues, I would often compare myself to them and focus on my perceived weaknesses and flaws, leading to a lack of self-confidence. However, I tackled this issue by addressing my feelings with my manager. Her support and guidance helped me realize my own potential and acknowledge my accomplishments.
Maintaining a positive mindset has enabled me to view myself as a competent engineer and recognize the value I bring to my team. I have learned to take ownership of my successes and embrace opportunities for growth. Stepping out of my comfort zone has become a regular practice, as personal and professional development often stems from embracing challenges and discomfort.
By giving myself permission to take up space and be confident in my abilities, I have been able to overcome imposter syndrome and continue to thrive in my role.
MB: I have been fortunate enough to work for companies and teams that value and respect me for the work I deliver. Being in the tech industry and growing up in a culturally diverse region of the country, I have had exposure to individuals from various backgrounds and identities, which has made me more comfortable as a Latinx individual in the industry. My personal goal is to promote a work environment where everyone is judged based on the contributions they bring to the team, rather than their identity. I believe in supporting and respecting the identities of my peers and coworkers while fostering a culture of inclusivity and equality.
JD: How has MongoDB supported your career growth and development?
AN: In my time working at MongoDB, I have experienced exceptional support that has greatly contributed to my professional development and growth. As an engineer at MongoDB, I have been provided with numerous opportunities to expand my knowledge and skills through participation in tech talks, hackathons, and continuous learning about emerging technologies. I am grateful for the proactive approach taken by my manager and team leaders in fostering my growth as an engineer.
Additionally, MongoDB's commitment to diversity and inclusion is evident through the company's DEI initiatives. Platforms like our employee resource group "QueLatine" have made me feel a stronger sense of connection and belonging, particularly among my Latinx peers. By recognizing the power of our diverse backgrounds and experiences, MongoDB empowers us to have a meaningful impact in the industry.
MB: I have experienced full support from my leader since day one. They have proactively sought to understand my career goals and have helped me create a clear career path to achieve those goals. This level of support has enabled me to take on challenging projects and initiatives within the company, allowing me to grow and develop in my career.
Furthermore, MongoDB offers a wealth of learning and development resources to its employees, which I have fully utilized to continue learning and growing my skill set.
JD: What is your advice for other Latines who want to begin careers in tech?
AN: Having made a significant career change myself, I can empathize with the challenges that come with exploring new paths, particularly in the tech industry. As a Latina in tech, I feel a strong desire to encourage and raise awareness within our community about the incredible resources and opportunities that are available to us. My advice to others who may be considering a similar journey is to prioritize the continuous development of your technical skills, actively seek out mentoring opportunities, push yourself beyond your comfort zone by honing your networking abilities, and most importantly, believe in yourself and your ability to achieve great things!
MB: Navigating the vast world of technology can certainly be overwhelming, but it's important not to fear feeling lost. Even after 12 years in this career, there are still days where I come across something I've never heard of before. Fortunately, we live in a world abundant with resources for continuous learning.
My advice is to take the time to explore and ask questions. Seek out open-source projects that you can contribute to, and connect with other professionals in the tech industry who can share their experiences and provide guidance. Additionally, taking advantage of hackathons and other tech events can expose you to new technologies and ideas.
Don't be afraid to make mistakes, and most importantly, don't give up!