Accessing a MongoDB Atlas Cluster
In order to access your MongoDB Atlas cluster, you'll need to enable network access for your network or IP address and create a database user for connecting to the cluster. After that, you can generate a connection string for your application or script.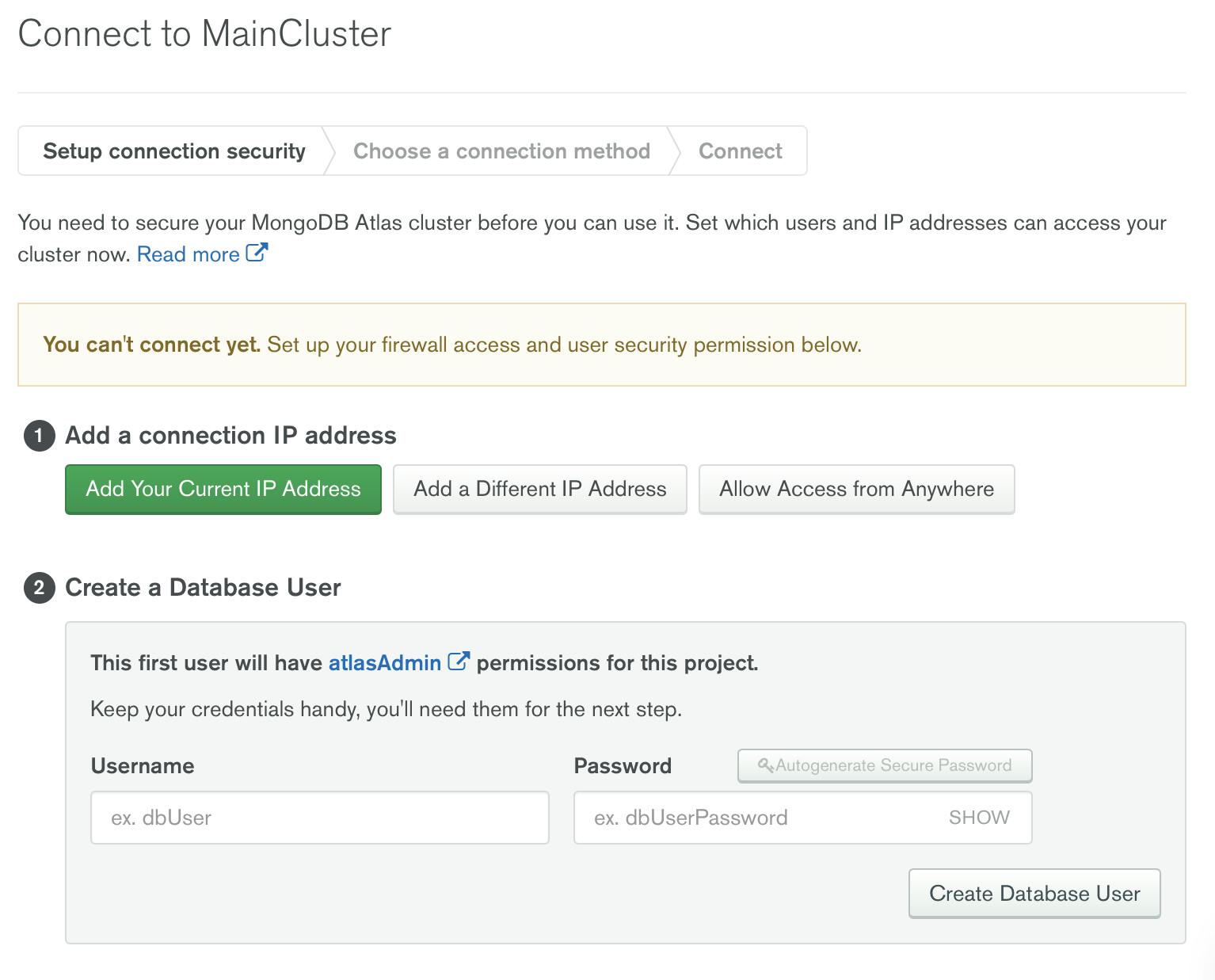 Allowing Access to Your IP Address
For security reasons, new database clusters do not have network access enabled by default. You need to enable network access explicitly by whitelisting the addresses that will connect to the cluster.
Each entry can be an IP address, a subnet, or you can enable access from any location. In general, you would grant access only to a list of subnets or IP addresses rather than grant access to any location. This limits the connections your cluster accepts, making it more secure.
To enable network access to your cluster, click on the Connect button from the clusters view in the Atlas management console. This will open up the connection settings wizard.
In order to allow access from your current IP address, click on the Add your current IP address button. If you need to access it from a different IP address or subnet, click on the Add a different IP address button and enter the IP or a subnet using the CIDR notation, such as 172.10.1.0/24.
Creating a Cluster User
In order to connect to the database from a script or an application, you must first create a MongoDB database user. The database user allows you to connect and use the databases. Please note this is separate from the user that logs in and manages the clusters and resources in Atlas.
Database users are created per project and have access to all the clusters in the project. You can also assign different roles and privileges to the database users. Note that the first user you create will automatically be granted administrative privileges.
Right below the network access settings, you can create a database user. First enter the username and password and then click on the Create database user button.
If you later need to add more users to the project, you can do it from the Security tab.
Generating a Database Connection String
Depending on your application, you may need to install a driver (library) corresponding to your platform in order to connect to a cluster in Atlas. You can see the full list of supported drivers here. If you're using Compass (the MongoDB UI application) or the mongo shell application, the drivers are already built in.
Regardless of your application, you'll need to generate a database connection string for your cluster. If you are just creating your cluster, the last step in the process will allow you to create a connection string. Once you have enabled network access and created a database user, you can click on the Choose connection method button, which will allow you to generate a connection string for your application. You can also create the connection string by clicking on the Connect button on your cluster from the Clusters tab in Atlas.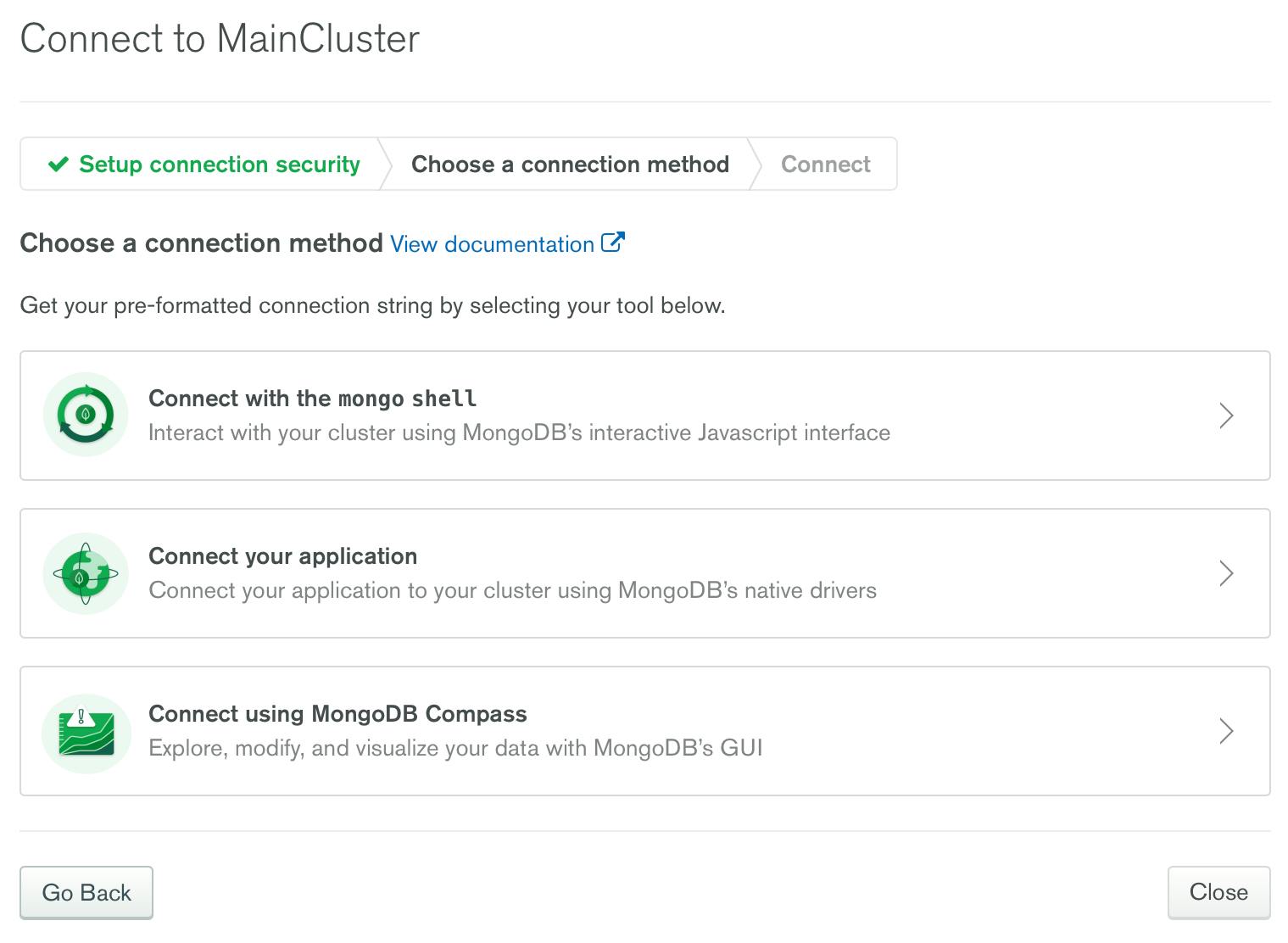 Click on the Connect your application button and then select the driver, such as Node.js, Python, or another language. Then, select the version to generate the connection string for your application. You can even check the "Include full driver code example" option in order to generate the code to test the connectivity.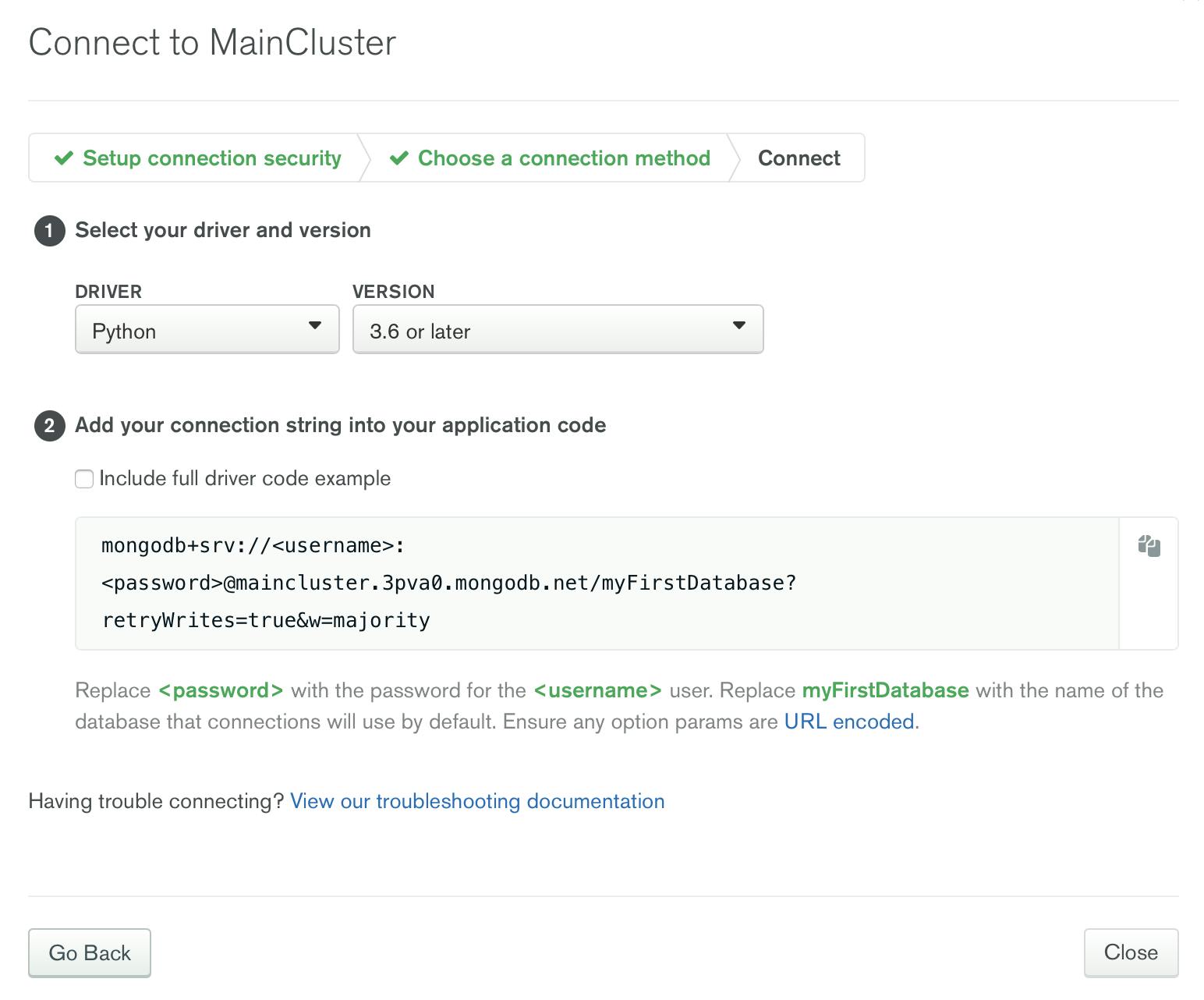 Note that the connection string generated does not include the actual cluster user login. You will need to replace the <username> and <password> with your actual username and password. You will also need to replace MyFirstDatabase with an actual database name in your cluster.