Modern Data Architecture: Elements of a Data Platform
Building a modern data platform requires adopting a Modern Data Architecture (MDA) that specifies how data will be collected, cleansed, stored, transformed, processed, and made available to consumers. Modern data architecture has the following characteristics: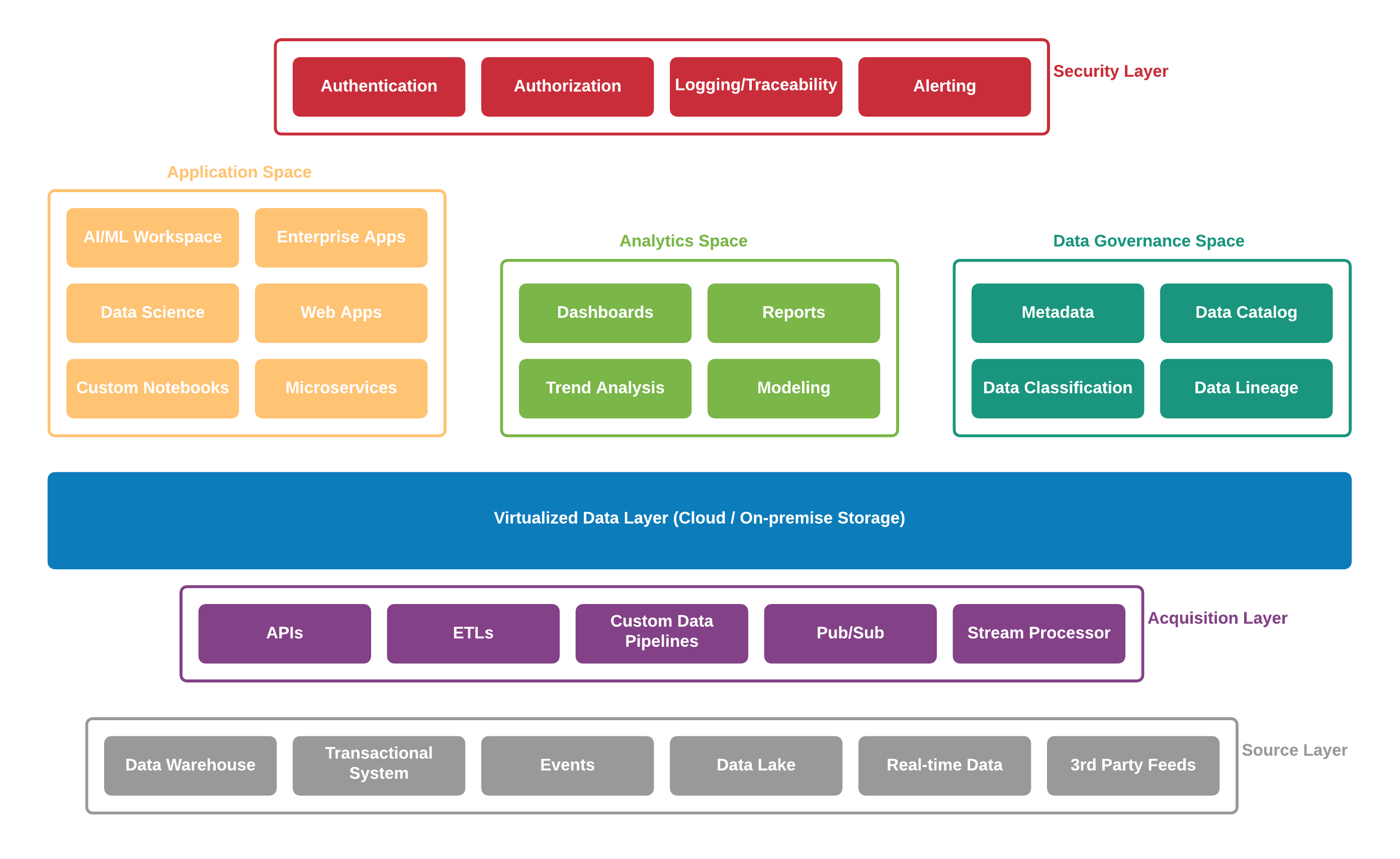 Power to the User
End users are at the center of a modern data platform architecture. Rather than being confined to a set of pre-developed data assets and their sources, users can bring their own data to the platform and develop their own pipeline to ingest, cleanse, analyze, and report on that data.
Power of the Hybrid Cloud
The modern data platform adopts the best of both the on-premise and cloud world. On-premise ensures making minimal changes to legacy applications, and the cloud ensures scalable and elastic capacity, processing power, high-availability, pre-built applications, and security.
Shared, Virtual Data Layer
At the core of a modern data platform is the virtual data storage layer that can handle diverse data formats and workloads. For example, the platform can support different data storage formats for the operational/transactional databases supporting real-time interactions, the data lakes containing unstructured data, and the data warehouses needed for the structured datasets required for known analytics jobs.
The storage layer is therefore more of an "abstraction" over other platform components. At a low level, users and applications will access it using a common set of protocols and standards like REST APIs. From a usage perspective, this data will be transparently federated and virtualized, allowing users to share and collaborate on it.
Scalable Data Integration
Ingestion, validation, cleansing, and preparation is key to a data platform. A flexible data architecture uses scalable pipelines that can handle different scenarios: batch ingestion from legacy sources using APIs, pub/sub for asynchronous event messages, and stream processing for real-time, high-velocity data.
Extensible Processing Logic
A modern data platform's processing architecture allows developing and reusing service-oriented applications. These applications take care of domain-specific functions and are often based on open-source technologies.In most advanced cases, the platform can also allow developing future generation applications based on AI and ML logic in different workspaces.
This pluggable architecture allows users to build their applications seamlessly from a standard set of interoperable components.
End-to-End Governance
Data is automatically classified, and tagged in a data platform. This metadata powers a comprehensive data catalog that users can search for self-service data discovery. The governance model also allows users to check the quality and sensitivity of data. Finally, data lineage reporting can show a data element's journey through the system at any time.
Self-Service Analytics
The analytics layer allows developing, distributing, and sharing self-service dashboards, reports, and notebooks based on flexible technologies. Organizations can make use of their existing analytics applications by using different integration libraries.
Automation for Flexibility
Modern data architecture heavily relies on automation for two purposes: infrastructure and data onboarding.
The first category ensures all physical elements of the platform like servers, backups, storage, and load balancers can be easily recreated from scratch if needed.
The second type of automation ensures data pipelines, workspaces, notebooks, and functions are created from standard templates whenever onboarding a new data source.
Single Security Layer
Finally, a modern data architecture's security layer abstracts the individual applications' access mechanisms. It can use an enterprise-wide Identity Provider (IdP) for authentication and role-based authorizations for access. A solid data architecture also ensures data is protected by being in compliance with regulatory standards.