Tips for unstructured data analytics
Before applying unstructured data analysis techniques, businesses need to prepare the data and make it usable for generating insights. These tips will help manage your unstructured data in a better way: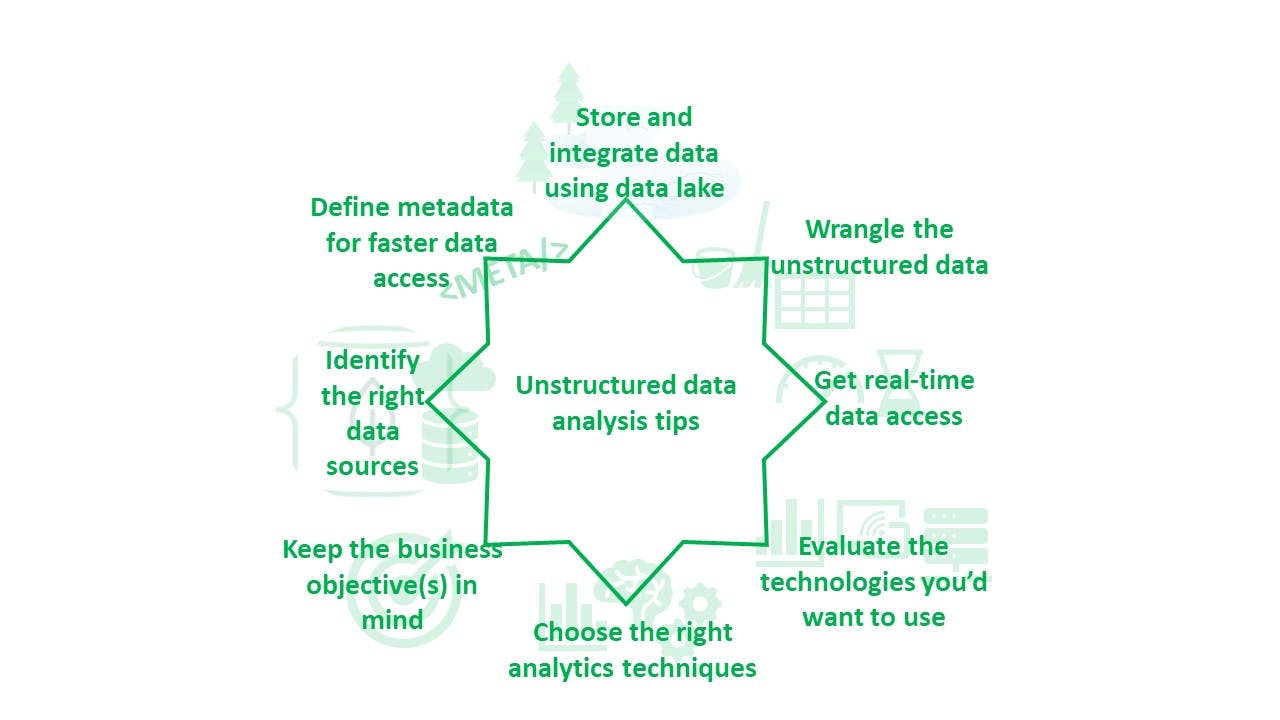 Keep the business objective(s) in mind
The analytical techniques you choose should match up to your business objectives. Let's say the objective is to identify a face in an image. An image is a type of unstructured data. You need some features for mapping—face shape, eye color, width of the mouth, and so on. Businesses can store the values associated with these features in a flexible semi-structured format, like a JSON document, for analysis. You can use MongoDB for this type of data storage and processing.
Metadata stores information about data. Using metadata, an analyst can quickly find data related to their organization or business objectives.
Suppose you have a thousand documents of 10 thousand words or more each. The documents are housed in a storage system along with a large file (metadata file) that contains information about all the documents. Metadata could include information like table of contents, title, author, creation date, tags, or number of words for each document.
If you want to find a particular document, one option is to scan through all one thousand documents to identify the document you are looking for—not so performant.
Another option is to look through the metadata file and get the exact document location. This option gives you faster access to the right document.
Since metadata describes data, you can identify the common types of data you store and find metadata opportunities. This will help efficiently manage your unstructured data (like the above text documents) in your storage environment.
Choose the right analytics techniques
When analyzing unstructured data, it is important to select the right techniques depending on the intent of the unstructured data analysis. Here are two ways you might apply different techniques for different types of situations:
To detect a theft in your area using CCTV footage, you would need to apply advanced deep learning techniques like object recognition, face analysis, and crowd analysis.
To find out the average number of milk cartons bought by families in a particular gated community, you can apply simple quantitative analysis and group the residents based on a certain criteria like 0, 1-3, 4-6, >6.
You will learn more about the different unstructured data analysis techniques in the next section.
Identify the right data sources
Unstructured data often comes from multiple sources. It is important to select reliable and relevant data sources for data collection.
For example, a single user may generate data from social media, IoT devices, recording devices, and so on. Analysts need to identify whether they need data from all or few sources to get the right data they need for analysis. This way, they can store only the relevant data for querying and gathering insights.
Many companies use data lakes, like MongoDB Atlas Data Lake, to unify data from multiple sources.
Evaluate the technologies you'd want to use
Choose the tools that provide scalability, availability, and query capabilities for your particular use case. Some tools provide advanced data analytics techniques. These tools often come with a higher price tag and management overhead, so make an informed choice from the available analytics technologies. Some key technologies that enable unstructured big data analytics for businesses are predictive analytics, NoSQL databases, stream analytics, and data integration.
Get real-time data access
For real-time analytics, it is necessary to have access to new data in real time. For example, fraud prevention or personalized offers are more valuable when fraudulent activity is happening or a customer is still shopping, respectively.
With MongoDB, you can capture refined datasets from multiple data sources. You can also combine, enrich, and analyze multi-model data (i.e., semi-structured, unstructured, and geospatial data) within the database, delivering action-driven and real-time insights with speed and simplicity.
Store and integrate data using data lakes
Data lakes unify and store unstructured data from many sources in its native format.
For example, MongoDB Atlas Data Lake leverages AWS S3 and allows you to query and combine data across MongoDB Atlas databases and S3 without complex integrations. It also functions as a federated query engine, allowing you to query all your data using a single endpoint, which makes analysis faster and more accurate. You can preserve the rich structure of your data by running powerful aggregations on all your cloud data in-place and in its native format.
Wrangle the unstructured data
Before applying unstructured data analysis techniques, make sure the data is clean and all the valuable information is present. If there is a lot of noise in the data, the insights will not be accurate.