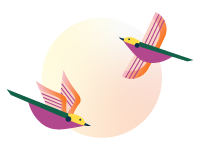 You know about the relational world, the NoSQL world, and you're ready to dive in deeper.
We will discuss:
What's Realm? (mobile devs, you won't want to miss this)
What can we use Realm for?
Serverless offerings and Free Tier features
Trigger / Function Demo
Third-Party Integration Demo
Auth Demo
What's Multi-Cloud?
Why Multi-Cloud?
How to set up Multi-Cloud Cluster
About the speaker: Currently a Senior Developer Advocate for MongoDB, Adrienne Tacke is also a Filipina software engineer, speaker, published author of the book Coding for Kids: Python, and a LinkedIn Learning instructor who specializes in Cloud Development courses. Perhaps most important, however, is that she spends way too much money on desserts and too many hours playing Cyberpunk 2077.
What is MongoDB Atlas?

MongoDB Atlas is the global cloud database for modern applications. Distributed and secure by default, Atlas is available as a fully managed service on AWS, Azure, and Google Cloud. MongoDB Atlas is free to start for learning, prototyping and early development.
---
Did you know this webinar is part of an educational series?
Check it out - Scaling Your Startup with MongoDB Atlas: A Series