Organizations that are equipped to respond in real time to opportunities, threats, and changing business conditions solidify their competitive positions and gain market share. To do so, they are embarking on the path to digital transformation, and achieving business agility is a strategic IT initiative to help them reach their digital destination. MongoDB has helped many companies improve business agility. Our Professional Services team works with you to build an in-house Innovation Accelerator, delivering faster time-to-market across multiple business applications and use cases.
Overview
Our Innovation Accelerator program comprises two types of workstreams:
Program Activities

: We start by working with you to establish a vision and roadmap, understanding and cataloging business pains, current software, and data assets. With this in place, we scope the problems to solve — helping to build out an actionable development plan — and quickly generate ideas and solution prototypes via training for your teams, innovation bootcamps, design patterns, and reference architectures.

Application Activities

: For each application in scope, we work iteratively on each required capability to achieve a milestone in tangible business functionality. With your team, we refine the solution design, and support all stages of development, testing, deployment, and optimization.
Completed cycles of application development continually feed back into program activities with quality reviews, which provides ongoing optimization of the overall business agility roadmap.

Innovation Solution Kits
MongoDB Professional Services Innovation Solution kits provide design patterns for common use cases, including those below, with reference architectures and technical standards for enterprise architecture objectives such as a move to the cloud, or to microservices. We provide technical blueprints, governance, and consultative expertise to help you take advantage of trends and capture new opportunities by rapidly producing new apps and new systems of engagement.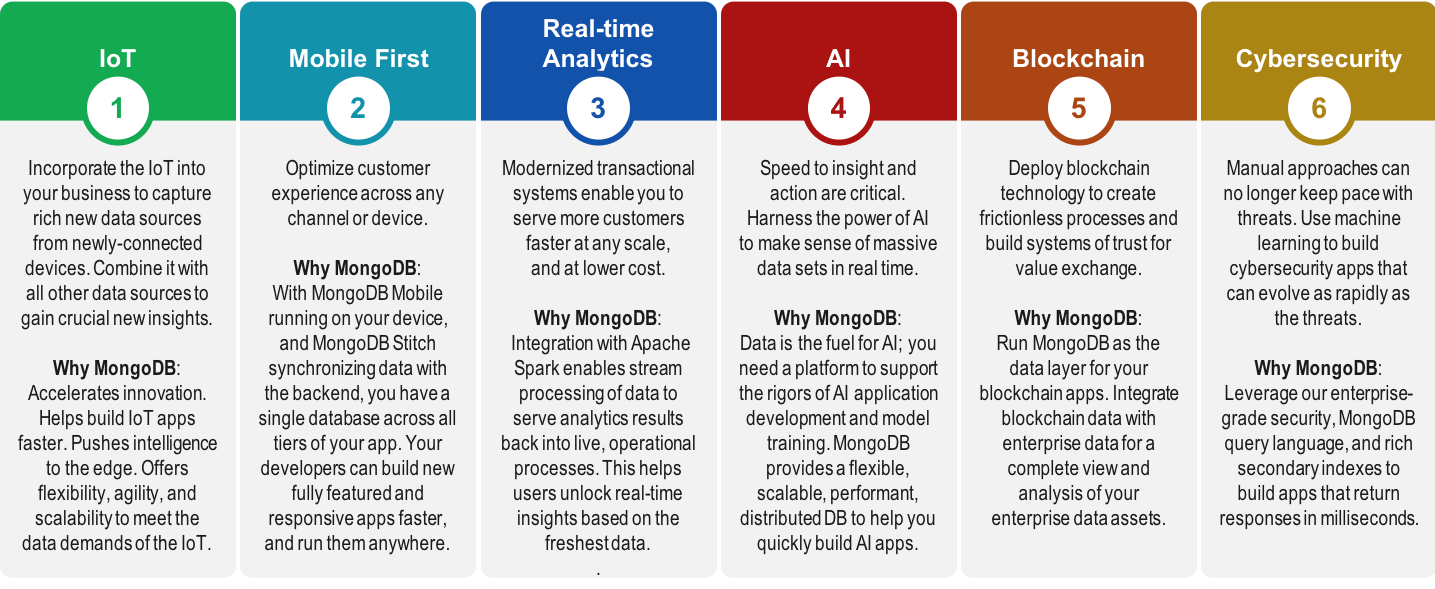 Delivery Methodology
We deliver all MongoDB services according to our standard delivery methodology: Discover, Design, Implement, Validate, and Optimize. This provides a structure for the repeatable and comprehensive delivery of advisory and technical expertise. Our delivery methodology can align to both waterfall and agile development processes. At every stage of delivery we work closely with your customer leadership, program management, development, and operations teams.