Inclusion at MongoDB World
In June, we'll kick off the fifth edition of MongoDB World, our global user conference. We continue to strive to make this conference not just a fun and interactive learning experience, but also an event that is welcoming to all. Here's how:
Diversity Scholarship
MongoDB's Scholarship program seeks to support to members of groups who are underrepresented in the technology industry. This includes, but is not limited to, Black, LatinX, women, low-income, and LGBTQ.
Diversity Scholarship recipients receive*:
Complimentary admission to MongoDB World
Complimentary admission to a pre-conference workshop
Invitation to a lunch session with other Scholars
Speed mentoring with MongoDB speakers at the event
A MongoDB certification voucher applicable for both developer and DBA certification exams
Six-month access to on-demand MongoDB University courses
Lifelong membership in the online MongoDB Diversity Scholars community
A feature in a blog post
If you're a member of any of the-above mentioned groups, you qualify to apply for a scholarship. The application is here and the deadline to apply is May 4.
If you cannot or do not want to apply, but would still like to contribute to scholarships for others, make sure to sign up for MongoDB World. You have the option to donate towards the Diversity Scholarship and can still have an impact by giving someone the opportunity to attend.
Female Innovators
Know a technologist who identifies as a woman who should attend MongoDB World? Nominate her!
Nominees get a complimentary conference pass* and an invitation to a guided discussion over lunch in the Women and Trans Coders Lounge. Self-nominations are also encouraged. The nomination deadline is April 27.
Women and Trans Coders Lounge
The Women and Trans Coders Lounge aims to amplify the voices of non-binary people, women, and trans people of all genders within our engineering community. It's run in part by MongoDB's Women and Trans Coders group. During MongoDB World, stop by to network, share your thoughts in a guided discussion, or sit in on a Make it Matter session.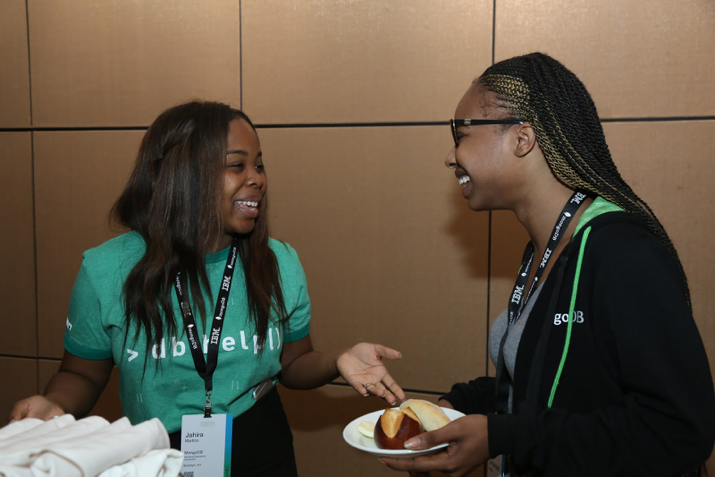 Affinity Group Happy Hours
Join us for cocktails and mocktails, run by MongoDB's employee resource groups, on June 26. You'll be able to attend a happy hour hosted by the Black Network, the MongoDB Women's Group, and the Queeries (MongoDB's LGBTQ group). All happy hours will also serve mocktails and nonalcoholic beverages.
Black Network Happy Hour
Meet members of the MongoDB Black Network and other conference attendees who identify as Black during the Black Network Happy Hour.
LGBTQ Happy Hour
End the first day of MongoDB World by joining fellow MongoDB users who identify as members of the LGBTQ community for a drink at the bar.
Women in Tech Happy Hour
You're invited to connect with Female Innovators, conference speakers, and other women in tech at the Women in Tech Happy Hour.
Accessibility
Our goal is to make MongoDB World accessible to all. Contact us if you need accessibility accommodations.
Code of Conduct
All conference attendees are expected to agree with and abide by the code of conduct.
We look forward to seeing you on June 26-27 in NYC. Over the course of two days, you'll be able to engage with MongoDB users and industry experts from around the globe. And you'll walk away with the tools that enable you to build your giant ideas.
Event Details:
Date: June 26-27, 2018
Location: New York Hilton Midtown, 1335 6th Ave, New York, NY 10019
mongodbworld.com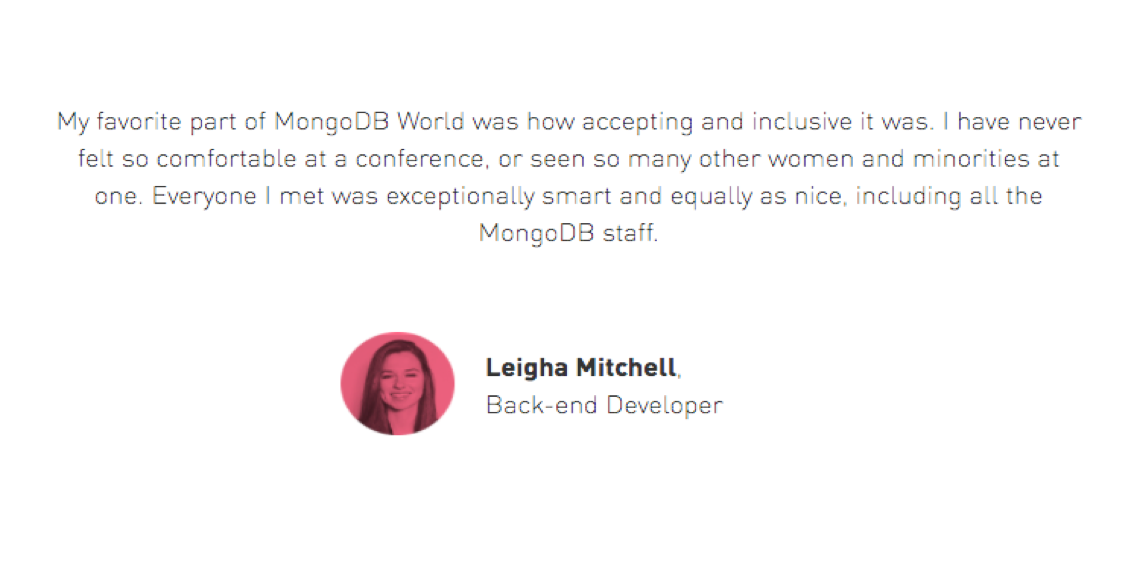 ---
* Please note that travel and lodging is not included in the Diversity Scholarship and Female Innovators awards. Recipients are responsible for their own accommodations.