Today we announced the release of MongoDB 3.2, the first since I declared a new era of maturity for our product with 3.0. This release continues to make the case for MongoDB as the default database for an organization, by meeting the needs of more mission critical use cases, and by meeting the needs of more roles within an organization.
MongoDB 3.2 is a giant release, and you can read the release notes to see the full list of new features. I'm proud of each feature individually, but moreover, I'm proud of how MongoDB's engineering team continues to increase its bandwidth. When we were starting out, we had to round-robin between development domains, focusing in turn on whatever was the highest priority, whether it was improving performance, extending the query language, building out our scaling features, or enhancing operational ease. This release demonstrates how our team is firing on all cylinders, able to make progress on many fronts at once. Let's take a tour...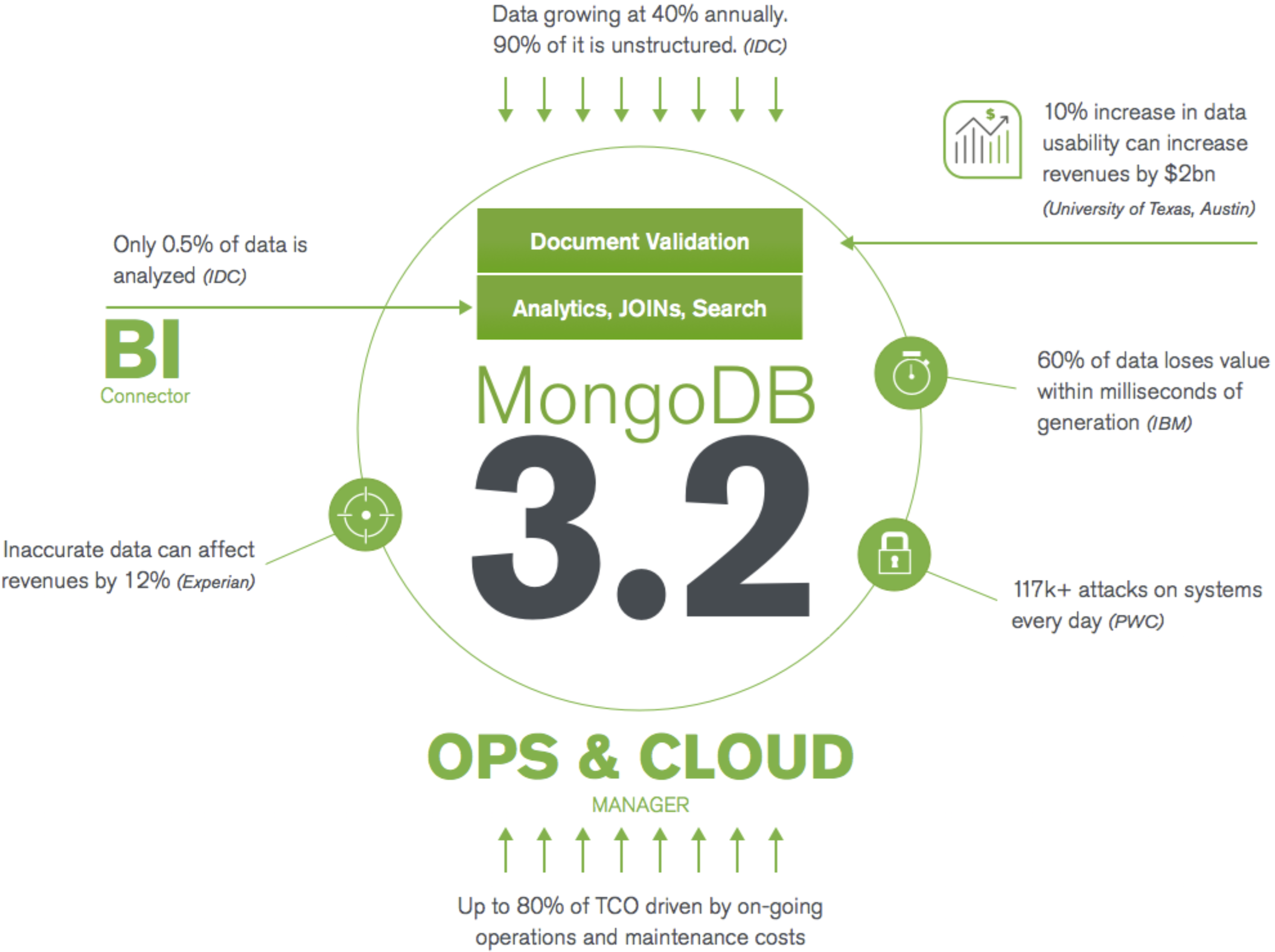 We continued to push the boundaries of the document database model with features like document validation and partial indexes. We introduced huge new components, like the in-memory and encrypted storage engines, and the BI connector. We made infrastructure improvements, such as config servers as replica sets; under-the-hood improvements, such as replacing the JavaScript engine (more on that in another post); and we continued to refine our tools, giving mongodump and mongorestore the ability to compress, pipe, and stream data over a network.
The work we've done on our core feature set, including an enormous expansion of our aggregation framework and improvements to geo and text indexing, would alone have been a significant release in previous years, but this year we did them alongside the above.
We also put significant effort into housekeeping, bringing consistency in CRUD semantics between the new API and the shell, and we added fit and finish, such as optional case and diacritic sensitivity in text search.
In Ops Manager land, we added file system backups as an option, a new query profiler, index suggestions, and the ability to do a rolling index build across a replica set..
Huge new features, brand new tools, performance tuning, edge cases filed smooth, and some tidying up -- we did it all this year. And we're still just getting started.
---
Learn more about MongoDB 3.2, register for our upcoming webinar:
Find out what's new
---
Additional Resources
---
About the Author - Eliot Horowitz
Eliot Horowitz is CTO and Co-Founder of MongoDB. Eliot is one of the core MongoDB kernel committers. Previously, he was Co-Founder and CTO of ShopWiki. Eliot developed the crawling and data extraction algorithm that is the core of its innovative technology. He has quickly become one of Silicon Alley's up and coming entrepreneurs and was selected as one of BusinessWeek's Top 25 Entrepreneurs Under Age 25 nationwide in 2006. Earlier, Eliot was a software developer in the R&D group at DoubleClick (acquired by Google for $3.1 billion). Eliot received a BS in Computer Science from Brown University.