Meet Gesa Musiol: Growing Her Career in Customer Success at MongoDB
Gesa Musiol has experienced exponential career growth since joining MongoDB two years ago. Through multiple promotions and a relocation, she's achieved both personal and professional goals and continues to learn something new every day. I spoke with Gesa to learn more about her MongoDB journey and what's exciting about being part of our Customer Success organization.
Jackie Denner: Hi, Gesa! Thanks for sharing a bit about your career journey with me. What was your experience prior to joining MongoDB?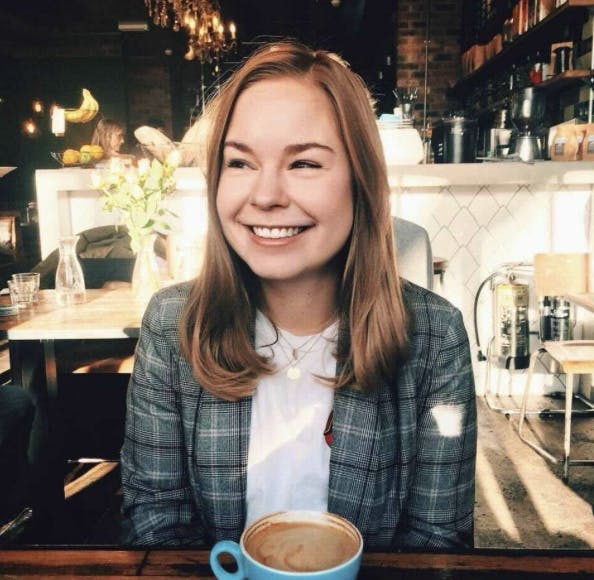 Gesa Musiol: Thank you for having me! Coming from an academic background in literary and cultural studies, I took my first full-time professional role working in Customer Support for Google Ads. Then, stepping into the role of account manager for the German-speaking SMB market at Pinterest, I managed a portfolio of customers and supported businesses and agencies in successfully developing and running their advertising campaigns on the platform. Until MongoDB reached out to me in regard to the then-brand-new "Customer Success Specialist" opening, my primary experience was in advertising, but I had built out a transferable skill set relevant to any customer-facing role.
JD: Why did you decide to join MongoDB's Customer Success (CS) organization?
GM: Truth be told, prior to kicking off the interview process, I was unfamiliar with the product and had limited industry knowledge - my previous professional life had taken place exclusively in the advertising space. However, I had always been interested in the tech world and was hungry for a new challenge. While preparing for the interview process and diving into the subject matter head first, the more I read, the more I was fascinated and interested. What MongoDB does in the database space is disrupting the industry and helping more than thirty thousand customers to innovate - I was intrigued.
Moreover, the company values resonated with me, and from the well-organized and clearly communicated interview process, it was apparent that these values were more than just pretty on paper. Every person I spoke to throughout the interview process was sharp, professional, and warm - this was a company I wanted to work for, and a team I wanted to be a part of. Glowing Glassdoor reviews and the employee retention rate only affirmed my impression.
JD: Tell me about your MongoDB journey. I heard you started as a Customer Success Specialist in Dublin and are now a Customer Success Manager in Frankfurt. Can you walk me through those career steps?
GM: I joined MongoDB in April 2020 as one of their first Customer Success Specialists globally and the first Customer Success Specialist working with DACH, the Central European market (DACH = Germany, Austria, and Switzerland). In this role, I managed a large portfolio of customers across all DACH territories, gaining insights into different industries and all types of use cases. About a year later, I was promoted into the role of Senior Customer Success Specialist and became involved in interviewing potential candidates, coaching new hires, and building out global at-scale initiatives to engage with our customer base.
Five months later, I was promoted to Customer Success Manager (CSM) focusing on a smaller portfolio of strategic customers. A personal highlight was the opportunity to work with two of our largest global customers based in the UK as their interim CSM, filling in for a colleague on parental leave - a fantastic chance to gather cross-market experience and connect with a new regional account ecosystem.
When the COVID-19 pandemic led me to reassess my personal priorities, as it did for many, my managers supported me in making the decision to relocate to Germany from Ireland every step of the way, ensuring a smooth and speedy transition. Counting from the day of making the initial decision to relocate, it took less than two months for me to now be officially employed by MongoDB in Germany. Now, being based in Frankfurt as a Customer Success Manager, I have the pleasure of working with a small customer portfolio in the region and being even more closely aligned with our regional sales ecosystem.
JD: What sort of learning and development opportunities were provided to you along the way?
GM: Growth and development are key topics that management at MongoDB takes very seriously; your manager will work with you to understand your short-, mid-, and long-term goals, and support you in developing and implementing an actionable plan to get you where you see your career path leading. In my personal example, my managers helped me prioritize initiatives and projects that were conducive to my long-term goals. Management trusted me to take big steps, such as going from working with a large portfolio of 300+ customers to closely working with a handful of strategic customers, and encouraged me to approach challenges creatively and step outside of my comfort zone again and again. Most importantly, my managers gave me space to fail and provided me with the guidance, resources, and buddy support leading to success along the way.
JD: How does the Central Europe team stay connected to the global Customer Success organization?
GM: The Customer Success organization at MongoDB is at a very interesting stage. Like any other team, we very much miss in-person meetings and team events that cannot take place due to COVID-19. At the same time, our Central Europe (CEEUR) team and global CS team alike are growing exponentially. However, despite the fact that I have personally only met a fraction of my colleagues in person since joining the business in April 2020, we have a very strong team mentality and cultivate communication channels that are always open. When facing a challenge or obstacle, we are encouraged to turn to and collaborate with our colleagues across the globe to learn from their experiences. Beginning on day one, the onboarding plan and buddy system ensure that we work very closely with team members from the same market as well as broaden our horizons by connecting with colleagues with largely different daily tasks or different customer segments. On the interpersonal side, the CS CEEUR team has two weekly meetings that quench the thirst for water cooler conversations, and we regularly come together for team events in various constellations - as the CEEUR CS team, the EMEA CS team, or in conjunction with our colleagues from the CEEUR sales ecosystem. In a business that evolves as dynamically as MongoDB does, feeling connected to our colleagues helps us navigate professional challenges and, very importantly, makes our day-to-day fun.
JD: What makes Customer Success at MongoDB unique?
GM: The Customer Success team lives and breathes our company values; we own what we do, practice intellectual honesty, embrace the power of differences, and build a successful future together. Working with quite complex, technical products in an environment where no day is like the other, we are able to learn from and lean on our own regional CS teams and the wider global CS community alike. Personally, from day one, I was in awe of the incredible team spirit - your colleagues and management will go out of their way to make you feel welcome and lead you to success.
JD: Why do you think now is a great time for someone to join the Customer Success team?
GM: Customer Success at MongoDB is growing exponentially on a global scale. However, the CEEUR region, in particular, has a very exciting future ahead. Gustavo Loewe, our Regional Vice President for Enterprise Sales, recently referenced the expected growth as "brutal" in the best sense of the word and is planning to build out the region as the "MIT of Enterprise Software Sales in EMEA" - a great indicator for the magnitude of impact the region will develop over the coming months and years.
By joining the Customer Success team in CEEUR now, or indeed any of our regional Customer Success teams, you will be able to experience this hyper-growth first-hand, onboard new, exciting customers, ensure their ongoing success with our technology, and learn from and contribute to a growing ecosystem of highly motivated and smart professionals. With business growth also comes the privilege of shaping processes and developing new roles within Customer Success, of testing what works, and determining what good looks like. If this is something you are passionate about, MongoDB Customer Success is the right place for you.
JD: Is there anything else you'd want someone to know about Customer Success at MongoDB?
GM: Customer Success at MongoDB is a highly dynamic environment. It is the place to be for anyone with a passion for technology and innovation who flourishes outside of their comfort zone. Personally speaking, my time at MongoDB so far has flown by - not a day has gone by that I have not learned more about the field, industry, and myself. Our executive team often mentions that at the end of our careers, they want us to look back at our time at MongoDB as a time of immense development and as the pivotal accelerator of our professional lives; a vision that permeates the opportunities you will be granted from day one.
Interested in joining MongoDB's Customer Success organization? We have several open roles on our teams across the globe and would love for you to transform your career with us!