The Power of Embracing Differences: My Journey to MongoDB
September 14th, 2021 marked my first full year at MongoDB, and what a year it's been.
A bit about me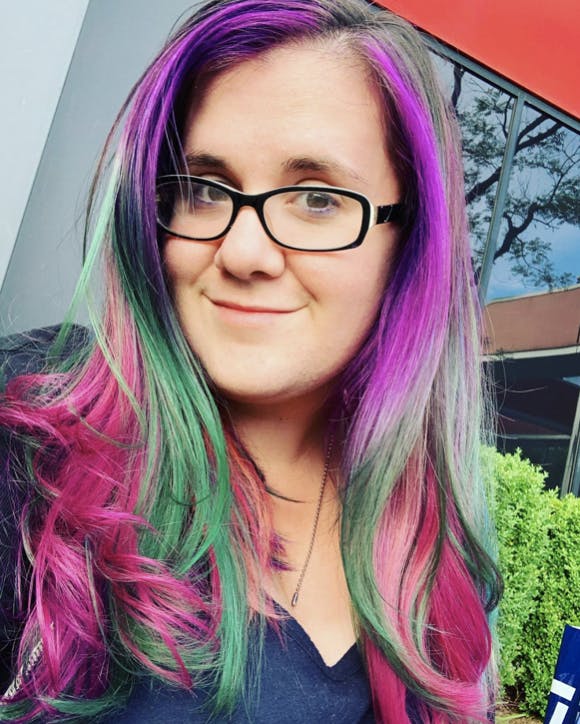 Hi, I'm Cara! I'm a Team Lead, Executive Assistant, specifically for Tech & Product. I'm based out of our NYC office and live in Jersey City with my girlfriend and our three cats. At MongoDB, I support our amazing Chief Product Officer and also lead a team of awesome Administrative Assistants (AAs) and Executive Assistants (EAs) within Tech & Product. We are hiring like crazy, too, and I can't say enough great things about our team.
Beyond my already rewarding and challenging role as a Team Lead, I also get to work on other meaningful projects while growing my core career. I'm incredibly grateful and humbled to be a Global Lead for two of MongoDB's affinity groups (known as employee resource groups at some companies) alongside some of the best, most passionate people I've ever met:
Queeries - A closed group and safe space for people who personally identify within the LGBTQIA+ spectrum.

The Queer Collective - An open group for the LGBTQIA+ community as well as our amazing allies (all are welcome!) to exchange thoughts, ideas, and learn and grow from each other. As we like to say, the future is inclusive!
Finding my voice and professional purpose
The funny thing is, I didn't know what an "affinity group" or "employee resource group" was for most of my career. I used to work in a more conservative corporate environment and spent over a decade in the food/hospitality industry with people whose views were wildly different from mine. One of my bosses always asked me if I had a boyfriend or when I was going to settle down with a nice guy. It was awkward and uncomfortable, but it was a discomfort I got used to. How sad is that? The crazy thing was, it didn't feel sad or weird or anything at the time. I just thought I had to stay hidden at work. That's what you did. It wasn't "professional" to be gay.
The first time I saw a queer coworker was when I had my first real introduction to the tech start-up environment. He was so vibrantly open about who he was, and I was in awe of him. I stayed quiet for my first few months there and studied people's reactions, interactions, and how they responded when he would say things that I never thought could be said in an office. They weren't bad things by any means, but they were topics about being queer that I watched everyone embrace. Then, it slipped out during lunch one day. I thought maybe I could casually mention going on a date so it would be less weird, but everyone was super surprised. I get told I "look straight" a lot, which I've always found irritating. What does that even mean? Do I need to be masculine-presenting to be gay?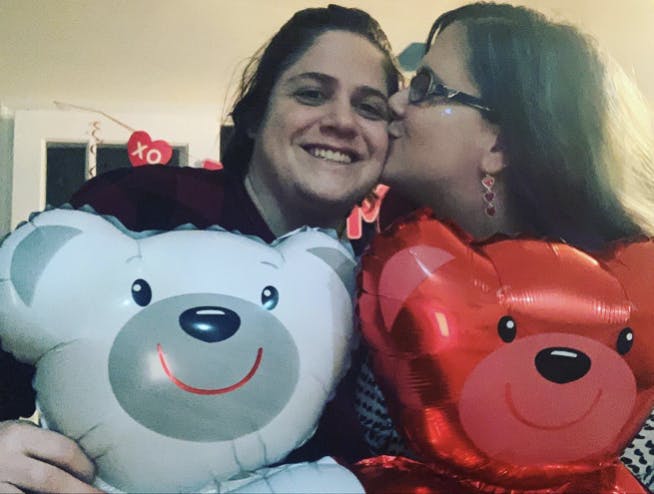 From there, I moved on to work at Zocdoc, which truly opened my eyes to affinity groups, workplace queer communities, and how far they expand. It was the first place I worked that even had an affinity group. I befriended two amazing humans there who were the founders of ZocPride, which represented Zocdoc's queer community. We got to talking and they told me they only planned something for Pride month. They're not planners, they actually hate planning, but they didn't want the group to die. So I said, "Good news. Hi, I'm Cara. I'm super queer and I love to plan things!" We chuckled and then I immediately started planning and researching what I could do with this awesome gift I was just given. Since we had no D&I team and a very limited budget, I worked to find other companies to partner with as well as vendors who would be open to sponsoring events for us. Before I knew it, we were partnering with Out in Tech to host an external panel discussion about queer access to healthcare. We hosted it on Coming Out Day and had about 300 guests. From there, things really took off. We did a "spread the love" campaign for Valentine's Day, had hugely successful fundraisers for NYC's AIDS Walk, and then, you guessed it, went crazy for Pride. I proudly introduced the art of drag to Zocdoc and started their annual Drag Bingo Pride event. We also sponsored and had a booth at the Lesbians Who Tech Summit the year that Hilary Clinton came to speak. It was unbelievable.
My MongoDB journey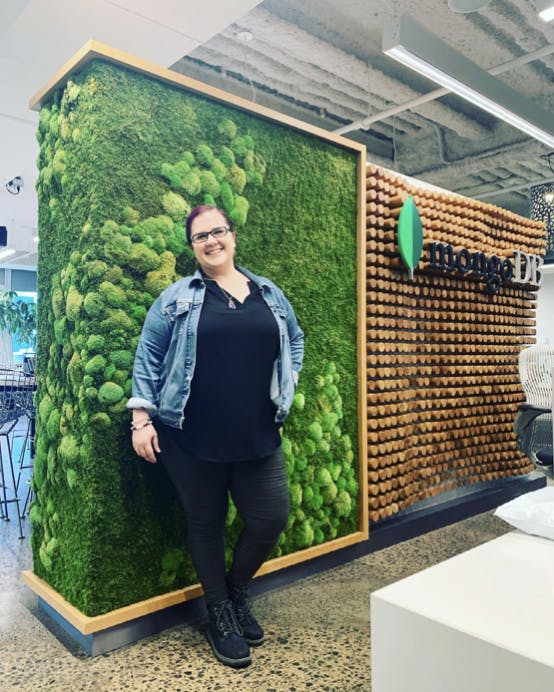 After receiving incredible offers to work at a few more companies, unexpectedly experiencing workplace discrimination, and reflecting on what I want and need to be happy and thrive in a work environment, I found myself at MongoDB. One of my amazing colleagues from Zocdoc was working here and we were catching up. I heard the details about the Company and role and thought it sounded like a great fit! I love working in tech, but specifically with Product & Tech teams. They're brilliant, passionate, quirky personalities that vibe well with mine and in my experience, are hyper-focused on having fun and building a positive culture.
Because of my previous experiences, I knew exactly what I was looking for. I asked questions that could be uncomfortable to some, as far as the company's commitment to Diversity & Inclusion, what it means to them personally, and how they practice what they preach. I didn't want any more wooden nickels. The interview process was amazing. Everyone was super responsive, informative, and helpful and didn't hesitate to answer any of my hard-hitting questions. Interviews are a two-way street, and I was immediately put at ease when I realized that MongoDB was the place for me.
My recruiter started telling me about our growing D&I team, our affinity groups, and how involved and supportive the leadership team is. Then I got to interview with my manager, our Chief Product Officer, who I clicked with instantly. I knew right away that I wanted to work with him. In my experience, I haven't always been lucky with great bosses. I've been ignored, lied to, dismissed, looked over, and simply not appreciated. I don't feel that way here. I feel heard and respected, and that speaks volumes in itself. I'm often encouraged to take time for myself. I had some personal health issues at the beginning of the year. I was anxious to take time off because I was still so new, but the outpour of support and understanding I received blew my mind. That's when I knew I had really found my new home.
When I joined MongoDB last year, The Queer Collective was still a new group, only three months old at that point, and I was able to join at a very exciting time when there was lots of opportunity and momentum. We officially launched the group alongside the communication of launching our first-ever celebration of (inter)national Coming Out Day. We celebrated again this year and have decided that it will be a company-wide annual tradition. Last year, four of our leads (myself included) shared their coming out stories, and we didn't realize how much of an impact it made until feedback started to trickle in. We were told that some employees joined MongoDB after reading our stories and some even felt comfortable coming out of the closet and stepping into their own light. If that's not rewarding, I don't know what is.
This year, more employees shared their stories, and we partnered with our Benefits team to host an internal panel discussion. October is Mental Health Awareness Month, and we thought it would be the perfect time to talk through and bring awareness to the mental health journey that comes along with coming out and embracing your true, authentic self. We will also be planning a full week of impactful programming for Trans Awareness Week so that we can continue to amplify the voices in the Trans Community while encouraging continued education.
This past July, I also spoke at MongoDB.live (formerly known as MongoDB World) with my Queer Collective co-lead and dear friend Seán Carroll about Allyship and how to upgrade to an active accomplice. It explored what accountability and support look like and how we can all improve our support of the LGBTQIA+ community. The feedback was amazing, and I can't wait to evolve our topic and content and hopefully speak in person next year!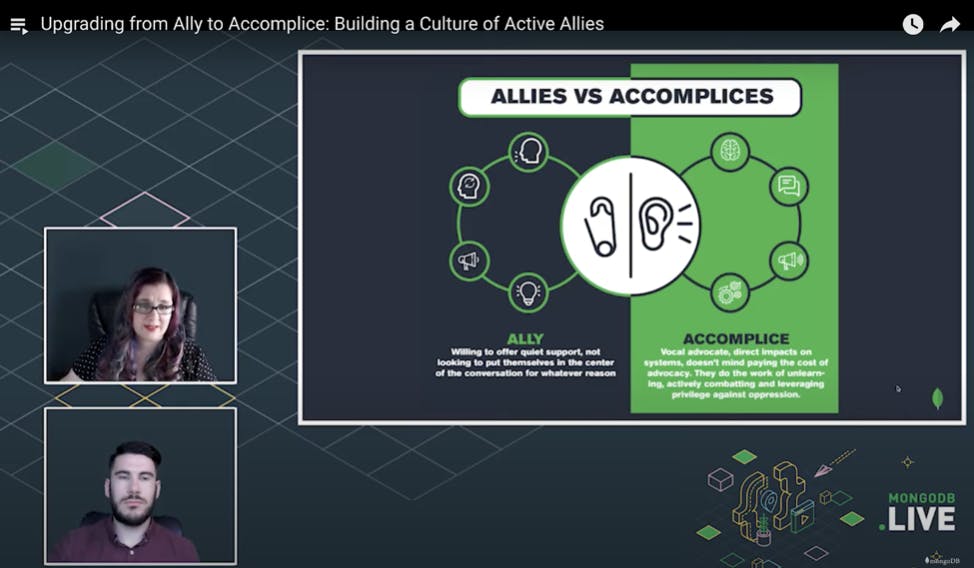 I also have the pleasure of working closely with our incredible D&I team on impactful initiatives, such as helping with large external events and partnerships like the Lesbians Who Tech Summit, where we secured a top-tier sponsorship at the largest queer tech event in the world! I've also been part of meaningful conversations, such as expanding gender and identity options and helping to evolve and plan for benefits that help and impact the Queer community. The list goes on, really. I frequently sync with our D&I team and I'm so grateful to work somewhere that truly invests in fostering an inclusive and equitable work environment.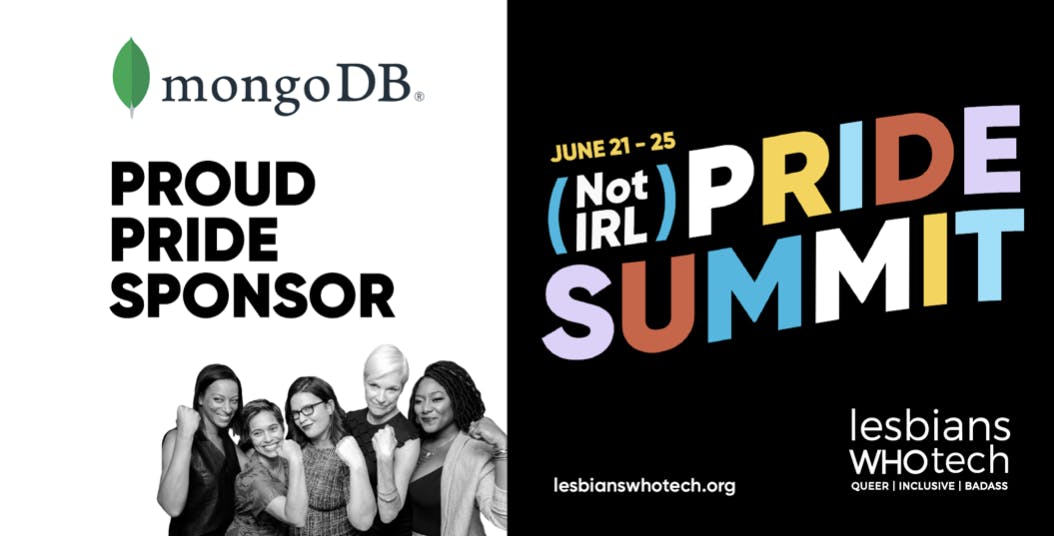 Why MongoDB is the place for me
I've worked in a lot of different industries, with people from every level and walk of life, and now I feel as though I'm where I was meant to be. MongoDB's values truly align with my own, and this is the first company that I've seen make an actual effort to align their company objectives and goals with their values. Here's how I live some of our MongoDB values every day:
I proudly embrace the power of everyone's differences (mine included). We evolve and move forward with a magical combination of varied backgrounds, interests, and ideas.

Why bother doing anything if you don't plan to make it matter? I stand behind everything I work on and am proud of the meaningful projects and impacts I've seen first-hand so far.

I've always been a big idea kind of human - Think Big, Go Far - I thrive on creativity, ambition, and being a relentless dreamer.
When I joined, I received a postcard from our CEO. Part of it said, "We want your time here to become a real inflection point in your professional career", and I can wholeheartedly say after just my first year, it already is.
I'm constantly learning and growing at MongoDB. From management training to webinars to endless learning and development resources, and beyond. These were things I had been requesting, asking, and looking for at previous companies. They were things promised to me "eventually", but they never came. Here I was in my first week at MongoDB, given them without asking. This is a company that truly cares about its employees' development and success.
I've hired (and am growing) an awesome team of amazing humans who I'm so proud to work alongside every day. Any job can be great, but the people make it extra special. The EA team at MongoDB is like no other, and I can't wait to see its continued growth and evolution. Helping to build and evolve a world-class EA org is incredibly exciting and rewarding, and I love being a part of it.
I love that I can be fully myself at work and am given the opportunity to make an impact in so many ways. I can't wait to see what the future will bring. It's been an unbelievable experience and journey so far!
Interested in joining MongoDB? We have several open roles on our teams across the globe and would love for you to transform your career with us!