MongoDB Employees Share Their Coming Out Stories: (Inter)National Coming Out Day 2021
National Coming Out Day is celebrated annually on October 11 and is widely recognized in the United States. MongoDB proudly supports and embraces the LGBTQIA+ community across the globe, so we've reimagined this celebration as (Inter)National Coming Out Day.
In our yearly tradition of honoring (Inter)National Coming Out Day, we asked employees who are members of the LGBTQIA+ community to share their coming out experiences. These are their stories.
Jamie Ivanov, Escalation Manager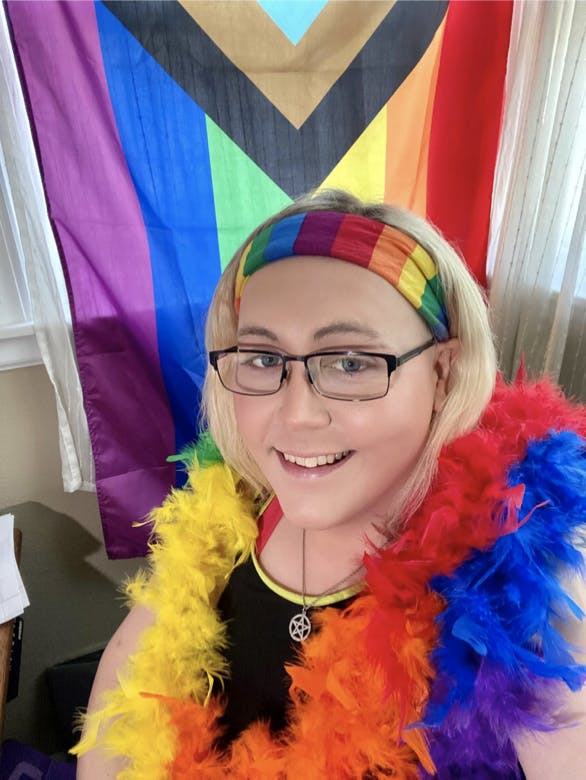 For as long as I can remember, I always wanted to play with dolls and felt closer to my female cousins. This was rather difficult for someone who is a male at birth being brought up in a fairly conservative family. At a young age, I knew that I was different but lacked a way to describe it. I certainly didn't have the support I needed, so I was brought up as a male. My father went out of his way to "make a man out of me" and toughen me up in ways that weren't exactly the most productive.
Going through school, I still knew that I was different because I kept feeling attracted to both genders, but I was too afraid to admit to it. I found a youth group for LGBT teenagers that gave me a safe place to be myself and admit to people who I really was. Outside of that group was still pretty scary; I knew that I had to be straight or I would risk being beaten up or harassed, so I tried to push my queerness aside.
In my 30s, after going through the Army and having three children, I realized that I couldn't keep pretending anymore -- who I was wasn't the true me. I started telling people that I was bisexual and hoping that they wouldn't see me as less of a person. Most of the responses I received were "yeah, we kinda figured." Having that weight off of my shoulders was immensely relieving but something still wasn't quite right; while admitting that helped explain who I was interested in, it still didn't explain who I was.
Through a series of fortunate unfortunate events, a lot of the facade I had built up for so many years came down, and I realized that who I was didn't match the body that I was given. It was terrifying to talk to anyone about how I was feeling or who I was, but I finally told people that I am a transgender woman. It was one of the scariest things that I have ever done.
Some people didn't understand, and I did lose some family over it, but most people accepted me for who I am with open arms! Since being true to myself, more weight has been lifted off of me, and my only regret is not having the resources and courage to admit who I really was years and years ago.
Since I've come out as bi/pansexual and a transgender woman, I've built stronger relationships and felt much more comfortable with myself, even to the point of liking photos of myself (which is something I've always hated and realized it was because it wasn't the real me).
When a MongoDB recruiter reached out to me, I asked him the same question I asked other recruiters: "How LGBT friendly is MongoDB (with an emphasis on the transgender part)?" The response I got back from my technical recruiter Bryan Spears was the best response I had received from ANY recruiter, or company, and was the deciding factor in why I chose to work at MongoDB. Here's what he said:
"MongoDB is a company that truly does its best to follow our values like embracing the power of differences; we have many employees who identify as LGBTQ+ or are allies of the LGBTQ+ community. We also have two ERGs, MongoDB Queeries and UGT (Underrepresented Genders in Tech), which both aim to create and maintain a safe environment for those identifying as LGBTQ+ or questioning. From a benefits standpoint, we have expanded the amount of WPATH Standards of Care services available for people who identify as Transgender, Gender Nonconforming, or Transsexual through Cigna.
While I know none of the information I have shared tells you what life is like at MongoDB, I hope that it shows we are doing our best to make sure that everyone feels respected and welcome here."
I didn't always have the support I needed to be myself at some previous jobs but MongoDB has raised the bar to a level that is hard to compete with. I'm happy to finally find a place that truly accepts me for who I am.
Ryan Francis, VP of Global Demand Generation & Field Marketing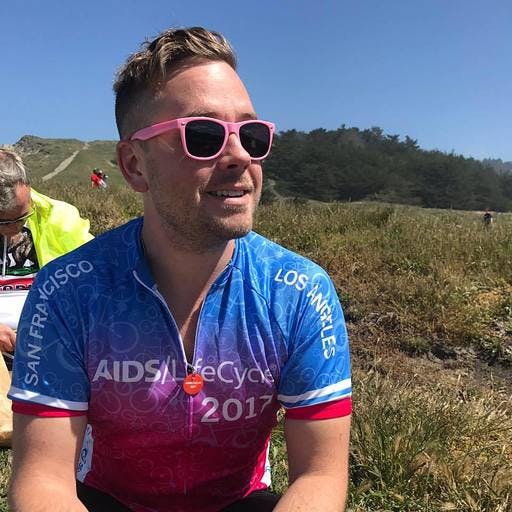 Growing up in the 90s in what I used to call "the buckle of the Bible Belt," I did not believe coming out was in the cards. In fact, I would sit up at night to devise my grand escape to New York City after being disowned (how I planned on paying for said escape remains unknown).
I was, however, out to my best friend, Maha. During the summer between my Sophomore and Junior years of high school, I spent time with her family in Egypt. On the return trip, I bought a copy of The Advocate to learn about the big gay life that awaited me after my great escape.
Later that month, my mother stumbled upon that magazine when she was cleaning the house. She waited six months to bring it up, but one day in January sat me down in the living and asked, "Are you gay?" I paused for a moment and said… "yup."
She started crying and thanked me for being honest with her. A month later, she picked up a rainbow coffee mug at a yard sale and has been Mrs. PFLAG ever since, organizing pride rallies in our little Indiana hometown and sitting on the Episcopal church vestry this year in order to push through our parish's blessing of same-sex marriage.
Needless to say, I didn't have to escape. My father was also unequivocally accepting. This is a good thing because my sister Lindsay is a Lesbian, so they sure would have had a tough time given 100% of their kids turned out gay. Lindsay is the real hero here who stayed in our homeland to raise her children with her wife, changing minds every day so that, hopefully, there will be fewer and fewer kids who actually have to make that great escape.
Angie Byron, Principal Community Manager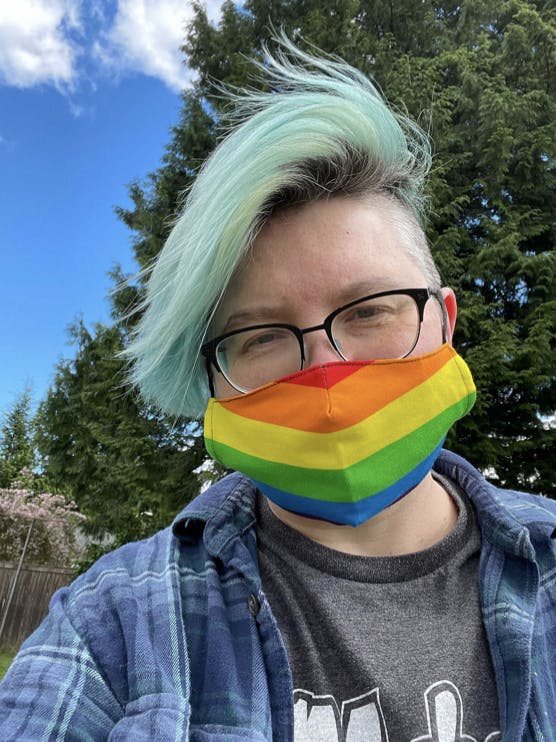 Growing up in the Midwest in the 80s and 90s, I was always a "tomboy;" as a young kid, I gravitated to toys like Transformers and He-Man and refused to wear pink or dresses. Since we tended to have a lot in common, most of my best friends growing up were boys; I tended to feel awkward and shy around girls and didn't really understand why at the time. I was also raised both Catholic and Bahá'í, which led to a very interesting mix of perspectives.
While both religions have vastly different belief and value systems, the one thing they could agree on was that homosexuality was wrong ("intrinsically immoral and contrary to the natural law" in the case of Catholicism, and "an affliction that should be overcome" in the case of Bahá'í). Additionally, being "out" as queer at that time in that part of the United States would generally get you made fun of, if not the everlasting crap kicked out of you, so finding other queer people felt nearly impossible.
As a result, I was in strong denial about who I was for most of my childhood and gave several valiant but ultimately failed attempts at the whole "trying to date guys" thing as a teenager (I liked guys just fine as friends, but when it came to kissing and stuff it was just, er… no.). In the end, I came to the reluctant realization that I must be a lesbian. I knew no other queer people in my life, and so was grappling with this reality alone, feeling very isolated and depressed. So, I threw myself into music and started to find progressively more and more feminist/queer punk bands whose songs resonated with my experiences and what I was feeling: Bikini Kill, Team Dresch, The Need, Sleater-Kinney, and so on.
I came out to my parents toward the end of junior high, quite by accident. Even though I had no concrete plan for doing so, I always figured Mom would be the more accepting one, given that she was Bahá'i (a religion whose basic premise is the unity of religions and equality of humanity), and I'd have to work on Dad for a bit, since he was raised Catholic and came from a family with more conservative values from an even smaller town in the midwest.
Imagine my surprise when one day, Mom and I were watching Ricky Lake or Sally Jesse Raphael or one of those daytime talk shows. The topic was something like "HELP! I think my son might be gay!" My mom said something off-handed like "Wow, I don't know what I would do if one of you came out to me as gay..." And, in true 15-year old angsty fashion, I said, "Oh YEAH? Well you better FIGURE IT OUT because I AM!" and ran into my room and slammed the door.
I remember Mom being devastated, wondering what she did wrong as a parent, and so on. I told her, truly, nothing. My parents were both great parents; home was my sanctuary from bullying at school, and my siblings and I were otherwise accepted exactly as we were, tomboys or otherwise. After we'd finished talking, she told me that I had better go tell my father, so I begrudgingly went downstairs.
"Dad… I'm gay." Instead of a lecture or expressing disdain, he just said, "Oh really? I run a gay support group at your Junior High!" and I was totally mind blown. Bizarro world. He was the social worker at my school, so this makes sense, but it was the exact opposite reaction that I was expecting. An important life lesson in not prejudging people.
When I moved onto high school, we got… drumroll... the Internet. Here things take a much happier turn. Through my music, I was able to find a small community of fellow queers (known as Chainsaw), including a ton of us from various places in the Midwest. I was able to learn that I was NOT a freak, I was NOT alone, there were SO many other folks who felt the exact same way, and they were all super rad! We would have long talks into the night, support each other through hardships, and more than a few of us met each other in person and hung out in "real life." Finding that community truly saved my life, and the lives of so many others.
(Side-note: This is also how I got into tech because the chat room was essentially one gaping XSS vulnerability, and I taught myself HTML by typing various tags in and seeing how they rendered.)
I never explicitly came out to anyone in my hometown. I was too scared to lose important relationships (it turns out I chose my friends well, and they were all completely fine with it, but the prospect of further isolating myself as a teenager was too terrifying at the time). Because of that, when I moved to a whole new country (Canada) and went to college, the very first thing I did on my first day was introduce myself as "Hi, I'm Angie. I've been building websites for fun for a couple of years. Also, I'm queer, so if you're gonna have a problem with that, it's probably best we get it out of the way now so we don't waste each others' time."
Flash forward to today, my Mom is my biggest supporter, has rainbow stickers all over her car, and has gone to dozens of Pride events. Hacking together HTML snippets in a chat room led to a full-blown career in tech. I gleaned a bit more specificity around my identity and now identify as a homoromantic asexual. Many of those folks I met online as a teenager have become life-long friends. And, I work for a company that embraces people for who they are and celebrates our differences. Life is good.
Interested in joining MongoDB? We have several open roles on our teams across the globe and would love for you to transform your career with us!