VisionTrack Improves Driver Safety with MongoDB Powered IoT Video Telematics Platform
- VisionTrack's telematics IoT (Internet of Things) platform tracks all driver data and vehicle event footage in near real time - Results in fewer incidents and dramatically reduces the rate of insurance claim disputes, in some cases to 0% - Relies on MongoDB's flexibility, performance and security to develop and run application
VisionTrack's telematics IoT (Internet of Things) platform tracks all driver data and vehicle event footage in near real time
Results in fewer incidents and dramatically reduces the rate of insurance claim disputes, in some cases to 0%
Relies on MongoDB's flexibility, performance and security to develop and run application
London – February 2, 2017 – Forward thinking automotive telematics provider, VisionTrack, relied on MongoDB to help build its IoT (Internet of Things) video telemetry application, which improves driver safety and dramatically increases the speed at which insurance claims are resolved.
VisionTrack developed the user-friendly platform to give fleet managers near-real time monitoring of vehicles and driver behaviors. The cloud-based solution allows immediate access to driving data, images and video when an incident occurs. It also provides fleet managers and FNOL (First Notification of Loss) teams with an alert, enabling them to assess the severity of an incident and alert emergency services where required.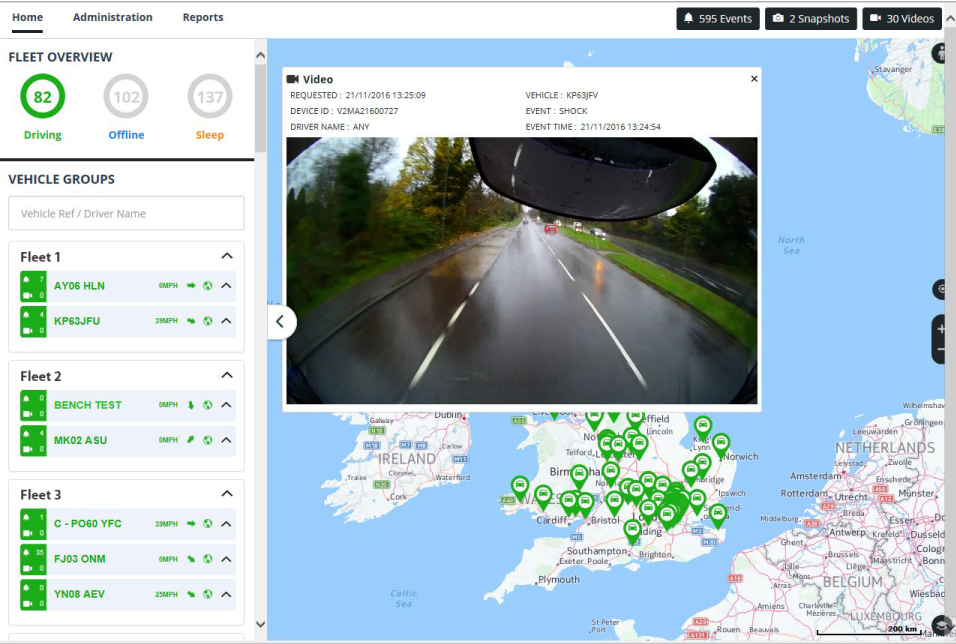 Using VisionTrack, insurers with past experience in vehicle cameras expect to see the rate of insurance claims being queried go down to less than 1%, which means faster payments for claimants and lowered processing costs. One insurer the company works with has reported a 0% disputed claims ratio as a result of installing the VT2000 telematics camera and has stated its fault claims settlements are concluded within 24 hours, instead of three to four months, due to the immediate notification of an incident.
Innovative insurers have been quick to recognize how such technology and data are transforming their industry. This competitive landscape made time to market and performance of the application critical so VisionTrack called on MongoDB to build out and power the platform.
Simon Marsh, VisionTrack's Managing Director said: "Having clear real-time data on vehicles is obviously hugely beneficial. Due to the accuracy and quality of the software, very few people will question the result of a claim when we use this technology. That is an astonishingly low number.
"But as good as better insurance processes are, what my team really focuses on is modifying driver behavior, improving safety and, ultimately, saving lives. It's all about prevention and we're seeing drastically different driving behaviours when these systems are installed. If individuals understand their driving is being monitored, they think more about their actions. When our devices pick up speeding or harsh braking or acceleration, they also give an audible alert and snapshots are sent to the cloud to be reviewed. Such snapshots help to stop unneeded conflict with a driver because they give a clear view of what happened."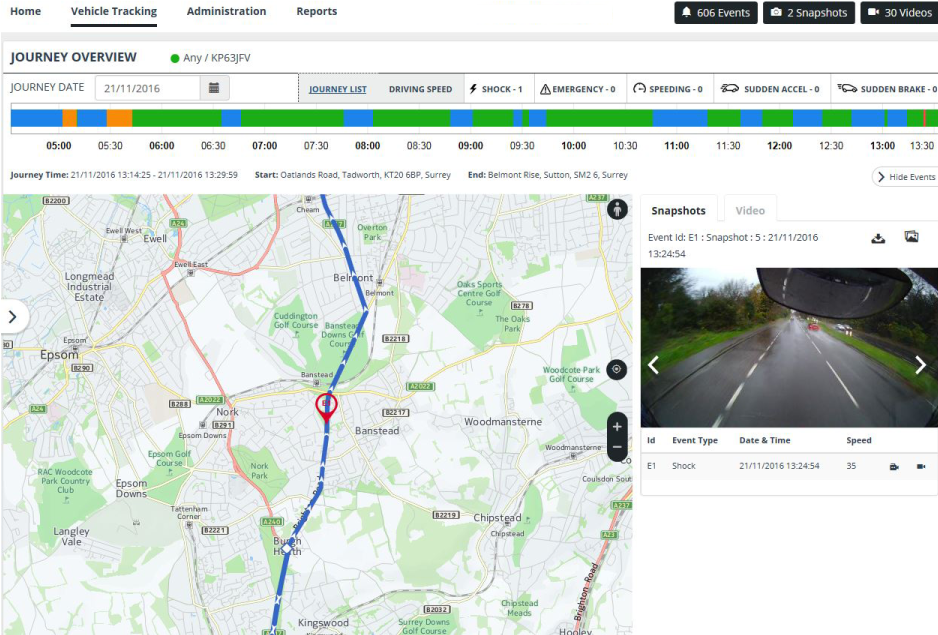 Development of the VisionTrack platform began in February 2016 and has been designed for the future of connected vehicle technology, being device agnostic and infinitely scalable. Through the system, telematics data is sent every 15 seconds from each vehicle to the Microsoft cloud-based platform for storage and retrieval.
VisionTrack uses non-relational database MongoDB to store all the dynamic drive data that includes the metadata for images from a vehicle's on-board camera. MongoDB was picked for three reasons:
Speed and flexibility of development – VisionTrack's developers could create the application quickly and also add features or data types which were not in the planning phase.
Performance – the application sends streams of data to the database that need to be ingested quickly and available for immediate querying.
Enterprise security – given the sensitivity of the data recorded, security controls were a key consideration. The team uses MongoDB Enterprise Advanced to ensure all data is secure and compliant.
Using the latest version of MongoDB, VisionTrack relies on OpsManager to simplify the operations of running the application's data layer, including automated configuration, monitoring and backups.
Karl Wootten, Solution Architect at VisionTrack, said: "MongoDB's been fantastic for us. It's meant the development team has been able to focus on actual application challenges rather than worrying about database instances. If we'd selected a traditional relational database for this service, we would not have been able to launch as quickly as we have and I'm sure we may be encountering performance issues right now."
Simon concluded: "Whether you're a fleet manager or a parent, you can see how a driver drives in the real world through such technology and this can help stop any 'wannabe' racing drivers before they cause an incident.
"Statistical data supported by video doesn't lie and this forms the perfect system to help protect all drivers and encourage better driving standards on our roads. Thousands of people are seriously injured every year, and I believe a combination of telematics with integrated video and good road safety education can play a big part in reducing these numbers and preventing incidents from occurring."
About VisionTrack
The VisionTrack was established in 2015 specialises in in-vehicle CCTV technology. It provides advanced and reliable hardware to individual, fleet and insurance customers, helping protect drivers and businesses while also promoting safer driving. These devices are supported by an advanced Internet of Things tracking platform.
About MongoDB
By offering the best of traditional databases as well as the flexibility, scale and performance today's applications require, we let innovators​ ​deploy apps as big as they can possibly dream. From startups to enterprises, for the modern and the​ ​mission-critical, MongoDB is the database for giant ideas.​ For more information, visit www.MongoDB.com