Built With MongoDB: Inspirit Helps Kids Learn Science Through Immersive Technology
Immersive technologies like AR and VR have tremendous potential to transform learning outcomes for students. By representing complicated, often intangible concepts in an interactive, 3D platform and VR system, they encourage engagement and improve memory recall in STEM (science, technology, engineering, and mathematics) subjects.
Palo Alto-based startup, Inspirit, has developed an immersive, interactive VR platform that combines the best of both 3D and VR instruction to allow students in middle school and high school to experience science and learning through virtual reality instead of reading.
Inspirit is also part of the MongoDB for Startups program, which helps startups build faster and scale further with free MongoDB Atlas credits, one-on-one technical advice, co-marketing opportunities, and access to a vast partner network.
Birth of a Startup
Inspirit Co-founders Amrutha Vasan and Aditya Vishwanath were conducting research at Georgia Tech and trying to understand how to bring virtual reality into education when they had a critical insight. "A lot of students tend to lose sight or just lose interest in science by the time they hit high school," Vasan says. "What we realized very quickly was that you can give teachers the tools that they need in order to do things that are way too expensive or just simply impossible to do in the real world."
As students get into higher order physics, calculus, biology, and chemistry, they struggle with visualizing difficult concepts. "What we aim to do is provide interactive 3D models and interactive simulations that actually teach them core science concepts so that they build that curiosity and actually engage with the material in order to keep them in STEM programs and moving forward," Vasan says.
Company evolution
Inspirit has evolved since its early days. The founders initially focused on VR headsets and 3D goggles that students would share in the classroom. Once the global COVID-19 pandemic hit, it was clear that students wouldn't be going back to the classroom anytime soon.
"We had to very quickly pivot into building a web platform that students could use at home and teachers could use for hybrid and online teaching," Vasan says. "Through the pandemic, we learned very quickly exactly how the education system would actually be changing. And so through that adaptation, we've now built a cross-platform product."
Building a cross-platform solution aligns with one of Inspirit's core values, which is to be accessible. Inspirit is now available on the web in addition to virtual reality headsets so students can access the tools on different platforms.
Inspirit isn't just an extracurricular activity. One of the biggest differentiators between Inspirit VR classroom and other platforms is that it addresses core content. It's not something that students need to use independently. "You still need a really great teacher," Vasan says. "There is no way for you to show a student a eukaryotic cell other than by drawing it on a whiteboard or giving them a diagram or a video," she says. "You still need a great teacher in order to use our platform. But they can now use this to help their students visualize difficult science concepts."
Inspirit helps students who love science immerse themselves in it more while at the same time helping kids who dislike science experience it in a new, more engaging way.
Building with MongoDB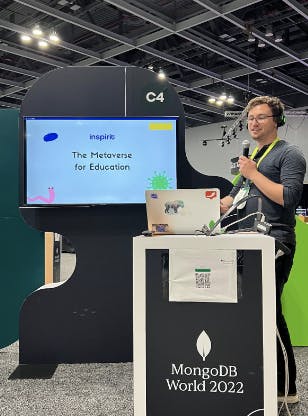 Inspirit chose MongoDB over other platforms because of its support and flexibility. As a startup, the founders knew their database structure would be changing constantly. "MongoDB allows for a lot of flexibility," Vasan says, "which is really important because we're probably not going to have the perfect database going into a startup. Allowing us to consistently change it as we're scaling and growing has just been very helpful."
Regarding MongoDB support, which is one of the benefits of the MongoDB for Startups program, Vasan says the company got the most support from MongoDB than any of the other databases they were looking at. "That's ultimately why we ended up choosing it for our company," she says. "The things that we love the most about MongoDB are Atlas, Charts, and search indexes. Atlas has been really cool for visualizing all the data and for helping us grow and scale quickly as well."
"We've had a really good partnership with the MongoDB for Startups program in particular," Vasan says.
Inspirit uses AWS, and Vasan cites how easily Atlas integrates with AWS as another key benefit that she appreciates. "AWS integrates very easily with MongoDB. So to be honest, it's been pretty easy scaling our backend." Compliance was another critical requirement. "We actually need to be COPPA compliant," Vasan says, referring to the Children's Online Privacy Protection Rule. "There are a lot of data regulations for what we're using since we have sensitive student, parent, and teacher data. And so both MongoDB and AWS actually make that a lot easier."
If you're interested in learning more about Inspirit's immersive learning tools, visit their website.
Are you part of a startup and interested in joining the MongoDB for Startups program? Apply now.
For more startup content, check out our previous blog on Qubitro.