Transitioning from Teacher to MongoDB's Industry Solutions Team: Meet Gabriela Preiss
As a global company, MongoDB has amazing employees with interesting backgrounds and stories. I recently sat down with Gabriela Preiss, a Senior Industry Solutions Consultant, to learn more about her journey across the globe from the U.S. to Barcelona, Spain, and her experience transitioning from teaching to becoming the first hire for MongoDB's brand-new Industry Solutions Team, shifting enterprises toward innovation and generating a ton of compelling content along the way.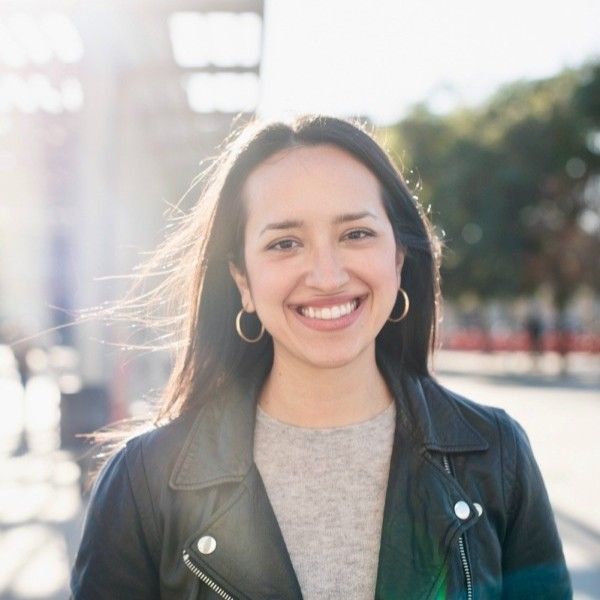 Andrew Bell: Thank you for sharing your story, Gabriela. I'd love to know how you got to where you are today in your role. What skills are important for someone on your team to be successful?
Gabriela Priess: My career journey has been from one end of the spectrum to the other. Originally, I studied English and education, and I was a high school teacher for four years. I loved teaching, and I encourage anyone who wants to pursue it to do just that, but eventually, I hit a block and craved more mobility. So I moved from the U.S. to Portugal and studied web and mobile development. Finding myself back as a junior in a new industry, I worked my way up by freelancing as a web developer, building a curriculum for a coding school, and then quickly finding my way into a lead tech support role with a popular web application organization, where I also led the QA process. So, how does all of this add up to working in and with data? I truly believe every professional experience is the chance to extract something positive — a learning takeaway. This diverse background has challenged me and shaped me, as well as helped me to be confident in my choices, to trust I'm taking steps in the right direction, because ultimately each career move has been better than the last and has led me to where I am now, with MongoDB, as an Industry Consultant. Ultimately a career risk led me to a job that didn't even exist a year ago on a new team. So, we can never truly say what the future holds for us; we may be headed toward a killer career that hasn't even been invented yet.
When it comes to being successful on my team, I think this role is open to so much diversity. I'm trying to narrow down any specific skills, but I think anyone who is ambitious, independent, takes ownership with what they produce, and is curious will succeed here. Curiosity is a huge asset — someone who is open to learning and diving deep into what they don't yet understand, eager to keep growing, and tech-curious. A big part of what we do involves us keeping our finger on the pulse of tech and data innovation, so we can confidently discuss, debate, or write about it. This means feeding ourselves with the right tech news content.
AB: I'd love to know more about the Industry Solutions Team. What's your role and your day-to-day like?
GP: Our reach is quite broad, but if I had to define it, I'd say the Industry Solutions Team (IST) assists, educates, and helps inspire large enterprises to move toward modernization and innovation. Often, large enterprises have the most complex, costly legacies in their systems and need macro and micro aid and insights to not only modernize but also to visualize and tally the endpoint. IST Principles and Consultants have the industry expertise and capability to translate our value proposition to senior executives and engineering management. This includes generating training content for internal teams; meeting with other teams for potential and ongoing accounts; delivering webinars, published content, and interactive exposition presentations; and meeting with clients so they have a stronger understanding of how MongoDB helps them to modernize from the most basic format, such as adopting the document model, to truly leading in innovation, such as data science, machine learning, and real-time analytics. So, the IST is a bridge between sales, technical sales, and marketing for complex industry use cases and solutions. These are the teams we collaborate most often with, working closely with sales reps and solutions architects, collaborating with solution providers, and closely aligning with the marketing team producing diverse content and product alignments.
So, if you ask me what exactly is my role, I'd say it's all of the above. Our team is small, although it's growing quickly, and we have big plans to expand exponentially in the near future. That said, we have a democratic way of dividing the work. We're made up of our Global Head, Boris Bialek, our Principal, Steve Dalby, and the two Consultants, including myself and Vanda Friedrichs. And we're all expected to bring equally to the table, despite who has more seniority. This lets us all have an idea of what everyone is working on, and we frequently dip into each other's projects either to help out or request aid. Each project is free roaming for all: as long as we're aware of the objective and deadline, we can get creative with how we reach the endpoint.
My projects are constantly evolving and regenerating, and I could joke that the only thing they have in common with each other is they all have to do with MongoDB. However, when I was hired, Boris was very clear and direct that each day would be different, and his promise has held true. I don't have a day-to-day like most others might in regard to consistent projects, but the objective is always the same for each: how can we showcase MongoDB's value in modernization and innovation in regards to data and tech? Because my projects are so diverse, and often more creative-oriented than anything else, I make up for what some may call a "lack of structure" by being very structured in how I plan my day. Before each day, I predetermine how my next day is going to be divided hourly by projects, tasks, and follow-ups, and I reserve some time for "self-learning," where I take time to continue my training curriculum, since that's an ongoing track.
AB: Since this is a new role, what tools and resources (e.g., Sales Bootcamp) were you given to help you ramp up?
GP: True, this was a new role when I first stepped in, so I didn't totally know what to expect. There was a running joke I was learning by a fire hose, just having everything blasted at me, and something was bound to stick. MongoDB sets all employees up with boundless learning resources, so I created a curriculum for myself. I prioritized from the top down, based on what I needed to understand ASAP, such as MongoDB's services and functions, and from there I had freedom to roam based on what interested me the most and what my weak spots were, and was given time to dive in deep technically. For example, I ran POVs to see the data in action from a locally set up database. I know other teams within the company have established curriculums for onboarding, but because this was a new role, I used the resources available and that worked for me. I was given a lot of liberty with my learning because it was mostly autonomous and self-driven, but that's not to say my learning is over. The company really promotes a learning culture, and every week there are new resources with webinars, learning materials, training materials, and so on.
Early into my onboarding, I participated in what's called our Sales Bootcamp. It's a two-week intensive training that dives deep into MongoDB's services as a whole and lays a strong foundation to build on. It's usually something that's done in person at MongoDB's headquarters in New York City, but since this is the COVID-19 era, it was done virtually, with a big cohort of new hires included from Europe and the Americas. This was a cool experience, because I got to meet a lot of new faces.
Professionally, my background is originally in education, so I used to write my own curricula for my students, and I've been impressed with what I find the MongoDB enablement and Learning & Development teams generating.
AB: What content have you and will you create? What is the purpose of this content? How is it leveraged?
GP: Among many other roles, the IST is a content-generating team, so we're constantly working on creating something new, or collaborating with other teams to create new content. As of today, I've been with MongoDB for four months, and in that short time, I've been able to generate a lot of interesting, challenging pieces. Each project I'm given is a chance to dive deeper into that subject and expand my understanding of it — like data science or fintech, for example.
One of the first projects I had was the chance to write a blog about MongoDB's partnership with Iguazio, and how our data platform is the ideal persistence layer for Iguazio's data science and MLOps platform, which is used to develop, deploy, and manage AI applications. Clearly, each project is a team effort, but this gave me the opportunity to dive into a topic I find personally interesting, while building connections with some of our most innovative partners.
My first or second week I was introduced to an internal deck created by one of our Solutions Architects, Pascal Jensen. It was a sort of think piece on how data is being driven by the growing uncertainties of the world, in a political, social, and economic sense, and how the most innovative leading companies are responding. We decided to turn this into a more holistic, complete white paper to reach a wider audience. With that, after really digesting the deck that was available and multiple interviews with the Solutions Architects that contributed to it, I built an extensive paper around it, giving breath to the expression "digital by default." This was something I was quite proud of, because it was so early on in my time with MongoDB, and it let me dive into truly interesting topics. I was able to build on the holistic elements of data and how it's reshaping even the most mundane elements of the world, propelling us into the future with innovative technologies and solutions for some of the most crucial global concerns, such as hunger or healthcare.
Last month, I presented my first corporate webinar with MongoDB, discussing transitioning from a relational database to MongoDB's document model. It was a huge opportunity, because we were focusing on Spanish-speaking countries in Latin America. For me, this was almost a beta project, because I didn't know what to expect in regard to reception. In the end, it was a massive success: overall, we had more than 6,500 registrants. That was a really exciting experience, because I knew as a team and a company we were clearly doing something right, engaging with the right audience, and connecting with the right people. There is a really positive response still outpouring from that webinar, and I was happy to be a part of it, especially as a rookie. Again, it just speaks to how much autonomy and freedom to create I've been given. My manager never holds me back from any opportunity and really encourages our success. In the spring, we'll repeat the same endeavor with another webinar, covering a different topic I'm currently preparing in Spanish.
AB: What was it like starting in a new role on a new team, especially during the pandemic? How do you stay connected to the team despite living in different countries?
GP: Despite the pandemic, there was a lot to dive into because the company was running full speed ahead. It can be slightly intimidating being the new person on a fast-paced team, but I felt very included and seen from day one, and there was more than enough work and training to keep me busy. I haven't really considered what it would've been like to work with MongoDB prepandemic, because at this point, this is all I've known.
Staying connected with my direct team, though, has been the easiest part for me. I've never once felt disconnected despite never having met them in person. As of now, we're dispersed across Dublin, London, Zurich, and Barcelona, and we're growing. Plus, our backgrounds are even more diverse considering where we've lived, where we're from, and the languages we speak. It's refreshing to be part of a team that doesn't feel limited to one geographic region, because it opens our minds and team discussions to diverse views and ideas.
AB: How would you describe the team's culture? And how do you maintain this culture during COVID-19?
GP: The team culture is really positive, inclusive, and ambitious. Every team meeting feels like a brainstorming session, because part of our job is innovation. We're all given a voice and are expected to use it as we shuffle through ideas and ongoing projects. But overall, our team culture is casual, in the sense that we engage with each other informally, but we all recognize what we need to be working on and by when.
We're each expected to take ownership of our work, and we're given a lot of creative and structured autonomy. This means independently owning whatever it is we're working on, and this goes for professional learning too. MongoDB creates a lot of resources internally that I take advantage of, from guided training and courses to reading material, interactive training, webinars, and so forth. I was paired up with one of our Solutions Architects, Benjamin Schubert, and he patiently made himself available to help guide me through some of the more technical aspects of our databases as I was learning how to maneuver through it myself, and I am eternally grateful. Of course, we have support any time we need it, and I can easily seek out resources or set up a Zoom call with an internal expert if I have any questions, but at the end of the day, the ticker moves forward only if everyone is doing their part, so each of us takes our part seriously.