Solving Business Problems and Impacting Customer Experience with MongoDB's Data Analytics Team
Chris Douglas is currently a Product Analytics Manager on MongoDB's Data Analytics team in New York City. In this article, we discuss the team culture and growth, how analysts make an impact, and the close partnership they've built with our product organization. Read on to learn more about data analytics at MongoDB.
Jackie Denner: Hi Chris! Thanks for sharing a bit about your experience on the Data Analytics team. Can you start off by telling me why you decided to join MongoDB?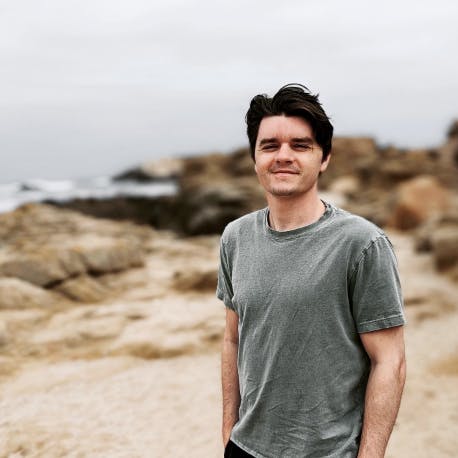 Chris Douglas: Coming from an SQL background, I hadn't used MongoDB in my day-to-day but heard good things about it from developers. During the interview process, I quickly saw how passionate people were about the product and could clearly see how many interesting analytical challenges there were to solve. I joined as one of the first product analysts and have been at the company for about two and a half years.
JD: It must have been exciting to be one of the first product analysts. How have you seen the Data Analytics team grow in that time?
CD: The analytics team had about 14 people when I joined and has roughly tripled in size. What I'm most proud of is seeing how the team has grown with respect to maturity, complexity, and depth of work. We've invested a lot in telemetry to better understand where developers are in their journey and help them get the most out of MongoDB. Our growth and maturity has allowed us to help more teams across MongoDB make better data-driven decisions.
JD: How do you feel you've personally grown since joining MongoDB?
CD: Being surrounded by extremely driven and talented people has helped me learn as a person and helped me better understand how analytics can play a part in the software development cycle.
The culture here really encourages collaboration, so I have the pleasure of working with a lot of different functions (from sales to marketing to product), which helps me holistically understand the MongoDB Atlas business. It's been great to be surrounded by people with such diverse backgrounds and disciplines, and it has opened up my world view substantially.
As the Data Analytics team has scaled, I've had the fortune of transitioning into a people manager role. This has been a great (but humbling) learning experience where I get to collaborate and work closely with two fantastic analysts.
JD: Some of MongoDB's core values are "Build Together," "Make It Matter," and "Own What You Do." How does the analytics team experience these on a daily basis?
CD: Our team vision is to empower a data-driven culture at MongoDB, which connects really well to our company values.
We're often the quantitative arm of any initiative or product starting from ideation all the way through retrospectives and measuring results. We collaborate with product managers to understand where there's opportunity for growth, ideate experimentation with the design teams, and work with product marketing around target groups for outreach campaigns.
Bringing a quantitative lens into the fold helps the team prioritize and learn as much as we can to create value for our customers.
JD: It sounds like your team is a true partner to the product organization. How do you weave data and experimentation into the product roadmap?
CD: The Data Analytics team is really here to help contextualize who is using products today and where there is opportunity to help solve pain points for developers. While nothing can replace qualitative user research, it's nearly impossible to do this with everyone given our scale and growth. Experimentation is a great mechanism for us to learn and see what solutions work best for our customer base. A/B testing has let us learn so much, which helps us improve the customer experience and increase our pace of innovation.
JD: What makes working in analytics at MongoDB exciting, and why should someone join the team?
CD: MongoDB has the perfect mix of a startup culture with the advantages of working for a larger company. I could be chatting about the health metrics for MongoDB Atlas, then jump into a go-to-market strategy meeting for MongoDB Search, then talk to an economist about causal inference study strategies. There's always something new.
There's a lot of trust and empowerment here that fosters a very collaborative and creative environment. This is largely because we're tackling big challenges that can make a real impact for people using our product every day. The opportunity to take part in shaping the future roadmap of MongoDB products as well as knowing your work is making an impact is what excites me.