Sales Development Series: Meet the North America Sales Development Team
Sales Development is a crucial part of the Sales organization at MongoDB. Our Sales Development function is broken down into Sales Development Representatives (SDRs), who qualify and validate inbound opportunities from both existing and prospective customers, and Account Development Representatives (ADRs), who support outbound opportunities by planning and executing pipeline generation strategies. Both of these roles offer an excellent path to kickstarting your career in sales at MongoDB.
In this blog post, you'll learn more about our North America inbound team, which works with customers all over North, Central, and South America. Hear from Manager Ravelle Mantoura and a few Sales Development Representatives about the SDR role, team culture, and how they're looking to grow their careers at MongoDB.
Check out the rest of our Sales Development series here.
Ravelle Mantoura, Regional Sales Development Manager for North America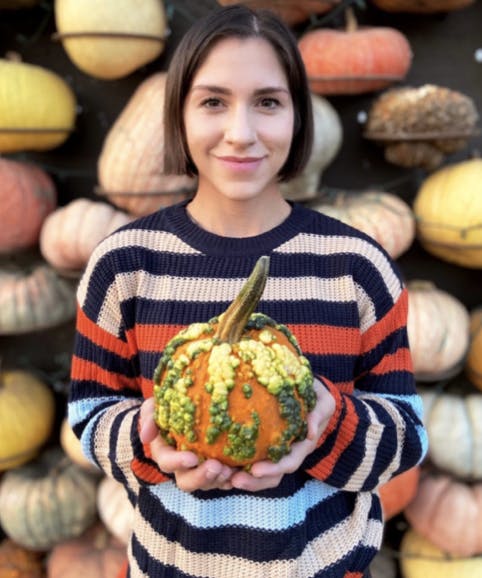 As part of the inbound Sales Development team, there is an enormous opportunity for growth as you develop many skills in the Sales Development Representative role. Due to the nature of inbound, we tend to have a lot of conversations with customers who are further along their MongoDB journey than others. This means you will have a lot of customers asking questions about the product and features to understand what solution makes the most sense for them. Because of this, you will get well acquainted with the product and develop strong technical know-how around MongoDB offerings. Additionally, you will develop skills to understand how companies of all sizes purchase software. You'll also have the opportunity to work with dozens of different Account Executives across the company, understand their business flow, their methods, and learn more about their organization -- it's a great way to build relationships as you decide which path to take. Lastly, due to your customer calls, you will gain a deep understanding of our sales methodology very quickly which will prepare you well for the next role.
All of this is incredibly valuable as you look to grow your career and decide which path makes the most sense for you (Enterprise or Corporate). To be on the inbound team means to work alongside marketing closely, understand the marketing to sales funnel, how data impacts results, and how to use the data you are given to have an impactful conversation with a potential customer. You will not be dedicated to one team or region but the entirety of North or Latin America, giving you the opportunity to network, build strong relationships with dozens of different stakeholders, and master your communication and relationship-building skills.
We have a few different types of roles on the inbound team, so the typical day-to-day work can vary. For some, a daily structure will be around assisting customers through the live Sales Chat on our website, answering "contact us" forms, or responding to customer calls. This is a fast-paced role where you will help dozens of customers a week who are interested in speaking to sales. We typically schedule a meeting to understand the customer's project and needs, so a large chunk of your week will be having live video conversations with customers. For the other roles on the team, we have individuals who respond to customers who have engaged with our marketing content. This can be anything from downloading the Enterprise Edition of our database to attending a webinar put on by MongoDB. Reps will reach out via phone, email, and LinkedIn to establish a connection and have a conversation around the potential customer's interest. Lastly, we just launched a new strategic role on the team where reps will work on Enterprise accounts deemed with a high propensity for growth by marketing. The day-to-day in this role will focus on building connections within the entire account and understanding how the company can potentially leverage MongoDB in their current applications. This role is more strategic so there will be a heavier focus on building out messaging and strategy for approaching the account. The day-to-day in this role will be centered around gathering intel on the account, creating an action plan on outreach, and setting up live conversations with the customers you make contact with. Regardless of what role you're in on our inbound team, you'll have weekly, monthly, and quarterly enablement, training, and coaching sessions to set you up for success in your next career step.
There are so many things that I love about our inbound Sales Development team. First, I enjoy being able to coach and develop my reps and seeing their growth throughout their tenure as they pursue a sales role at MongoDB. Second, getting the opportunity to learn about companies of all sizes and hear about the cool projects they are working on. Recently, one of my reps had the opportunity to meet with an architect from a popular digital music platform from the '90s who wanted to completely re-platform their services to capture new market share. Another rep met with the CTO of an AI company where they use robots to track body motion throughout warehouses. Some really cool stuff! Lastly, being part of inbound and handling customers all across North, Central, and South America who are on different parts of the MongoDB journey makes every day exciting!
Luiza Ozório, Sales Development Representative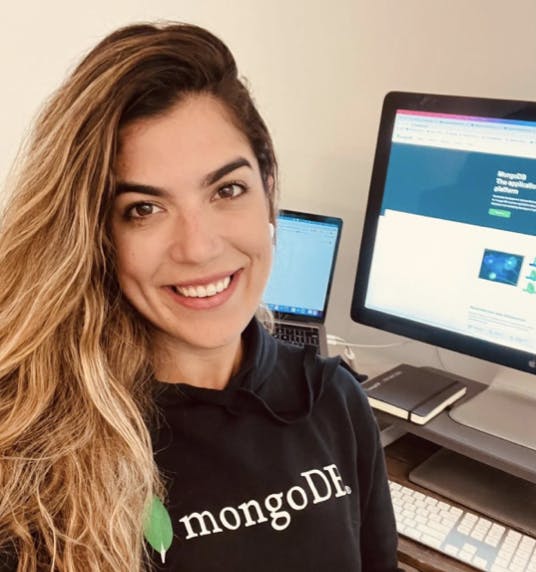 When I was looking for new career opportunities, I researched three points that I consider extremely important when assessing the job market: consistent company growth, people and culture, and training and growth possibilities. MongoDB excelled on all these points and when evaluating the two offers I received, I chose to join MongoDB. The Sales Development team culture is very collaborative. We are all on the journey of constant learning, so we often do teach backs on topics that contribute to our daily routines. We also share best practices and anything else that can help other team members develop. There is a culture of learning and development at MongoDB, with well-defined paths for career growth and open feedback which is an exciting working environment to be in. In terms of how to succeed, I don't think there is a specific formula that makes someone successful, but I believe in the importance of being consistent, disciplined, following the sales process, and, above all, communicating with stakeholders in a clear and effective way.
Being part of a company that is constantly growing gives us the opportunity to build together and accelerate the company's development even further. I believe in the excellence of what MongoDB offers and I see that we really help our customers develop and scale their businesses. This feeling of being able to help is what energizes me!
Brandon Bell, Sr. Sales Development Representative
I chose MongoDB because the sales training is second to none. From the first interview, it was clear that MongoDB heavily invests in its people. I felt extremely welcomed and I could tell that MongoDB was a collaborative organization. I spent my first few weeks getting to meet others throughout the organization and going through our Sales Bootcamp which is a training program that's designed to equip new hires with a strong technology and sales foundation before fully ramping into their role. MongoDB is uniquely positioned in the market to be the foundation for modern applications. It's an incredible opportunity to be on the ground floor of so many digital transformation efforts. MongoDB is the foundation of so many applications that solve real-world problems! It's incredibly exciting getting to work with various customers with a wide variety of use cases like IoT, Machine Learning, and Blockchain technologies.
What will make you successful is being intellectually curious and having a willingness to learn. Our industry and customers' needs are constantly evolving and being genuinely interested in keeping up with these changes is key. At MongoDB, your success is directly correlated with your ability to implement feedback and learn from your mistakes. Coming to the role with an open mind and an appetite to learn is one of the best things you can do as an SDR at MongoDB.
My next step is going to be joining our Cloud team as a Cloud Account Executive. In this role, I will get the opportunity to support a lot of early-stage companies as they look to grow and launch new applications. In the long-term, I aspire to become an Enterprise Account Executive where I will get the opportunity to partner with some of the largest companies in the U.S. as they continue to innovate and create applications that will impact millions of people. I feel so fortunate to have joined a sales team that truly cares about everyone's success.
Angel Rivera-Vega, Sales Development Representative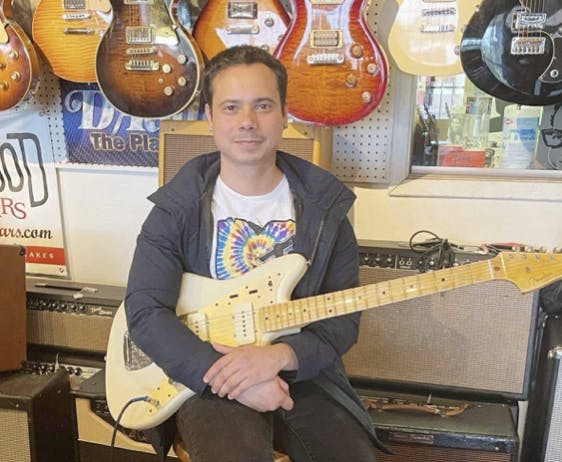 One of my best friends was working at MongoDB and suggested that I apply to the Sales team based on the continuous growth that he experienced within the company. I had already been developing my tech sales career at other companies, and I knew a little bit about MongoDB through NodeJS and Javascript courses that I took back in 2017. I applied, and here I am!
My onboarding experience with MongoDB was gold. I was blessed with a team that consistently helped me through the onboarding process. They always supported me when I needed it, and they consistently coached me on the path to success here in MongoDB. I have to admit that my journey through MongoDB's Sales Bootcamp was the best sales training process in my professional career.
Something that makes me feel very excited about my role is that I have the opportunity to help multiple entrepreneurial initiatives become a reality. I also enjoy promoting solutions to challenges that help enterprises in the long run. It feels great to interact with different companies across the globe and learn about different cultures. In my opinion, there are two critical elements for an SDR's success. The first one is their mindset. The most successful SDRs are capable of continuously finding opportunities in which MongoDB will fit companies' initiatives. The second is that they are willing to learn and improve consistently. They are curious, test new ideas, and continuously improve on their execution.
As I continue to progress my career at MongoDB, I see myself as a Cloud Account Executive in my next role. I like the idea of helping companies embrace cloud technologies such as MongoDB Atlas. In today's world, all modern applications are empowered with data. To make good use of data, all modern applications need to use cloud technologies that will operate independently. These technologies will help companies to boost development productivity, reduce complexity, and facilitate innovation.
What makes MongoDB exciting and unique is to see how much the company is growing year over year and know that our work is contributing to this continuous success. MongoDB is full of incredibly talented and capable people, and I always learn something new from them.
Interested in joining the Sales team at MongoDB? We have several open roles on our team and would love for you to transform your career with us!