Retail Tech in 2022: Predictions for What's on the Horizon
If 2020 and 2021 were all about adjusting to the Covid-19 pandemic, 2022 will be about finding a way to be successful in this "new normal". So what should retailers expect in the upcoming year, and where should you consider making new retail technology investments?
Omnichannel is still going strong
Who would have anticipated the Covid-19 pandemic would still be disrupting lives after two years? For the retail industry this means more of the same - omnichannel shopping. Despite the hope many of us had for the end of the pandemic and the gradual increase of in-person shopping, retail workers can expect to continue accommodating all kinds of shopping experiences – online shopping, brick and mortar shopping, buy online and pick up in store, reserve online and pick up in store.
Even beyond the pandemic, the face of shopping is likely forever changed. This means retailers need to start considering the long-term tech investments required to meet transforming customer expectations. Adopting solutions that offer a single view of the consumer gives you the unique opportunity to personalize offerings, products and loyalty programs to their demand. With a superior consumer experience, you can achieve repeat business and increased customer loyalty.
While many retailers may have thought they could "get by" with their current solutions until the pandemic ends, it's time to rethink that approach and start exploring more long-term solutions to improve omnichannel shopping experiences.
Leaner tech stacks over many specialized solutions
In 2022, you should explore solutions that allow your IT teams to do more with less.
The typical retail tech stack looks something like the diagram below. Legacy, relational databases are supplemented by other specialist NoSQL and relational databases, and additional mobile data and analytics platforms.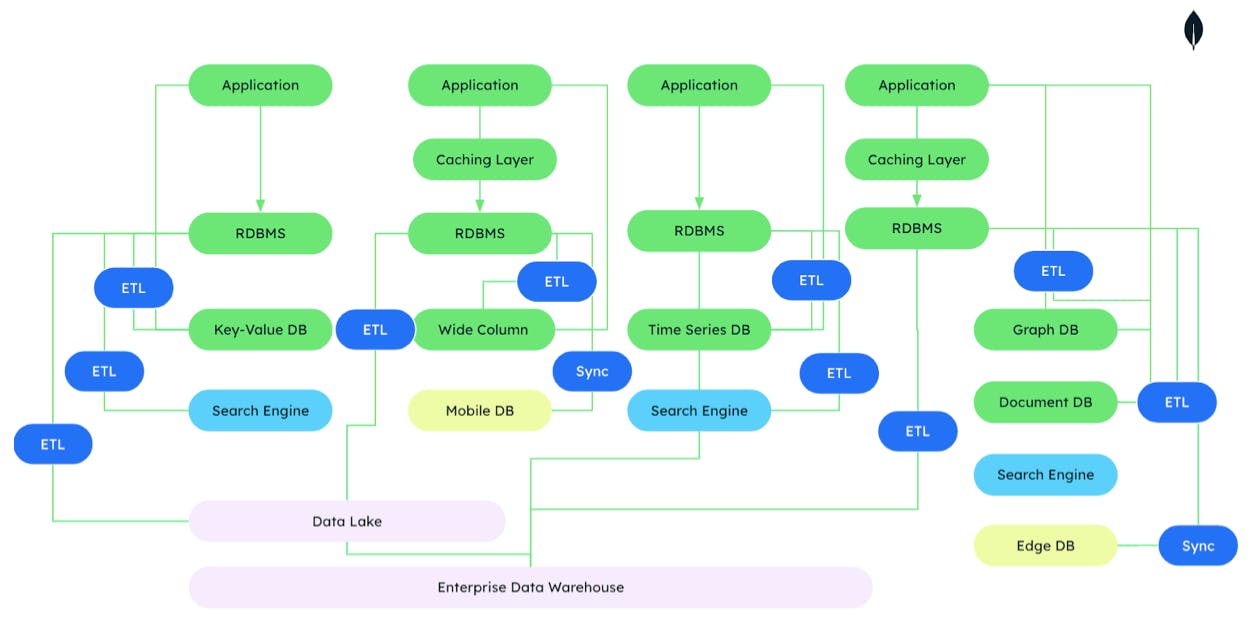 As a result, retailers looking to respond quickly to changing consumer preferences and improve the customer experience face an uphill battle against siloed data, slow data processing, and unnecessary complexity.
Your development teams are so busy cobbling solutions together and maintaining different technologies at once that they fail to innovate to their full potential, so you're never quite able to pull ahead of the competition.
This is the data innovation recurring tax (or DIRT). Think of this as the ongoing tax on innovation that spaghetti architectures, like the example above, legacy architecture costs your business. As technology grows more sophisticated and data grows more complex, companies are expected to react almost instantaneously to signals from their data. Legacy technologies, like relational databases, are rigid, inefficient, and hard to adapt, making it difficult to deliver true innovation to your customers and employees in a timely manner. Your development teams are so busy cobbling solutions together that they fail to innovate to their full potential, so you're never quite able to pull ahead of the competition.
It's time to rethink your legacy systems, and adopt solutions that streamline operations and seamlessly share data to ensure you're working with a single source of data truth.
Many retailers recognize the need to upgrade legacy solutions and get away from multiple different database technologies, but you may not know where to start. Look for modern data applications that simplify data collection from disparate sources and include automated conflict resolution for added data reliability.
Also, consider what you could do with fully managed data platforms, like MongoDB Atlas. With someone else doing the admin work, your developers are free to focus on critical work or turn their talents to innovation.
Digital worker enablement will increase retention
For employees, 2022 looks set to continue last year's trend of the "Great Resignation". To combat worker fatigue, and retain your workforce you need to prioritize worker engagement.
One way to better engage your employees is through mobile workforce enablement. While many companies consider how to engage their customers with a more digital-friendly work environment, you shouldn't forget about your workers in the process.
Global companies like Walmart are starting to invest in mobile apps to enable their workforce. A modern, always-on retail workforce enablement app could transform the way your employees do their jobs. Features like real-time view of stock, cross-departmental collaboration, detailed product information, instant communication with other stores can simplify your workers' experiences and help them to better serve your customers.
Your workers need an always-on app that syncs with your single source of data truth, regardless of connectivity (which may be an issue as retail workers are constantly on the move). But building a mobile app with data sync capabilities can be a costly and time-intensive investment. MongoDB Realm Sync solves for this with an intuitive, object-oriented data model that is simple to use, and an out-of-the-box data synchronization service. When your mobile data seamlessly integrates with back-end systems, you can deliver a modern, distributed data platform to your workers.
Huge investment in the supply chain
From microchips to toilet paper, disruptions in the supply chain were a huge issue in 2020 and 2021, and the supply chain pain continues in 2022.
And while there continue to be supply chain issues beyond the control of retailers, there are steps that can be taken to mitigate some of the pain and prepare for future disruptions.
Warehouse tech is getting smarter, and you need to upgrade your solutions to keep up. For starters, consider adopting the right data platform to unify siloed data and gain a single view of operations. A single view of your data will allow for better management of store-level demand forecasts, distribution center-to-store network optimizations, vendor ordering, truck load optimizations, and much more. With a modern data platform, all this data feeds into one, single view application, giving retailers the insights to react to supply chain issues in real time.
With disruption set to dominate 2022, as it did in 2020 and 2021, investing in proactive solution upgrades could help your business not only survive, but thrive.