PeerIslands Cosmos DB Migrator Tool to MongoDB Atlas on Google Cloud
When you're in the midst of innovating, the last thing you want to worry about is infrastructure. Whether you're looking to streamline inventory management or reimagine marketing, you need applications that can scale fast and maintain high availability. That's where MongoDB Atlas on Google Cloud comes in.
With MongoDB Atlas' general-purpose, document-based database, users can free themselves from the hassle of database management, and give back precious time to developers to focus on innovation. Combine these benefits with Google Cloud's cloud computing power, high availability, and ability to integrate with tools like BigQuery, Dataflow, Dataproc and more, and it's hard to find a comparable joint solution. In fact, many current Microsoft Azure Cosmos DB users are now considering making the move to MongoDB.
Microsoft's Cosmos DB only supports single partition transactions, has no schema governance and forces developers to work with five different APIs to deliver full application functionality. Conversely, MongoDB Atlas on Google Cloud supports distributed multi-document ACID transactions, includes schema governance, and offers integrated full-text search, auto-archiving, data lakes, and edge-to-cloud data sync.
The following blog illustrates how PeerIslands' Cosmos DB Migrator tool can help users move from Cosmos DB to MongoDB Atlas on Google Cloud.
Why PeerIslands
PeerIslands is an enterprise-class digital transformation company composed of a team of polyglots who are comfortable across multiple technologies and cloud platforms. As a services firm, PeerIslands is focused on helping customers with both cloud-native development and application transformation.
With best-in-the-industry talent, PeerIslands has been working with the MongoDB team to build a suite of solutions around two key objectives:
For a customer evaluating MongoDB, how can we rapidly address common questions?

Once a customer has chosen MongoDB, how can we reduce time to value by rapidly migrating workloads to MongoDB?
With this in mind, PeerIslands developed a suite of tools around schema generation, understanding MongoDB query performance, as well as helping customers understand code changes required for upgrading MongoDB versions. In terms of workload migrations, PeerIslands developed solutions for both homogenous and heterogenous migrations. The company is also contributing to the open source community with a mobile app for enabling MongoDB admins to manage Atlas on the go.
PeerIslands' Cosmos DB migration use case
The current approach for migrating data from Cosmos DB to MongoDB is to use MongoDB dump and restore. But there are several problems with this approach.
It's fully manual and CLI-based which creates a poor user experience and requires technical resources even for simple migrations.

There's a lack of change capture capability which requires downtime during the duration of migration. For large Cosmos DB migrations, this causes significant issues. The team is also under pressure to deliver the entire migration in a short period of time.

Migrations often get delayed as customers have difficulty identifying the right migration window.
The Cosmos to MongoDB tool is a "Live Migrate" like tool that helps perform one-time migrations and change data capture from Cosmos DB (MongoDB model) to MongoDB Atlas and minimizes downtime requirements associated with migrations. The tool is fully GUI-based and nearly everything is automated. All the tasks for infrastructure provisioning, dump & restore, change stream listeners and processors have all been automated with a graphical user interface (GUI).
The Cosmos to Mongo migration tool uses native MongoDB tools and the performance is similar to native tools. For change capture, we leverage the native MongoDB change stream APIs.
A high level view of the solution is provided in figure 1 below: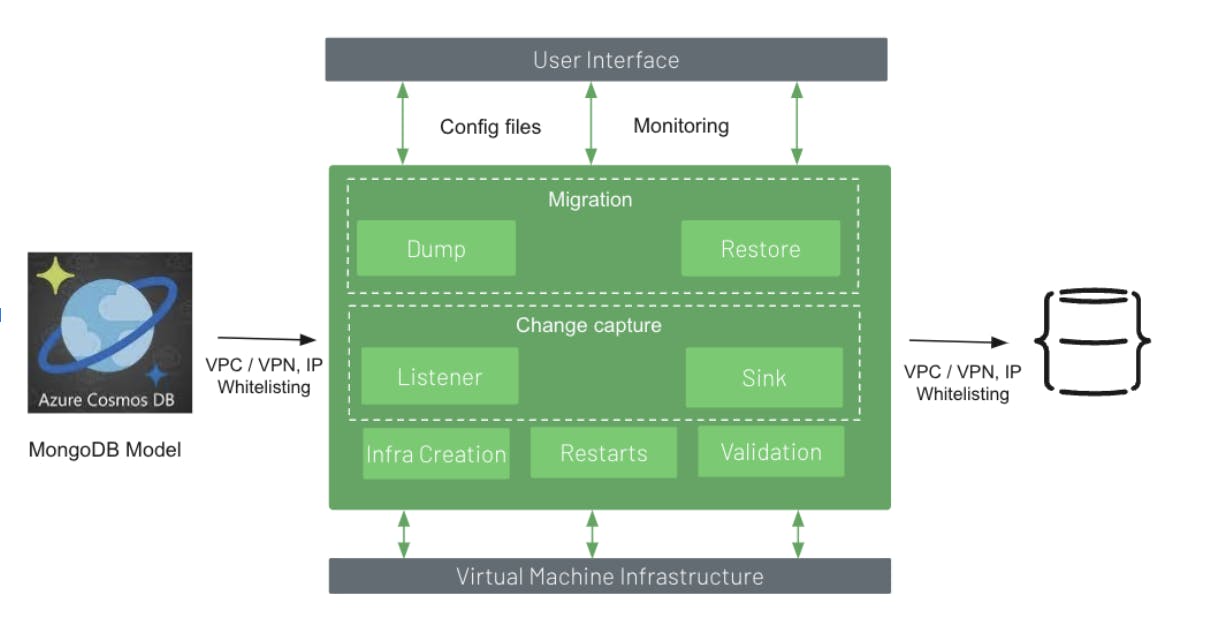 Migration steps:
Migration configuration: Provide the name of the migration task, source Cosmos DB details, and target MongoDB details. The tool supports key vault integration as well.

Migration infrastructure provisioning: Provide migration infrastructure details required for creating the VM (Virtual Machine) including location, type of VM instance, etc.

Migration execution: Allow for automation of the migration once the configuration is complete. The migration is executed in 3 steps: backup, restore and change event processing. As a user, you can initiate the backup process. The change event listener is started in parallel with the backup process and captures all the changes. Once the backup is complete, the user can restore the initial data and then perform change event processing to apply all the changes to MongoDB.

Migration validation: The tool also provides facilities for validating the migration. Users can view the total number of documents on both source Cosmos DB collection and target MongoDB collection. They can also compare random documents picked up from Cosmos DB and MongoDB side by side and validate whether the data elements have been loaded correctly.
For a more detailed demo and description of events, watch the following video:
Migrating to a new database can feel daunting at first, but PeerIslands Cosmos DB migrator makes it easy. Major concerns like delays and downtime are eliminated from the process, helping you run your business smoothly and reap the benefits of MongoDB more quickly. And with PeerIslands suite of tools, you can rapidly address MongoDB-specific questions and accelerate time to value.