Continued Excellence: MongoDB Receives Fourth Consecutive Google Cloud Partner of the Year Award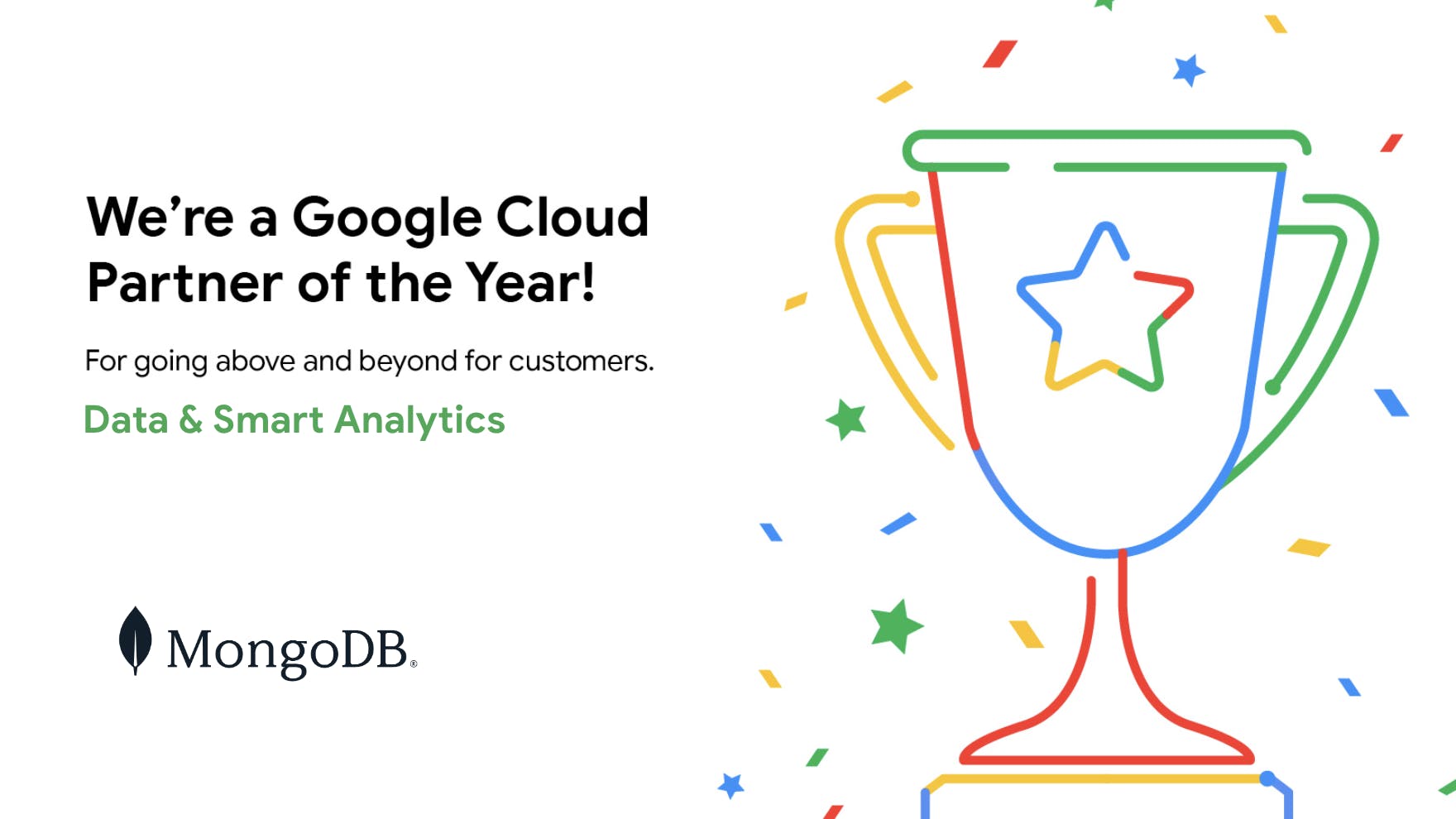 MongoDB and Google Cloud have closely partnered since 2018 to enable customers to build innovative applications through deep integrations and just reached another notable milestone. For the fourth year running, MongoDB has been honored as Google Cloud's Technology Partner of the Year, specifically in the category of Data & Smart Analytics. Over the past six years, the two companies have combined their strengths in advanced analytics and best-in-class database technology to drive innovation on behalf of customers.
Throughout 2022, customer demand for our combined offerings became more pronounced, as evidenced by a surge in customers purchasing MongoDB on the Google Cloud Marketplace. MongoDB's integration with Google Cloud's products and services, like BigQuery and Google Application Integration, reached new levels, bringing customers more value through deepened integration. Furthermore, the collaborative endeavors expanded into domains such as Google Cloud's foundation models and the emerging field of generative AI.
Google & MongoDB focused on helping Startups especially those for Generative AI
To make it easier for startups to embrace this joint innovation, earlier this year MongoDB announced the AI Innovators Program. Through the program, startups gain access to additional MongoDB Atlas Credits, accelerated partnership and marketing opportunities, and more. Early-stage companies can opt into this program when applying to MongoDB for Startups via the Google for Startups Cloud Program or our joint landing page, Startups can use these programs to develop and launch the AI capabilities that will set their business apart and launch them from ideation to IPO.
BigQuery Partner Center
Since 2017, MongoDB and Google Cloud have partnered to make BigQuery and MongoDB integration seamless. Most recently, Google designated MongoDB as Google Cloud Ready for BigQuery after validating the integration using a three-part process, including data integration tests and analysis of benchmarks. This validates that MongoDB Atlas has met a core set of functional and interoperability requirements when integrating with BigQuery, making it easier for customers to choose MongoDB Atlas in Google Cloud's BigQuery Partner Center.
Google Cloud Application Integration
In the rapidly evolving realm of digital transformation, enterprises must deliver seamless and scalable solutions for their business operations in order to maintain a competitive edge. To fulfill these requirements, organizations frequently employ robust integration platforms like Google Clouds Application Integration. Functioning as an iPaaS (Integration Platform as a Service) solution within the Google Cloud ecosystem, Application Integration offers the capacity to construct integrations that link with numerous third-party applications through Integration Connectors.
The MongoDB connector allows native operations such as insertion, updating, and deletion of document objects in MongoDB. The Google Cloud Application Integration simplifies the complex task of connecting data and applications for customers looking to build new applications.
To get started with Google Cloud's Application Integration and MongoDB Atlas, read the documentation page.
Summary
Since partnering together MongoDB and Google Cloud have collaborated on many integrations to help companies achieve their goals and customers are taking notice. "Working with the right technology partners has helped us to avoid analysis paralysis that can happen when developer teams spend a lot of time trying to understand and manage every detail," says Sethu Madhav Vure, IT Architect for Ulta Beauty. "Instead, we convert a proof of concept into a working solution, and quickly bring it to market. It's been a major shift in our IT culture as we try out new things weekly and see incredible support from leadership," Vure said.