How Telcos Are Transforming to Digital Services Providers
The telecommunications industry is in the midst of a digital revolution, shifting from a traditional service delivery model to one that is increasingly customer-centric and that extends beyond the provision of traditional connectivity services to include diverse digital services.
Telcos undergoing this modernization journey are digital services–focused first, offering apps, streaming services, retail platforms, peer-to-peer payment platforms, and more. As telcos delve into the complex 5G, IoT, and AI technologies powering personalized and real-time user experiences, pressure is increasing on aging networks and business support system (BSS) infrastructures.
MongoDB customers like TIM and Telefónica are using the MongoDB Atlas developer data platform to deliver a robust platform-focused experience that complements existing technologies. Through an integrated modernization approach, telcos are improving both customer and developer experiences, building innovative new applications.
In a recent roundtable discussion, Boris Bialek, MongoDB global head of industry & solutions, sat down with telco IT leaders Paolo Bazzica, head of digital solutions at Italy's TIM, and Carlos Carazo, global CTO of Spain's Telefónica Tech IoT and Big Data division. This article provides an overview of the discussion and insights into how platform thinking is invigorating telco IT teams.
From communications services providers to digital services providers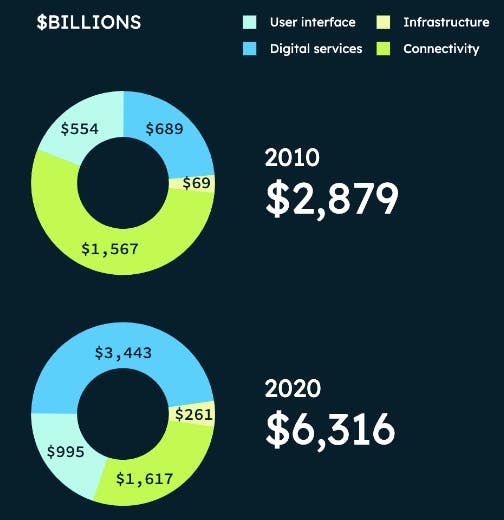 The shift and expansion from traditional communications services to a comprehensive digital services suite requires global telecommunications companies to rethink their monetization strategies. Even before the pandemic, an evolution was well underway for telecommunications providers.
From 2010 to 2020, overall revenue coming from connectivity services grew by only 2%, according to research compiled by Kearney. During the same period, digital services experienced a five-fold increase.
Although telecommunications providers successfully sparked a revolution that grew into a $6.3 trillion digital economy, only those capitalizing on digital services reaped the benefits. In 2020, digital services like e-commerce and online advertising surged, capturing nearly 80% of growth.
Leveraging platform thinking
As network operators evolve to digital service providers, the idea of platform thinking is rippling across the industry. Network connectivity was tested with the hardships of the March 2020 COVID-19 lockdown in Italy, but TIM's digital platform project Fly Together, which was initiated in 2018, helped bridge the divide.
"People went from their normal lives to a full lockdown in one day. People realized that telco was a key point, because you need to stay at home, but you still need to communicate to work and go to school," said Bazzica in the virtual roundtable discussion hosted by MongoDB. "Our digital platform was the way to refill or top up your account, and access ebooks and so on, so I think it's more than just an evolution for the business; it's a different positioning."
Today, customer trust is a key differentiator and essential focus for TIM. People rely on TIM's services to keep the country going. And TIM continues to modernize the digital experiences of its customers through the Fly Together platform. "From my perspective, this is definitely a trend, and I think it's the evolutionary stalwart of the digital life of the people to be relevant and continue to be their trusted partner," Bazzica said.
A similar dynamic led to the creation of Telefónica Tech two years ago, a division of Spain's Telefónica SA, according to Carazo. The new business is split into two units: one dedicated to offering cloud or cybersecurity solutions and the other offering IoT or big data digital services, which are the services customers need to pursue their own digital transformations.
"We are strongly convinced that connectivity is the basis for any new digital economy, so we are really proud to offer connectivity for these customers," Carazo said.
At the center of Telefónica Tech's transformation is its Kite Platform, run on MongoDB, which is a managed connectivity platform running close to 30 million IoT devices all over the world. The platform provides connectivity, but it goes beyond IoT connectivity and provides multidimensional benefits across all IoT environments from the devices to the product connecting the clouds. This is the foundational component of Telefónica Tech's portfolio, which delivers new business use cases across industries.
Modernizing applications and evolving to microservices and APIs
How can a telco simplify this complex journey to modernization? For TIM, the change was driven by a desire to modernize 700 different applications before effectively going into the digital business.
TIM launched Fly Together to build a digital layer that serves the scalability and latency needed to transform customers' digital service experiences. Before, a customer could be querying up to 14 systems, depending on which apps were open. Without the digital experience layer, you can't express an SLA or determine how long it takes to open an app, according to Bazzica. The first task of Fly Together was to build the layer that decoupled the backend systems from the model that helps run TIM's digital channels.
Through its work with MongoDB over the past four years, TIM launched a resilient platform that doesn't require exotic hardware to run efficiently. Because the platform was developed in a cloud-native environment, it comprises containerized microservices and RESTful APIs, setting a new standard for the company's development of applications.
"We are able to modernize, but gradually. We still have our mainframe running," Bazzica said. "The real experience is seeing the company learning and experimenting. That's another value with this type of technology; we can try a lot of different things with minimum effort and make big discoveries."
Four digital services trends to watch
IoT is driving many exciting use cases for Telefónica Tech's new business division. Within the B2B sector, there is healthy growth across four key industry use cases, according to Telefónica's Carazo.
Connected Industry and IoT — Telefónica starts with providing private network solutions. These technologies are expected to evolve to more complex use cases like robotics and predictive maintenance in small and medium factories within the next five years.

Smart metering — Massive growth is expected in smart metering, which uses electronic devices to measure energy consumption. The implementation of this trend could spur demand for millions of connected devices.

Connected cars — This sector is expected to grow significantly in the next five to 10 years as operators deploy new digital services like infotainment, security, and safety applications.

Smart cities — Cities around the world are seeking services for their digital citizens looking to live in more sustainable and flexible communities.
These use cases are critical to building modern cities, societies, and industries.
Platform thinking and an integrated approach to modernization will help telcos create modern applications, extending their businesses beyond conventional services to include novel digital services.
Watch our webinar to learn more about TIM and Telefónica's transformation to digital services providers.