Meet Gabriella Cohen: Expanding MongoDB's Presence in Israel as the Newest Regional Vice President
Gabriella Cohen recently joined MongoDB's sales leadership team as Regional Vice President for Israel. We sat down to discuss her career move from Amazon Web Services (AWS) to MongoDB and the opportunities for sellers in the Israeli market.
Jackie Denner: How did you come to join MongoDB, and what made you interested in the company?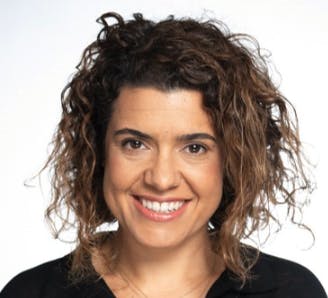 Gabriella Cohen: I have been privileged to work with some of the most tech-savvy and innovative startups in Israel, and many of them use MongoDB as part of their core products. Developers love the solution. This drove me to learn more about MongoDB's technology and the potential market in Israel. The total addressable market for databases in Israel is growing rapidly, and MongoDB is only scratching the surface of this market. The extreme potential for MongoDB in this emerging market excited me and drove me to join.
JD: Tell us about your experience prior to joining MongoDB.
GC: For the last six years I've been working for AWS Israel. I joined the team in 2016 when Cloud was a new concept and the market was in its early stages of adoption. I started as an ISV Account Manager and grew to managerial positions as Startup Team Lead and Digital Native Businesses Team Lead. In my last role, I established and led the SMB Segment in AWS Israel and was part of the AWS Israel Leadership team.
JD: Why do you believe that Israel is such a strategic and important market for MongoDB?
GC: Israel is one of the most prominent innovation and technology hubs in the world, with an economy dominated by industrial high-tech and entrepreneurship. Israel ranks 15th among the 132 economies featured in the Global Innovation Index (GII) 2021. This innovation is reflected in the large number of startups active in Israel, over 7,000 — 14 times more concentration of startups per capita than in Europe. It also attracts the highest rate of venture capital funding per capita in the world. Companies in Israel are tech savvy and early adopters of innovative technologies — such as MongoDB. Many of them are "born in the cloud," while the more traditional companies are trying to close the gap and are rapidly adopting different solutions that enable a true digital transformation. Most of the Israel technology companies target and sell globally, resulting in a growing market opportunity for MongoDB.
I view Israel as a strategic market from three perspectives. First, there is a large business opportunity in the Israeli market that isn't correlated to the size of the country. All the leading cloud vendors are opening data centers here, which indicates the high potential of the market. Second, given that the Israeli market has early adopters of innovative technologies, this could be a great learning opportunity for other regions on how to work with digital-native and startup businesses. Last, it provides a platform for the MongoDB Product team to gather feedback from tech-savvy users, which can improve our product and shape MongoDB's future roadmap.
JD: What are you most excited about in expanding the Israeli market for MongoDB and continuing to build our sales organization in the country?
GC: MongoDB's technology has a strong reputation in Israel, however I believe it is yet to meet its business potential. The challenge of crafting a go-to-market strategy for Israel, which suits the specific and unique market conditions, excites me. Together with the existing sales teams, I'm looking forward to expanding and growing the sales organization to expedite our ability to cover the market. Finally, I'm really looking forward to evolving the MongoDB Israel office atmosphere, bringing together the MongoDB culture and the warm and friendly Israeli approach.
JD: How would you describe your leadership style?
GC: My leadership skills, style, and approach have evolved over the years. I believe in having a clear and inspiring vision, empowering the individual, generating value to my team, and leading by example. I tend to challenge the status quo and encourage creativity to explore new ways of doing things.
The pandemic has added new challenges to leaders: on the one hand, having to lead remotely with minimal in-person interaction; on the other hand, having difficulty drawing the line between personal and professional as our home and family have been the background scenery of our business meetings. As a leader, I view this change as an opportunity to bring my authentic self and encourage my team to the same. I believe this builds trust, creates a fun environment, and strengthens connections.
JD: What opportunities do you see at MongoDB?
GC: Careers aren't linear, and MongoDB offers endless career opportunities in both professional and managerial positions. MongoDB's global presence offers an exciting addition to these opportunities. While the above might be relevant to other leading tech companies, I think what is unique about MongoDB is the hypergrowth we are experiencing. Working for exponential growth companies requires constant creativity, bias for action, and ownership. Each individual has the opportunity to shine, be successful, and develop new skills daily.
The MongoDB Israel office in Tel Aviv was established in 2019. We currently have over 30 employees in customer-facing roles. We have a MongoDB customer support team based in Tel Aviv as well, and they provide support to over 900 customers across all industries and sectors.
JD: What has your experience been as a woman in sales, and do you have advice for other women who are looking to build their sales careers and become leaders?
GC: I believe in being successful, generating value to my team and business, and the rest follows. The three tips I would give are:
Be the best version of yourself and insist on high standards. This positions you as a role model and drives success.

Avoid having two versions of yourself—your personal/home version and your work version—because we are the same individual and our power is in the total package.

It's all about people. Leverage your interpersonal skills to drive business — to read into situations, connect to people, and understand the subtext.
Our sales team is growing in Israel and across the globe. We have several open roles and would love for you to transform your career with us!