You Asked, We Listened. It's Here - Dark Mode for Atlas is Now Available in Public Preview
We are thrilled to announce a much-anticipated feature for MongoDB Atlas. Dark mode is now available in Public Preview for users worldwide. Dark mode has been the number one requested feature in MongoDB's feedback forum, and we've taken note. Users have tried browser plugins and other makeshift fixes, but now the wait is over. Our development team diligently worked to introduce a dark mode option, improving user experience with a new and refreshing perspective to the familiar interface of Atlas. This update—which includes 300 converted pages—is not just for our community. It also benefits us as developers, promoting a seamless dark mode experience across different tools in the developer workflow.
Dark mode is sleek and sophisticated, aligning with the preferred working styles of many of our developers. Remember that this is an ongoing project, and there may be areas within Atlas that need refining. Rest assured, we will be monitoring our feedback channels closely.
Not just a sleek interface
We took a thoughtful approach to the overall dark mode user experience, particularly with respect to accessibility considerations. We ensured that our dark mode theme met accessibility standards by checking and adjusting all text, illustrations, and UI elements for color and contrast to help reduce eye strain and address those with light sensitivities while making sure it was still easy to read.
We also focused on accommodating the overall light-to-dark background contrast while staying mindful of how they may layer or interact with other elements.
Beyond aesthetics, dark mode is a proven method for extending battery life. For our users with OLED or AMOLED screens dark mode ensures the device's battery life stretches even further by illuminating fewer pixels and encouraging lower brightness levels.
Health benefits
A typical engineer spends no fewer than eight hours a day in front of a computer, exposing their eyes to multiple digital screens, according to data from Medium. This screen usage can lead to dry eyes, insomnia, and headaches. While dark text on a light background is best for legibility purposes, light text on a dark background helps reduce eye strain in low-light conditions.
Enable dark mode preview today
To update the theme at any time, navigate to the User Menu in the top right corner, then select User Preferences. Under Appearance, there will be three options.
Light Mode: This is the default color scheme.

Dark Mode: Our new dark theme.

Auto (Sync with OS): This setting will match the operating system's setting.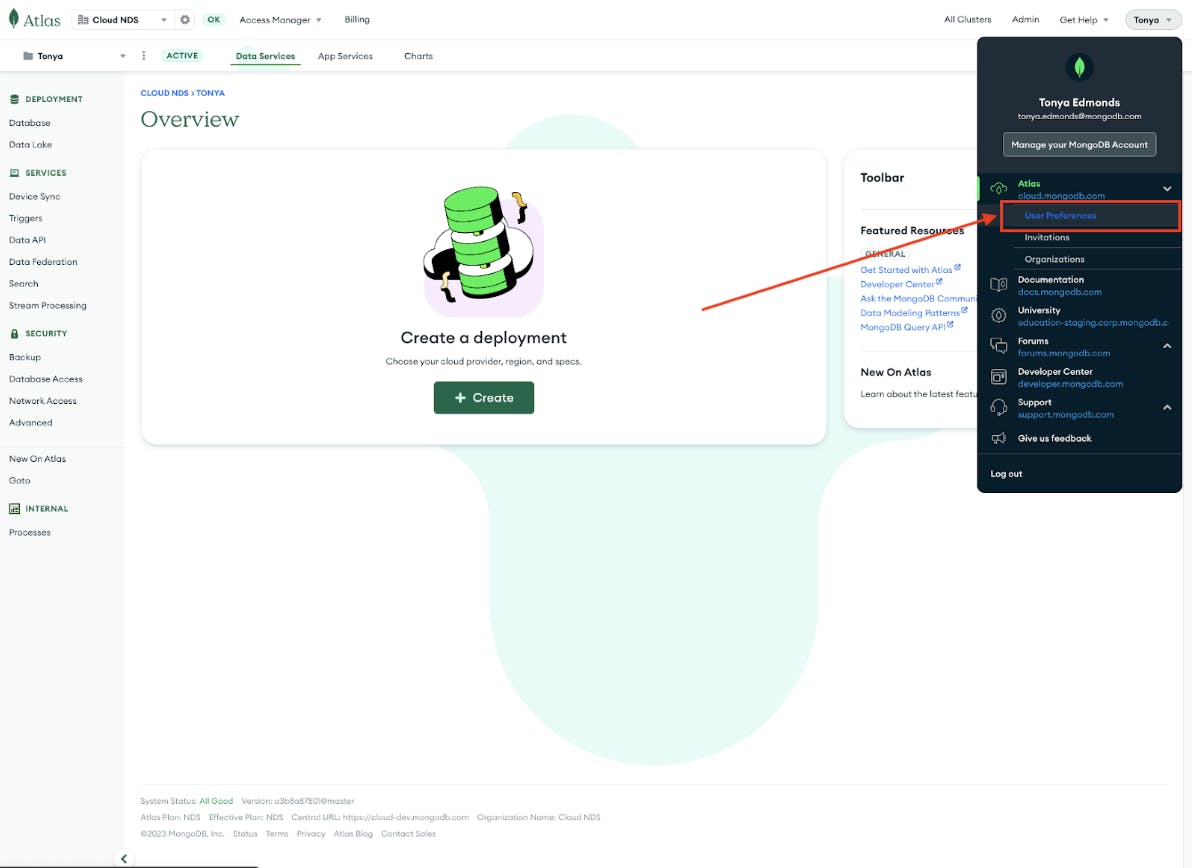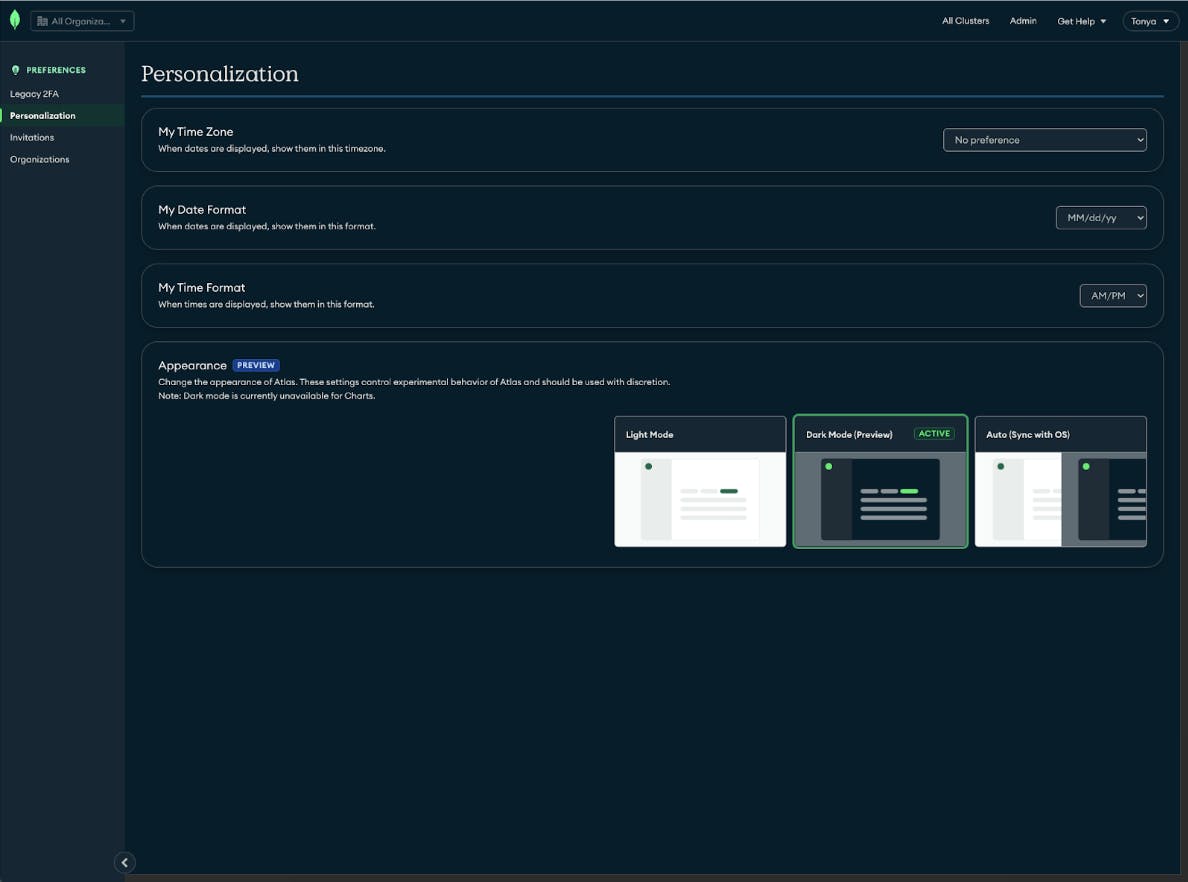 A few things to keep in mind
This is a user setting and does not impact other users within a project or organization.

Dark mode is not currently available for Charts, Documentation, University, or Cloud Manager.

Since we are releasing this in Public Preview, there might be some minor visual bugs. The goal of Public Preview releases is to generate interest and gather feedback from early adopters. It is not necessarily feature-complete and does not typically include consulting, SLAs, or technical support obligations.

We have conducted comprehensive internal testing, and we did not find anything that prevents users from using Atlas. While we are still making a few finishing touches feel free to share any feedback using this form.
Thank you to all our users who provided valuable feedback and waited patiently for this feature! Keep the feedback coming. We hope you enjoy dark mode, designed to improve accessibility, reduce eye strain and fatigue, and enhance readability.