Stay in touch
Sign up for occasional email updates from MongoDB. We'll email opportunities for growth, including new roles, speaking opportunities, strategies for success, and more. Approximately 4x/year.
Explore new opportunities
We're hiring in all departments across the globe! View current job openings.
Explore new opportunities
We're hiring in all departments across the globe!
Featured roles: * Account Development Representative - Austin * Lead UX Researcher - NYC * Partnerships Manager, Academia - Remote * Product Manager, Security - NYC * Sales Development Manager - Austin
View all departments. See a role you'd like to apply to that isn't listed on this page? Contact us to get a custom WITI application link. ## Learn what makes MongoDB a great place to work * Employee Benefits That Make a Difference at MongoDB * Why Now is a Cool Time to Be Different: MongoDB's VP of Communications speaks on Tourette syndrome * Finding the Right Career After Years of Taking a Break * Message from CEO: We Stand With The Black Community * Real Stories from Real Moms of MongoDB
Read more via the Life at MongoDB Blog
Speak at MongoDB World
You heard today's inspiring speakers, now it's your turn. We're looking for speakers to deliver technical and nontechnical talks at MongoDB World 2021. Learn more and submit your idea.
Get speaker coaching
1st-time speaker? Get abstract, slide, travel grant, and coaching support via the MongoDB Community Speakers Program.
Learn MongoDB for free
Learn MongoDB directly from MongoDB University. Free online training courses and tutorials. Register today!
Review the MongoDB x WITI Webinar
Press Play: Trust, Then Verify: An Actionable Guide to Keeping Yourself Safe Online
In this webinar, MongoDB's Lena Smart, CISO, and Dawn Charles, Cyber Security Business Support Specialist, will take you on an adventure, showing you how to keep yourself safe online. This session will be full of crucial learnings and actionable steps you can take to navigate the ever-changing methods used by hackers. Lena and Dawn will go beyond the advice to not click on a suspicious link and will share what to do after you suspect a breach, how to secure your social media presence, and other areas of increased vulnerability to look out for. You will leave this webinar with a checklist you can implement today to maintain your online safety.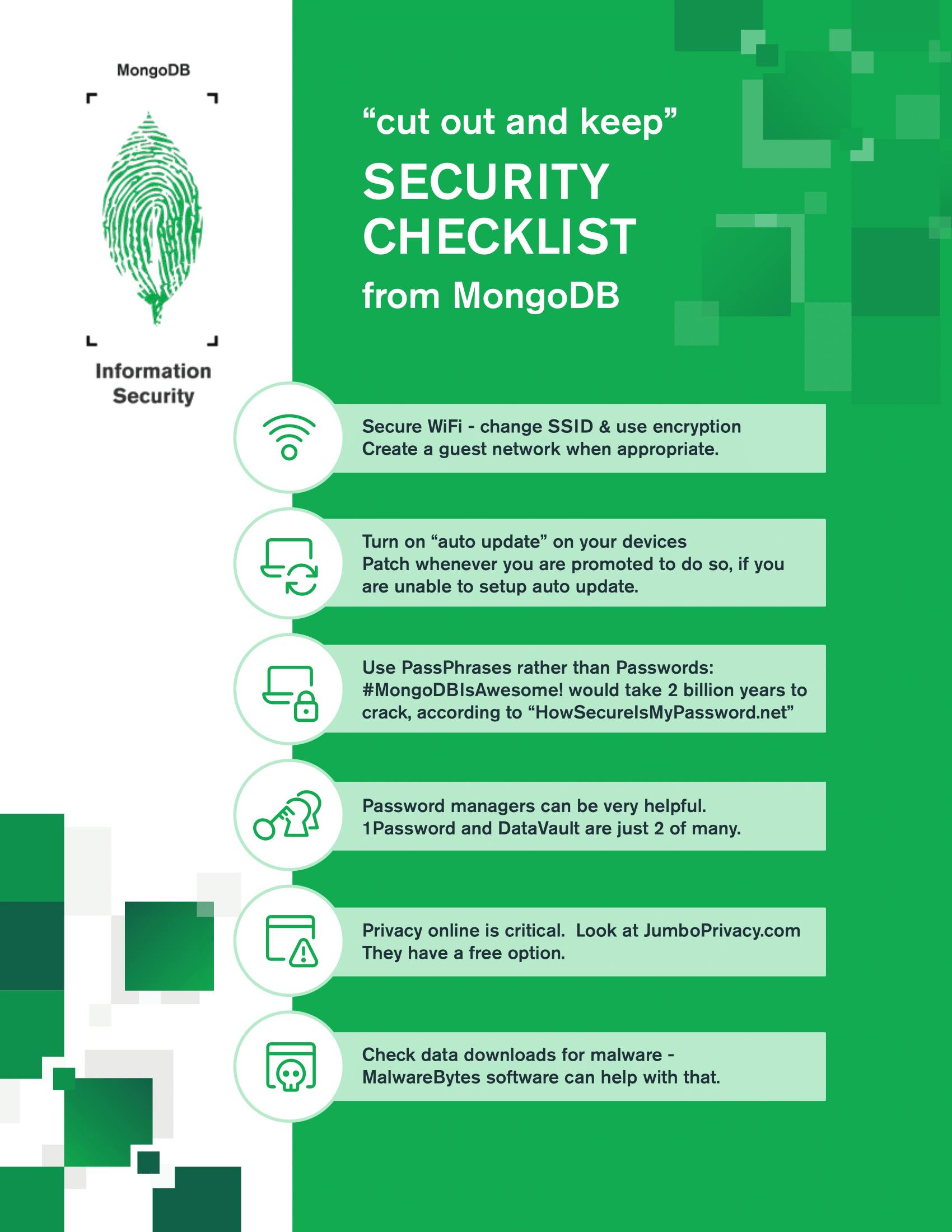 Press play