In May, we'll kick off a new edition of MongoDB World, our largest global user conference. We continue to strive to make this conference not just a fun and interactive learning experience, but also an event that is welcoming to all.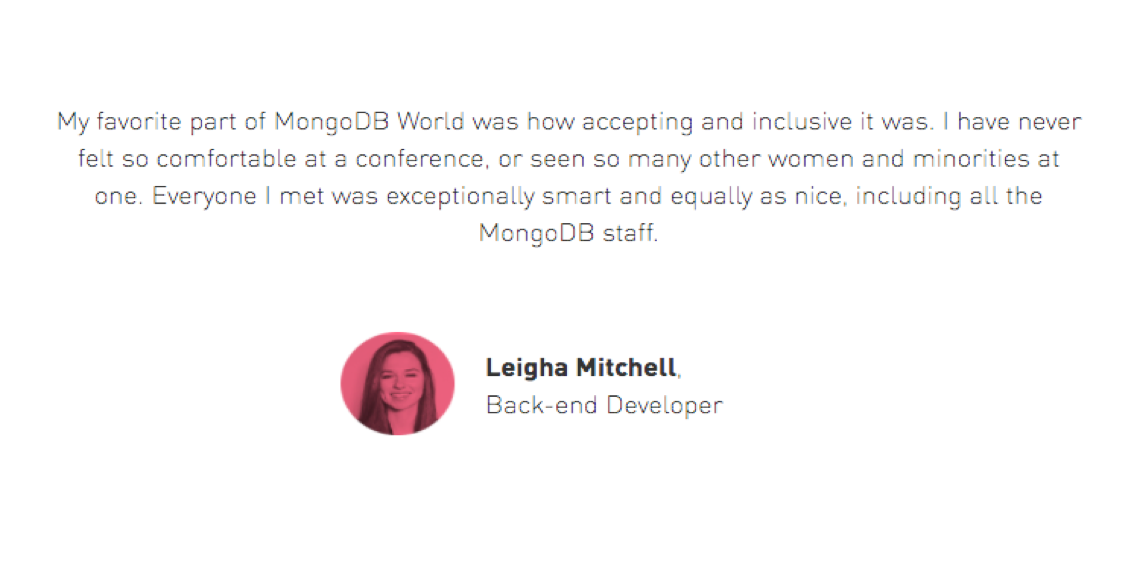 Women & Trans Coders Lounge
The Women & Trans Coders Lounge aims to amplify the voices of women, non-binary, and trans people of all genders within our engineering community. It's run in part by MongoDB's Women and Trans Coders group. Stop by to network, share your thoughts in a guided discussion, or sit in on a Make it Matter session.
Sessions that will be presented in the lounge:
How to Forge a Non-Linear Career Path That's Perfect for You
You (Yes You!) Can Be a Conference Speaker
Dare to Be Visible: How to Use Twitter to Build a Personal Brand & Professional Network
Panel: Demystifying Product Management - Submit questions for the panelists here
Diversity & Inclusion in the Tech Industry
You Can Browse With Us: A Web Accessibility Love Story
Bechdel.io: The Future of Film & Feminism
Open Sourcing Mentorship: Why & How
MongoDB for Data Scientists (Or Those Who Want to Become One)
The Human Element in an Automated World: Building Better Products
Designing Tech Tools for Crisis & Natural Disaster Relief in Developed & Developing Countries
Other sessions coming soon!
Meetups
Join us for cocktails and mocktails during the closing reception. You'll be able to find your tribe and connect with the Underrepresented People of Color Network, the MongoDB Women's Group, and the Queeries (MongoDB's LGBTQ group).
Community Lunches
Build community and network while breaking bread together. Each day of the conference features a luncheon hosted by the People of Color, Women & Trans Coders, LGBTQ+, and Educator groups.
Speed Mentoring
Connect with mentors on-site.
Ask a Recruiter
Looking for or transitioning to a new role? Ask a recruiter for advice on positioning yourself, formatting your resume, and more.
Morning Meditation
Start your conference day off right with a cleansing breath.
Quiet Hour
Reclaim your energy in a quiet space featuring low lighting and essential oil diffusers.
Brain Date
Similar to Ask the Experts at MongoDB World, get 20 minutes to pick someone's brain. Featuring leaders in Developer Relations, Docs, Product Design, Diversity & Inclusion, and more.
Accessibility
Our goal is to make MongoDB World accessible to all. Contact us if you need accessibility accommodations.
Code of Conduct
All conference attendees are expected to agree with and abide by the code of conduct.
We look forward to seeing you on May 4-6, 2020. Over the course of the conference, you'll be able to engage with MongoDB users and industry experts from around the globe. And you'll walk away with the tools that enable you to build your giant ideas.
Use code TRIBE to get your discounted pass! 10% of conference pass proceeds will be donated to Mouse.org, Code2040, and CUNY Tech Prep.
Event Details:
Date: May 4-6, 2020
Location: NY Hilton Midtown, 1335 Ave of the Americas (6th Ave), New York, NY
Agenda and event details