Ticketing Giant Ticketek Migrates To MongoDB Atlas to Improve Digital Experience for Millions of Customers
Australia's Leading Ticketing Partner for Sports and Live Entertainment Leverages the Elastic Scalability and Developer Productivity Benefits of MongoDB Atlas
Australia's Leading Ticketing Partner for Sports and Live Entertainment Leverages the Elastic Scalability and Developer Productivity Benefits of MongoDB Atlas
New York City, New York – September 5, 2017 – Ticketek, Australia's largest ticketing company in the sports and live entertainment industries, is delivering an enhanced customer experience to millions of customers after migrating to MongoDB Atlas, MongoDB's database as a service.
MongoDB Atlas serves as the data layer for the core transactional systems needed to power Australia's most advanced multi-channel ticket sales and distribution network. The platform consistently sells out events, such as the Chevrolet Brasil Global Challenge match between Brazil and Argentina at the Melbourne Cricket Ground (MCG) in June with an attendance of 95,569, and the Guns N' Roses Australian tour in February this year that had an aggregate of 353,000 tickets in eight stopovers, including a sold out 74,000 at the MCG.
Ticketek's technology strategy is to drive innovation through open integration and real time data streaming with clients and partners. To realize this, Ticketek partnered with MongoDB to take advantage of the flexibility, elastic scalability, and developer productivity benefits of MongoDB Atlas.
"Through our partnership and leveraging MongoDB Atlas, we're able to make strategic decisions and spend time on applications that are transforming how our customers experience buying tickets," said Matt Cudworth, CTO of TEG, Ticketek's parent company.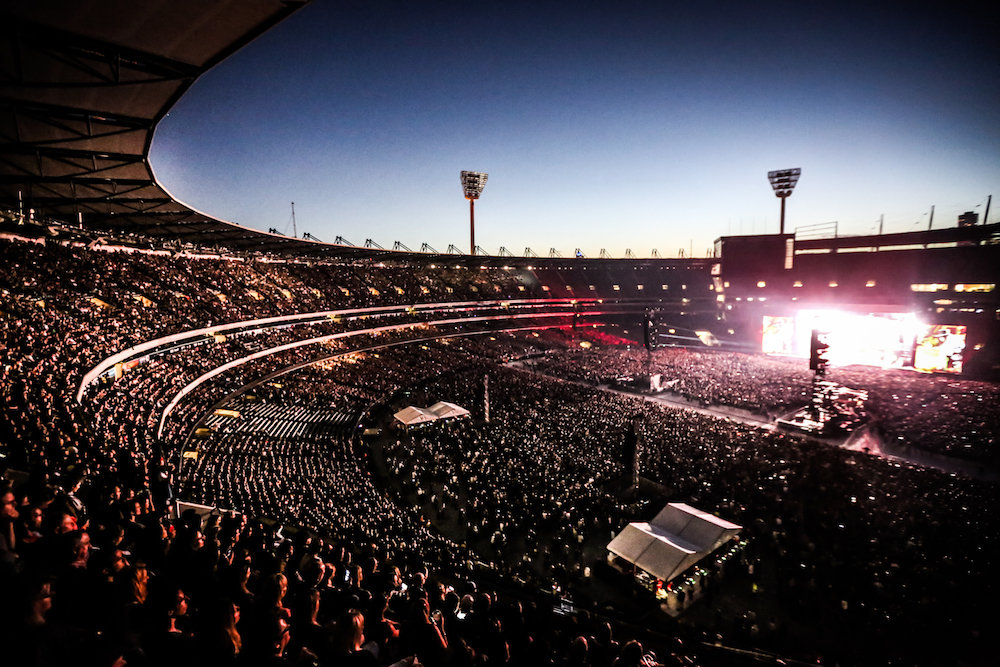 *Guns N' Roses at the Melbourne Cricket Ground.*
Every ticket sale passes through an e-commerce platform backed by fully managed MongoDB databases on Amazon Web Services. The platform feeds a network of new real-time data integration and dashboards, providing insights into trends and ticket sales performance.
The data associated with each transaction is also streamed into Amazon Redshift, AWS's cloud data warehouse solution, which powers Ticketek's reporting suite. Real time data streaming, using Amazon Kinesis and Lamdba, enables Ticketek to personalize their communications and deliver a better digital-first customer experience.
"Ticketek issues 28 million tickets annually, and there is no bigger e-commerce sales platform in the country," says Cudworth. "When tickets to the most anticipated concerts go on sale, we need to make sure that we're providing the optimal experience to the hundreds of thousands of people trying to purchase them."
With 40 years' experience ticketing the biggest live events and venues in Australia, Ticketek covers 20,000 events each year, including concerts, sports, theatre, musicals, festivals, exhibitions, VIP experiences and family events.
About MongoDB
By offering the best of traditional databases as well as the flexibility, scale and performance today's applications require, we let innovators deploy apps as big as they can possibly dream. From startups to enterprises, for the modern and the mission-critical, MongoDB is the database for giant ideas. For more information, visit www.mongodb.com.
About TEG
TEG is Australasia's leading Ticketing, Live Entertainment and Data Analytics Company. TEG includes Ticketek, TEG Live, TEG Dainty, TEG Analytics, TEG Rewards, TEG Digital, Softix, Qudos Bank Arena, Eventopia, Life Like Touring, The Entertainment Store, the Brickman Experience, TicketCharge Malaysia, International Ticketing and TEG Asia.
TEG website: https://www.teg.com.au/
###
Press Contacts
MongoDB, North America
1-866-237-8815 x7186
communications@MongoDB.com
MongoDB, International
+44 870 495 8023 x7804
communications@MongoDB.com
TEG
Kyle Patterson
Head of Communications and Corporate Affairs
E: kylep@t-e-g.com.au
M: 0412 193 148
O: +61 2 9266 4073