How to Increase Database Performance and Make it More Scalable
There is a variety of scaling techniques which depend on the database system and what components are used. However, they all use the concept of a node, which is an individual machine storing some or all of the data. A group of nodes that work together is called a cluster.
There are two commonly used horizontal database scaling techniques: replication and horizontal partitioning (or sharding). MongoDB is a modern, document-based database which supports both of these.
Replication
Replication refers to creating copies of a database or database node. Replication adds fault-tolerance to a system. Each node in a cluster contains a copy of the data. If one of the nodes goes down, the cluster is still able to serve client requests because the other nodes in the cluster can respond to the requests.

Replication is also a form of scaling because client requests can be spread across all the nodes in the cluster instead of overwhelming a single node. This increases the capacity of the system to handle more database read requests.
In MongoDB, a set of replicated nodes is called a replica set. One of the nodes in a replica set is the primary node, and the other nodes are secondary nodes. Read requests are distributed between each of the nodes. However, only the primary node can be written to, and updates made to the primary node are then replicated to the other nodes.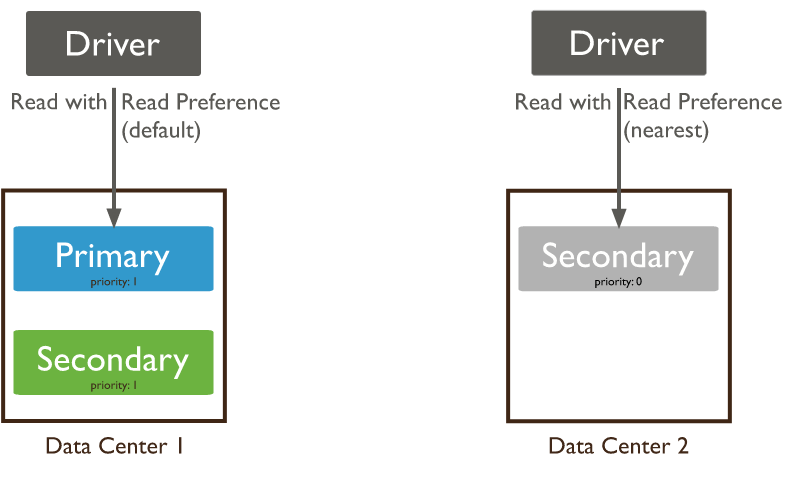 Replication increases neither the total storage capacity of the system nor its ability to handle write requests. For these, we will need to look to partitioning.
Partitioning (aka Sharding)
Partitioning distributes data across multiple nodes in a cluster. Each replica set (known in MongoDB as a shard) in a cluster only stores a portion of the data based on a collection sharding key (sharding strategy), which determines the distribution of the data. This makes it possible to scale the storage capacity of the cluster virtually without limit. Since each node is only responsible for processing the data it stores, overall processing capacity for both reads and writes is increased as well.
However, partitioning is a more complex scaling strategy than replication. Because each node only stores part of the data, for each request, the database queries need to determine which node or nodes contain the relevant data. In MongoDB, the client application connects to a sharded cluster through a router which directs the requests to the appropriate nodes.
If the data is stored across multiple nodes, the reads and writes could be done in parallel. For large volume data reads, performance is improved because each node can read its section of data in parallel with the other nodes.
There is an overhead to reading from multiple nodes. The data from all the nodes still needs to be transferred over the network and then combined into a query result set. For small data reads, the network latency could be a significant portion of the overall query time. For those scenarios, it's more efficient to query using targeted operations.
MongoDB has the ability to store both sharded and unsharded collections in a sharded cluster. This allows the application to take full advantage of the cluster for large data sets while using a primary shard for small data sets.
Partitioning with Replication
In order to take advantage of both scalability and fault tolerance, you need to combine partitioning and replication. You can configure multiple groups of nodes (replica sets in MongoDB) with replication and then run a sharded cluster on top of them. Each node in a replica set will hold a copy of the shard data. So, if a server goes down, the replica set can still respond to queries for the shard it holds. It would look something like this: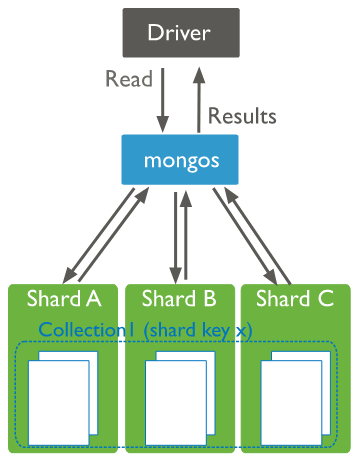 A partitioned and replicated configuration like this is a best practice and the default configuration for sharded clusters on MongoDB Atlas, MongoDB's Database-as-a-Service offering.
Confused about your data infrastructure? Atlas also includes data autoscaling, which can help simplify your scaling setup.
For more information on scaling MongoDB specifically, check out How to Scale MongoDB.