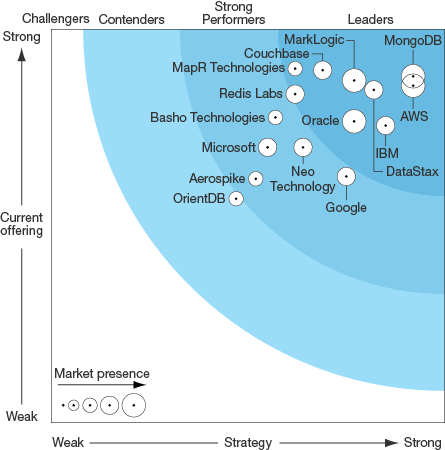 In the just-released Forrester Wave™: Big Data NoSQL, Q3 2016, MongoDB was named a leader among NoSQL vendors.
Achieving the highest possible scores in 19 of the 26 criteria, MongoDB believes that this report indicates its strength and versatility as an all-purpose database for a variety of mission-critical use cases.
5 out of 5 Points for:
Data Types
Streaming and Loading
Big Data Support
In-memory
Performance
Scalability
High Availability & Disaster Recovery
Tools
Workloads
Use Cases
Ability to Execute
Road Map
Open Source and Licensing
Support
Companies ranging from startups to Fortune 500s choose MongoDB to build, scale, and innovate.