Welcome to the New MongoDB Cloud Navigation
Over the past year and a half, the Engineering, Product, and Design teams here at MongoDB have been working on an exciting evolution of Atlas, Stitch, Charts, and Cloud Manager. We're very happy to announce today that all customers can now experience these improvements by using any of these MongoDB products.
What's new?
We made a few key updates to the MongoDB Cloud UI to make it easier for users to find what they need quickly and switch between different contexts.
Watch our short tutorial video below or read on to learn more about the new navigational elements for MongoDB Atlas, Stitch, and Charts.
We added several core elements to the navigation to provide shortcuts and contextual information to each page: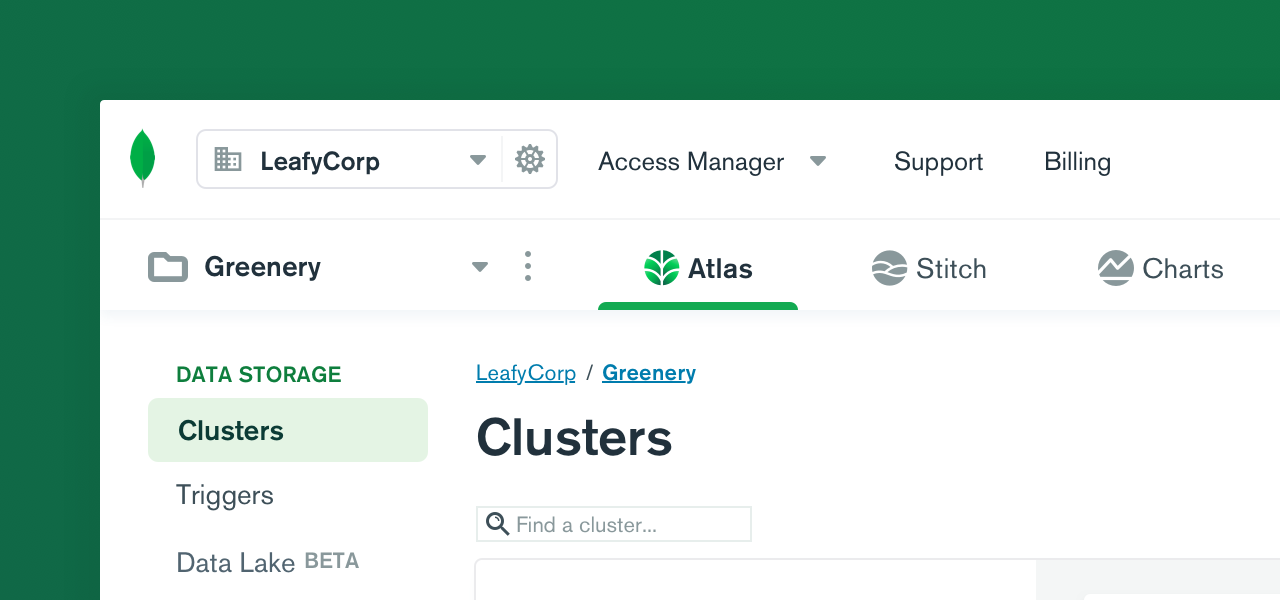 The first major change is the new organization-level navigation. Within it you can view the current organization you're on and use the dropdown to find and access other organizations to which you belong. At this level, you can also navigate to other organization-level pages like Projects, Organization Settings, Access Manager, Support, and Billing.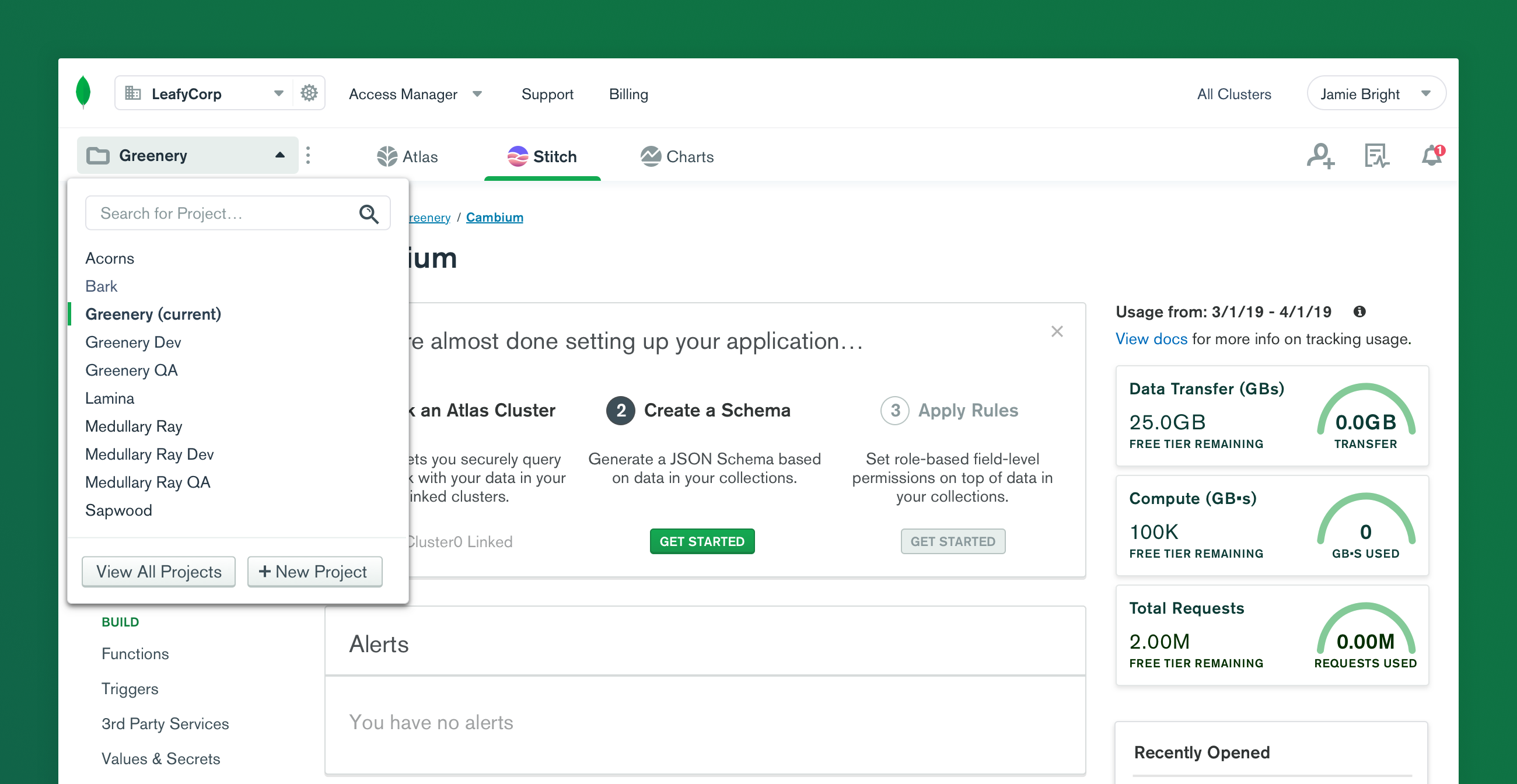 Next is the project-level navigation, where you'll find everything project related. Here, you can use the new product tabs to easily switch between MongoDB Atlas clusters, Stitch apps, and Charts dashboards within the same project, or use the project selector to switch contexts within the same product.
You'll also see three new icons on the right. These are shortcuts to invite a user to your current project, view your project activity feed, and view your project alerts.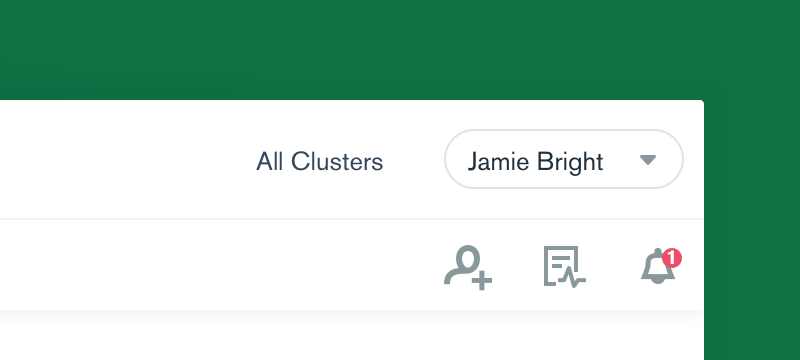 Finally, you can access account-related menus and links by clicking on your name in the top right corner. This includes settings like two-factor authentication, user preferences, organizations, and invitations, as well as shortcuts to other MongoDB products such as University, Support, and our feedback portal. You can also visit the MongoDB Account app by clicking "Manage your MongoDB Account".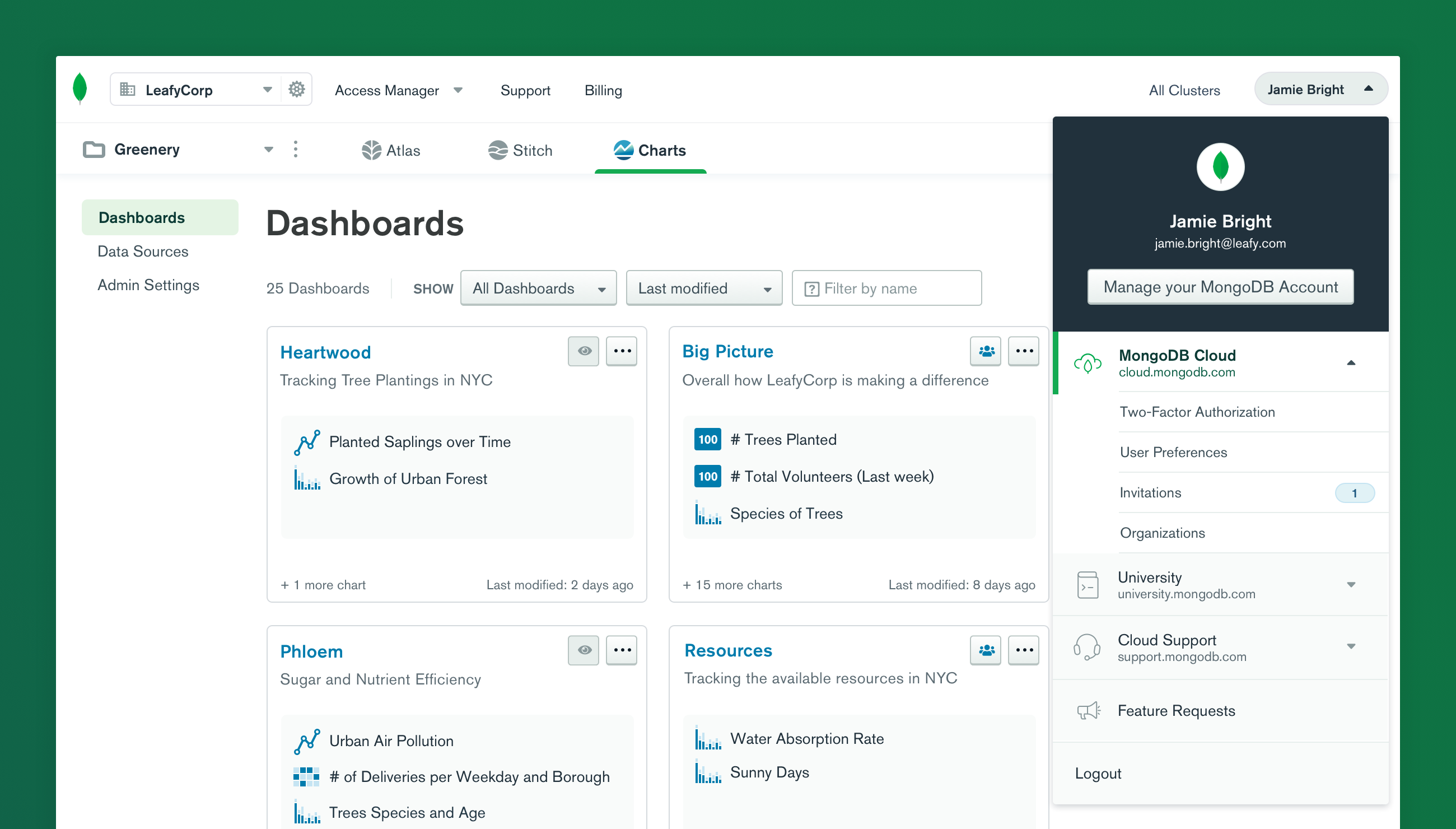 We made similar changes to the navigation of MongoDB Cloud Manager. To explore them, login to your account.
Continuing to improve the user experience
By reorganizing and refining the hierarchy and navigation of our Cloud products, we've made it easier to discover and use the tools, features, and sub-products within them.
We have more improvements planned for future releases, including a visual design overhaul and more unification of pages that exist at both the project and organizational levels. We are really excited about these projects and can't wait to test them with our customers to understand how we can make them even better.
Now, design is never done–and code is always changing. So if you have comments, suggestions, or ideas to further improve this new navigation and hierarchy please feel free to drop them in our MongoDB feedback portal.
If you'd like to learn more about the design and research process for this project, check out our product design case study.
Try MongoDB in the Cloud
Create a free account and launch a cluster in minutes!