Using MongoDB Skill Scanner to Build Better Training Programs
Technology leaders know that transformation is about more than just adopting modern technologies like MongoDB. The entire organization has to rally behind change — which is no easy task.
The skills that modern development teams need are evolving faster than ever, and hiring to fill skills gaps can be too time-consuming and expensive of a process for many organizations. So it's imperative that we plan for how we want to bring our people with us on our modernization journey, and proactively upskill them on the technologies we're betting on.
Because what happens if you choose MongoDB, but your developers don't know how to use it?
CIOs know that training programs are easier said than done. EY reported that 30% of CIOs acknowledge that their training programs are ineffective, and that they're struggling to retain talent because of it.
These leaders come to us to help them build and execute their MongoDB training programs, and seek advice on two extremely common yet critical challenges:
How do we get away from the less effective one-size-fits-all approach?

How do we measure the ROI of our training program and connect it to business impact?
How we use MongoDB Skill Scanner to overcome training challenges
Our Professional Services team uses a tool called MongoDB Skill Scanner to address both of these challenges. This tool helps us provide these three benefits to our customers looking to build a training program:
Improve MongoDB proficiency: Teams can use Skill Scanner to quickly and easily assess the MongoDB skill gaps of their team members and gain a comprehensive understanding of their team's MongoDB skills baseline.

Increased productivity and accuracy: When team members have a comprehensive understanding of MongoDB, they are able to work more quickly and accurately on projects, leading to increased productivity and a higher quality of work.

Save time and money with targeted Training: Using Skill Scanner, customers can avoid wasting time and money on trial-and-error learning. Instead, they can focus on improving their skills in a more targeted and efficient way with right-sized training plans.
By leveraging this data, our customers' engineers can engage in the right training at the right time, targeted for their job role and specific skill shortages. When a training program is built this way, engineers maximize their knowledge retention and minimize time away from their projects.
Skill Scanner includes three role-based assessments, one for developers, database administrators, and DevOps respectively. Through a series of multiple choice questions, Skill Scanner provides customers with a clear understanding of their level of expertise across a set of technical skills that are critical for success in their role.
After submitting the assessment, engineers will get results in each skill area outlining if they are beginner, intermediate, or advanced.

Why data-driven training programs matter
We've learned that it's not enough to just tell teams to go watch training videos or webinars on their own, or to place everyone in the same one-size-fits-all program. Skills gaps vary from team to team, and individual to individual.
The one-size-fits-all approach of some programs may not address individual learners' needs, wasting time and making it difficult for them to acquire new skills. By using Skill Scanner, we're able to interpret this data to help determine which training courses your team should take.
But we don't only capture this data before doing training; we use Skill Scanner again after training programs are completed to see where immediate improvements have been made. This helps technology leaders prove the impact and ROI of their training, and gives them the confidence that their teams are ready to be successful with MongoDB.
Developing a Precision Learning Program
To go even further, our team can work with you to build a Precision Learning Program, where we use Skill Scanner data to build learning schedules that are unique to each individual. These schedules include a variety of short, blended, learning events such as classes, technical workshops, self-paced exercises, and project coaching.
We've seen PLP lead to higher knowledge retention and of course, measurable project results. A customer who recently concluded their PLP saw a 43% increase in knowledge retention.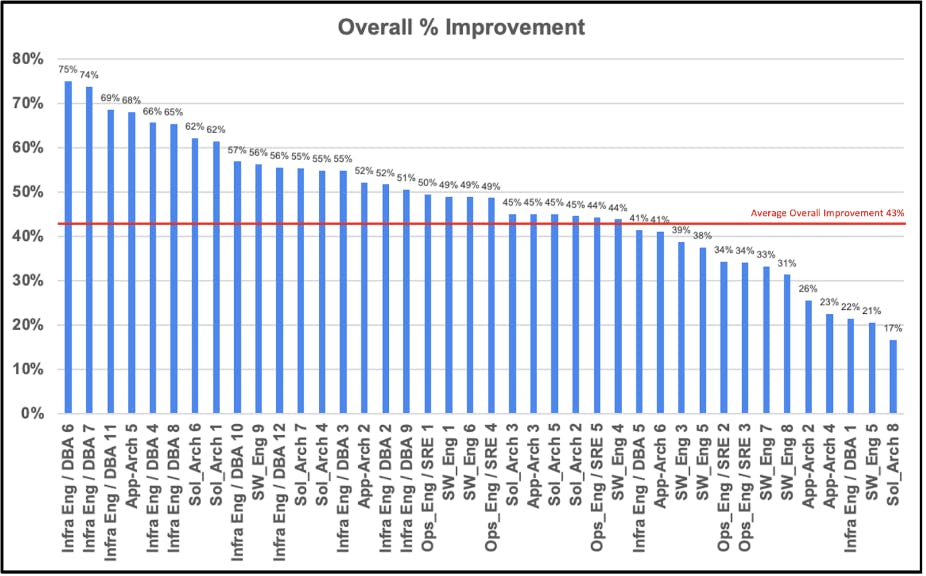 Getting started building a personalized training program
Skill gaps aren't a novel problem IT leaders are facing. But with new digital courses, training, and technologies, the resources to close these gaps are at your fingertips.
Skill Scanner and Precision Learning Program have been specifically designed to empower teams by offering targeted training that enhances their understanding of MongoDB. These short training events are carefully crafted to close skill gaps without compromising developer productivity.
We've seen a variety of customers use this tool to help train their team's individual needs, from needing to upskill new hires on their teams, projects with new MongoDB products, migrating to MongoDB Atlas, and more. It also saves your business the hours developers would've wasted searching for answers (and developers don't want to spend their time that way, either).
"We need help getting from point A to point B and feel MongoDB is uniquely positioned to help" — CTO at large insurance firm
If you're interested in trying out MongoDB Skill Scanner or want to explore the MongoDB Precision Learning Program further, you can reach out to your account representative or contact us directly.