Singapore to Nebraska to New York: My Experience As An Asian American Woman In Tech
In honor of Asian Pacific American Heritage Month, I sat down with Monica Lu to learn more about her family's history and how it has turned her into the strong role model she is today. Monica is a Senior Analyst, Sales Analytics on our Sales Operations team — take a look at her story.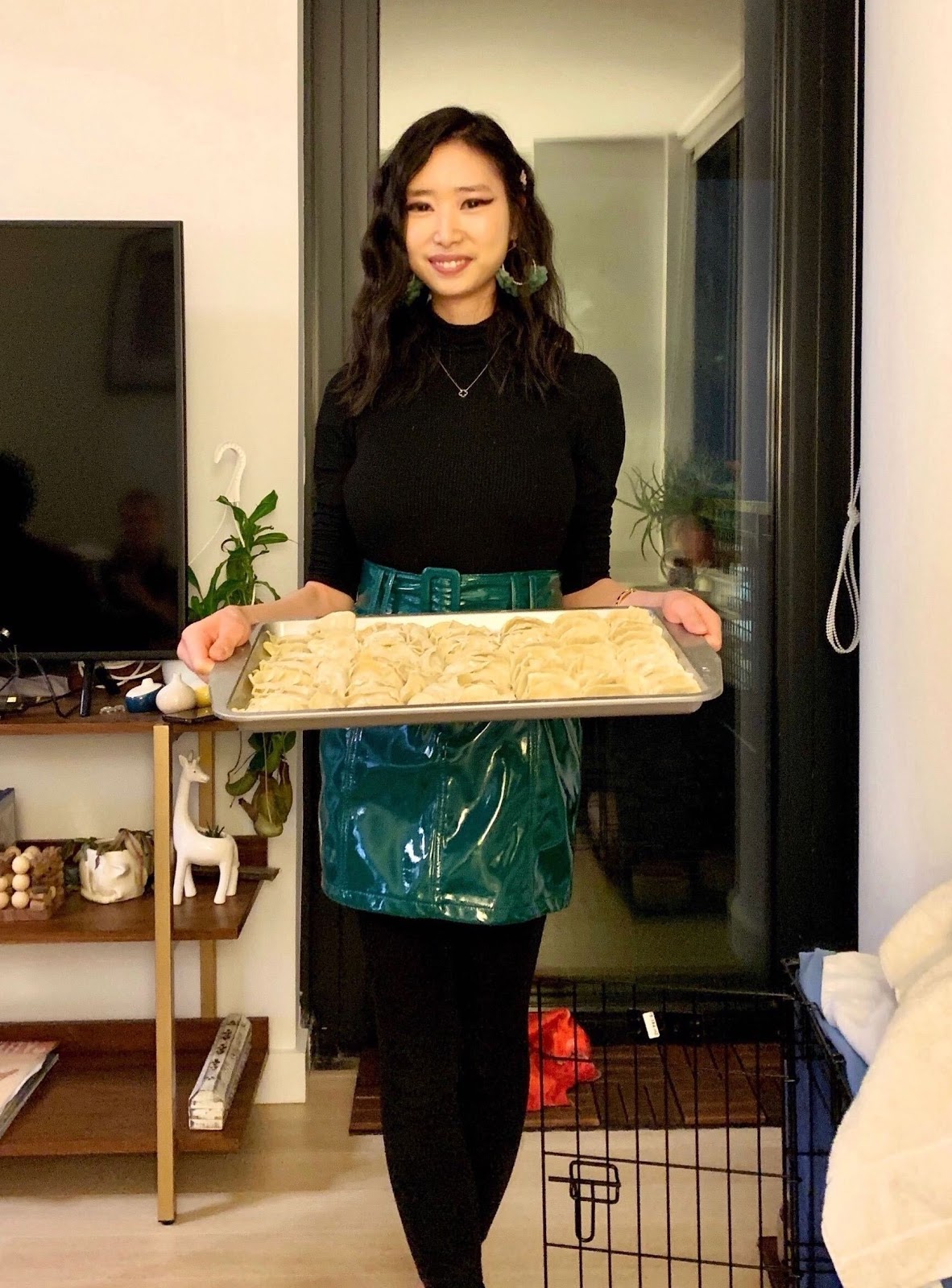 Jess Katz: Thank you so much for sitting down with me and sharing your family's story with us in honor of Asian Pacific American Heritage month. Can you start with telling me a bit about your parents?
Monica Lu: Absolutely! My parents met each other while they were studying in college in China. They always wanted to move overseas to see if there were more opportunities for them elsewhere. At first, they went to Japan where my dad attended graduate school and my mom worked in banking. Then, my dad got a job as a professor in Singapore, so they moved there and that's where I was born.
When I was 5 years old, we moved to the United States. Similar to many other immigrants' stories, my parents thought that America would be a more open and diverse culture than other countries, and they wanted my brother and I to grow up in a place with more opportunities. That's what led my dad to find a professor position in Nebraska, and they've lived there ever since.
JK: What did you learn from watching your parents adjust to life in the US?
ML: There are a lot of cultural differences they had to adapt to. Becoming completely fluent in English was something they needed to do and they did an amazing job, but it was harder for them than they had imagined it would be.
Also with our town in Nebraska being predominantly white — we had very little authentic Asian food in the area. A lot of Asian culture centers around food so not having traditional Chinese food readily available enabled us to come up with our own ways of celebrating holidays. For example, Chinese New Year is a huge deal in China but in Nebraska, we didn't have a large Asian community, so we learned to celebrate by creating our own fusion food. Sometimes we'd make burritos with vermicelli noodles (like giant spring rolls), and get creative with other dishes. Being able to bring both cultures into our house was pretty cool!
JK: What was the experience like for you as a 5-year-old girl who immigrated from Singapore, and what was it like growing up in Nebraska?
ML: Growing up in Singapore, I learned both Chinese and English in school, which definitely helped with my adjustment to living in the US. I remember feeling extremely excited to move. I wasn't nervous, and luckily, I didn't have a difficult time adjusting. The kids in school were mostly nice to me — I think they liked me because I was different, since I was only one of two Asians in my entire school.
I did at times get made fun of by kids about my facial features. They would say things like "Your eyes are so small" and "Your nose is so flat." At the time, that was really hurtful because even though I've learned to love my culture and where I come from, I still felt insecure about being different.
JK: What have you done in your life to challenge racial stereotypes against Asian Americans?
ML: Because Asians are seen as a "model minority," we don't face as much overt racism as other races might face — but I've always tried to break down existing stigmas around Asians being shy, quiet, or subservient. These stigmas have been barriers for many Asian Americans when it comes to taking on leadership roles, in politics and in business.
I'm always striving to break down barriers. I grew up being pretty introverted, but I am confident in myself today because of programs and organizations that helped me break out of my shell, like becoming president of my high school's chapter of Future Business Leaders of America and being a leader at Princeton University's Chinese Student Association.
I was able to channel what made me insecure about myself when I was younger and push myself to be in more public-facing roles so that I wouldn't let stereotypes define me. I want other Asian women growing up in America to have role models who look like them, who show them that Asian women can be both successful and outspoken.
My parents were amazing role models for me in that way. They are both very strong and outspoken despite having language and cultural barriers. My dad is a leader in the Electrical Engineering field, and has won multiple awards for his research and teaching, despite English not being his native language. Whenever my mom is faced with any racism, pushback, or criticism, she always stands up for herself, and encourages me to do the same. My parents have never let anyone put them down for being different, and having them as role models has inspired a lot of my own confidence.
JK: Has COVID-19 impacted you and your community?
ML: Luckily, I haven't faced any direct racism during the COVID-19 pandemic, but I think that many Asian Americans have been mentally affected by it. For example, I was hesitant to wear face masks when COVID-19 first started spreading in the US because of the stories I've heard of some Asians being attacked in the streets since many falsely blamed Asians for the COVID-19 outbreak. I feel disappointed in the amount of discrimination and abuse Asians have faced during this pandemic.
JK: Do you have a different connection to your Chinese heritage as an adult than you did when you were a child?
ML: Yes, definitely. Connecting to my parents' past and culture has become increasingly important to me, especially as I've gotten older.
When I was younger, I wanted to be as American as possible to fit in with the other kids at school. I never spoke Chinese to my parents in front of my friends, or brought Chinese food to school. I think a lot of second generation immigrants feel the need to suppress their culture to fit in with everybody else.
As I've grown up, I've really been able to appreciate what makes me different and where I come from. My mom just mentioned to me the other day that I was never interested in cooking Chinese food with her growing up, but now whenever I come home, it's what I look forward to the most. Being able to speak Chinese has become so important to me too. A lot of our history is tied to the language so I'm proud to be able to read and write in Chinese, which is a complete 180 from when I was little and felt embarrassed when my parents spoke Chinese to me because I didn't want to be different.
When I was younger, I felt ashamed of being Asian because I wanted to fit in, but when I went to college, because there was a larger Asian community, I would get comments like, "You're so white" because of the things I ate, or how I spoke, and I became ashamed of how Americanized I was. I've been accused of being both "too Asian" and "not Asian enough." As I've gotten older, I've been able to reconcile my two cultures and am very proud of both. I love the culture and my community here, and I also love my Chinese heritage and where I come from.
JK: I would love to learn more about your career growth at MongoDB and the work you do on our Sales Operations team.
ML: I've been at MongoDB for a little over 2 years. I am on the Sales Analytics team within our Sales Operations department. We provide metrics and analytics to our Sales teams in order to make them as successful as possible. The metrics we provide help Sales VPs and Regional Directors make decisions on hiring, growth, and areas of improvement. My favorite part of my role is working on high level analyses that inform business insights or launching new tools that can make both MongoDB and the Sales team more scalable and successful.
I've grown a lot both personally and professionally. I'm grateful to have leaders like my manager, James Underhill, and my VP, Meghan Gill to look up to. As I've grown in my role, I've learned how to leverage different types of metrics to help define what success in sales looks like. I also learned a lot about tooling and how to build analytical dashboards that make accessing metrics a better experience for both sales reps and leaders. I enjoy interpreting the insights from our analytics to help leaders make decisions that drive towards our company goals. It's really cool for me to be able to look at all of these numbers and build a story around them.
Growing up, I was never in a position where I saw a lot of Asian leaders in the media or around me in business so I'm grateful to be in this role at MongoDB where I can be a leader and make an impact. As I grow in the role, I hope I can be a role model to other young Asian American women and show them that it is possible to be in a leadership position and be confident in who you are. I feel that I've been able to display that at MongoDB and that's why I'm so passionate about both my role and the culture here.
JK: What has been your biggest career highlight so far?
ML: I love that the work I do has a huge impact on the overall business and helps our sales teams scale and succeed. For example, my team and I work with sales leaders to help define KPIs that show what "great" looks like on their teams. We built automated "Metrics for Success" dashboards that include leading indicators, which enable managers to help their reps reach their ultimate goals.
I've also had the opportunity to become a teacher and help others inside the company. I lead training sessions on how to automate your job by leveraging Excel/Google Sheets. It's a really powerful tool you can use to help you measure the work you do and showcase its impact. What has been cool for me to see is that these sessions are relevant across all departments, whether someone is in HR, or Sales, I'm able to help employees advance their skillset.