Rockets, Rock 'n' Roll, and Relational Databases — a Look Back at the Year of RDBMS
When you reach a certain age, you'd rather not be reminded of how old you are on your birthday. At 52 years old this summer, the relational database management system (RDBMS) has reached that point. But also at 52, it's close to that other stage in life, the one in which you no longer care what others say about you. We're talking things like:
"It's overly rigid and doesn't adapt to change very well."

"Queries aren't fast enough to support my application's needs."

"They're prone to contention."
Happy 52nd birthday, RDBMS
Let's put things in perspective. The relational database was invented as close to World War I as it was to 2022. In fact, most developers using relational databases today weren't even born when Edgar F. Codd, an English computer scientist working for IBM, published his paper "A Relational Model of Data for Large Shared Data Banks" in June 1970.
At a time when computer calculations cost hundreds of dollars, Codd's radical model offered a highly efficient method for expressing queries and extracting information. Once Codd's relational model was implemented, it allowed unprecedented flexibility to work with data sets in new ways. His innovation laid a foundation for database theory that would dominate the next 40 years, culminating in today's multi-billion-dollar database market.
As a service to the developer community — and to commemorate 52 years as the workhorse database — we present other events in 1970, the year the relational database was born.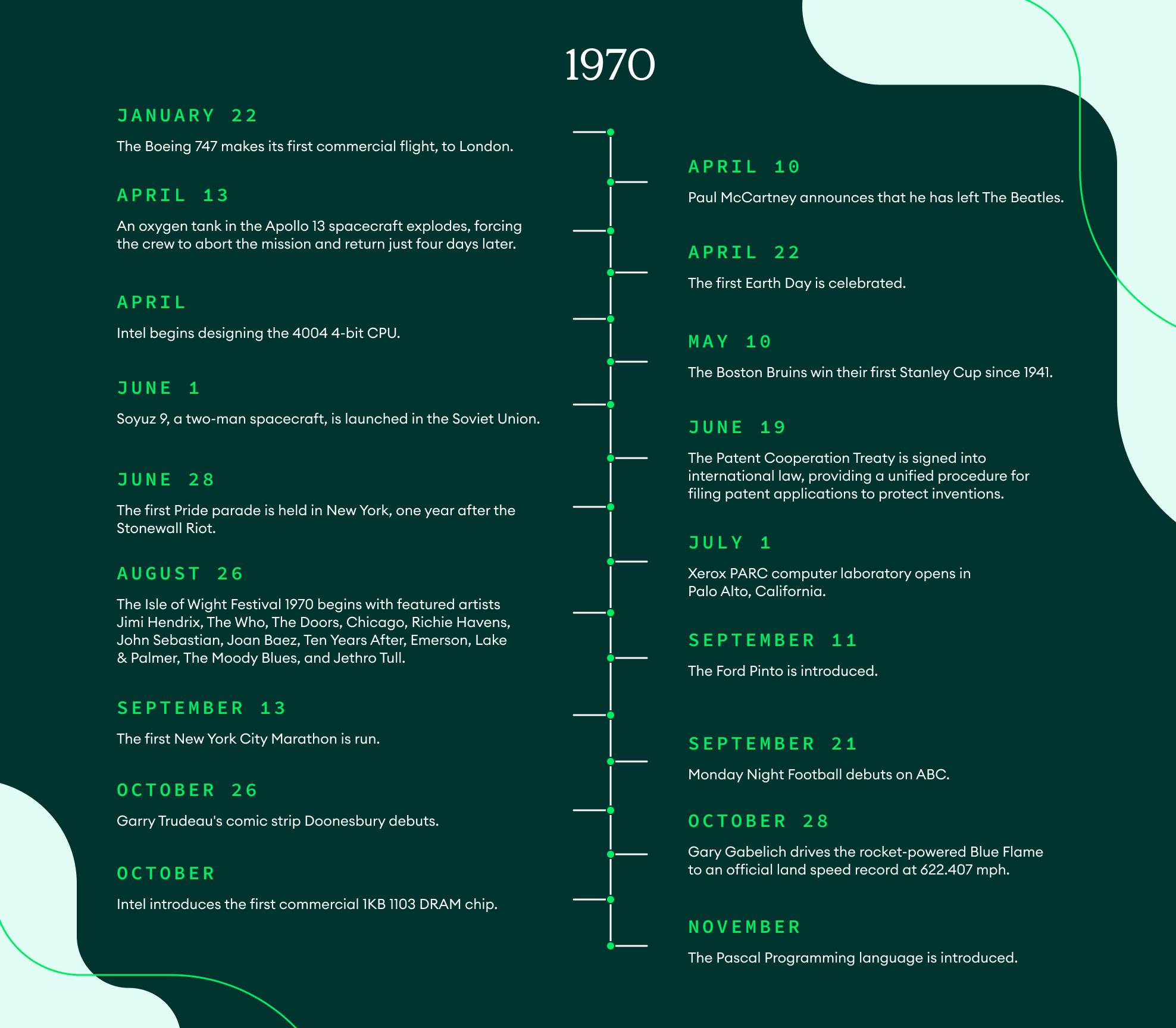 Turning over a new leaf
Relational databases were a huge leap forward when they were first conceived. Although there are many use cases that are still a good fit for relational databases, modern apps consist of smaller, modular microservices, each with unique query patterns, data modeling requirements, and scale requirements.
Being able to model data according to the exact query patterns of an app is a huge benefit, which is where MongoDB Atlas comes in. MongoDB Atlas stores data in documents using a binary form of JavaScript Object Notation (JSON). Documents provide an intuitive and natural way to model data that is closely aligned with the objects developers work with in code. Rather than spreading out a record across multiple columns and tables, each record is stored in a single, hierarchical document. This model accelerates developer productivity, simplifies data access, and, in many cases, eliminates the need for expensive join operations and complex abstraction layers.