Powered by MongoDB, Bliinx is Changing the Way Software is Sold
Regardless of the industry, sales organizations often struggle to determine the best way to identify potential customers.
There are many schools of thought as to what the best approach is, and when the most opportune time a sales executive should reach out might be. One startup company aims to make that process as simple and efficient as possible.
Bliinx, based in Montreal, Quebec, Canada, was created to help revenue teams focus and act on the most qualified leads and accounts based on product usage, billing, firmographic and marketing engagement data. Bliinx's mission is to "change the way we sell software."
We spoke with Bliinx co-founders Fred Melanson and John Espinoza about starting the company, their journey, and where they see Bliinx headed in the future.

How did you decide to start Bliinx?
Melanson: I realized that it's hard to build quality relationships with a lot of people, especially people that you're trying to get investments from. I would ask people a lot of questions, and those were around relationship building and the question became how do you manage your clients relationships? Everyone would answer that they do everything manually, across siloed channels, and it's a pain to manage and scale. So I figured there must be something there, that was really the spark that we created Bliinx on.
What does Bliinx do?
Melanson: We are a lead prioritization platform for bottom-up B2B SaaS, so we help sales teams - mainly account executives - to know who the best leads are at the best accounts to reach out to, and also to identify when it's the best time to reach out to them. And the way we do that is by finding signals and insights in their sales conversations, their marketing engagement, and product usage. Our tool will plug into your system and find insights that are worth engaging on and scoring your talents and your leads, so the sales reps are focused on the best customers at the best time, without having to use generic one size fits all automation, which can be great for top of funnel SDRs, but for CSMs, who are really about nurturing, closing, and expanding revenue, it has to be more thoughtful and and more human because it's getting harder and harder to get people's attention and retention is immensely valuable for SaaS companies, so our tool helps us just find the best people at the best time to grow revenue faster.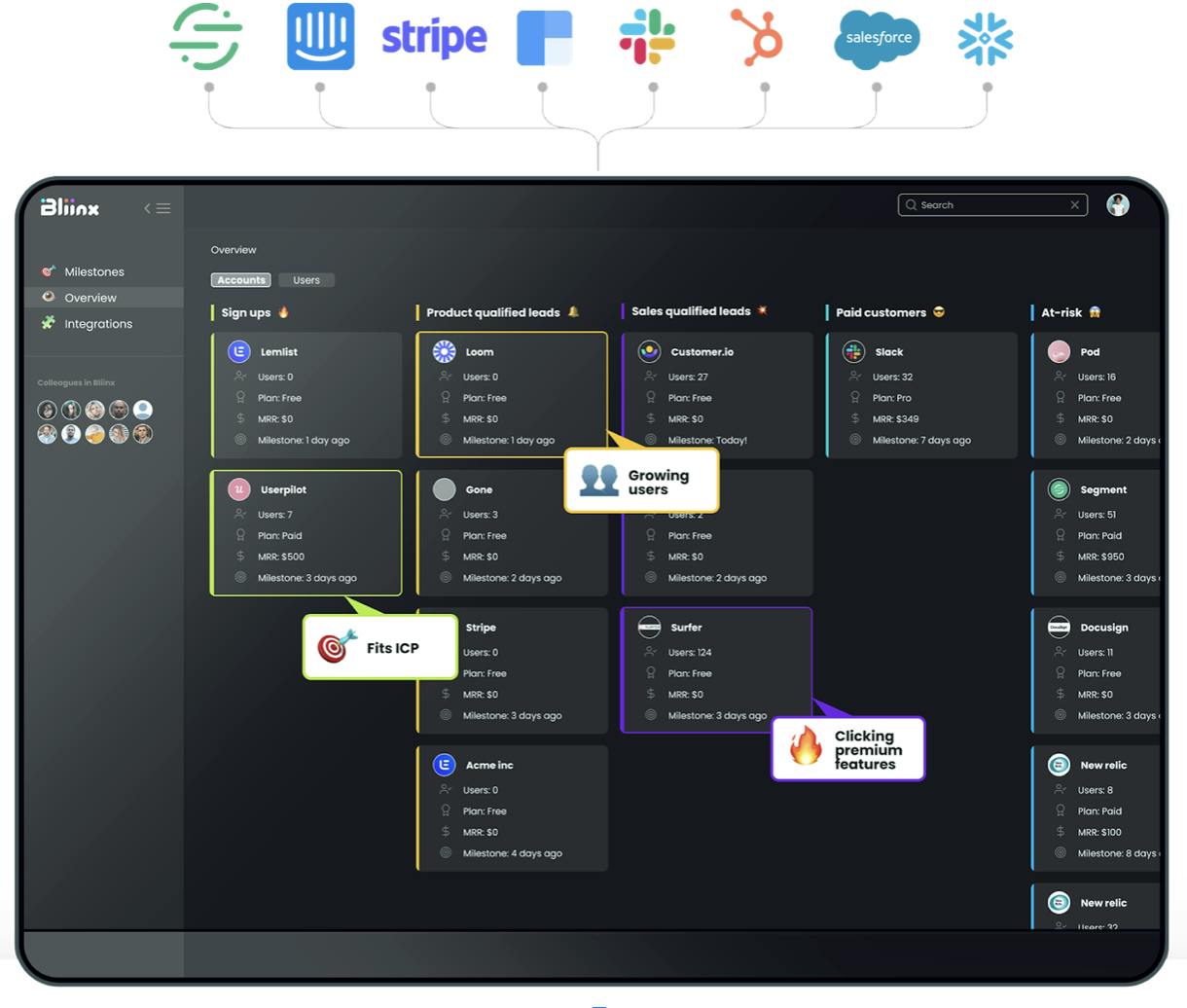 What are some tools that Bliinx connects with?
Melanson: The basic one will plug into your email and calendar, we also have LinkedIn integration, which is pretty unique to sync your LinkedIn messages and plug into your CRM. It also connects with Slack to receive notifications and right now we are building integrations with Segment, Intercom, Stripe, and Snowflake, so reps can have product insights. We are also building new integrations for LinkedIn and Twitter so that reps can also have content marketing engagement insights to act on.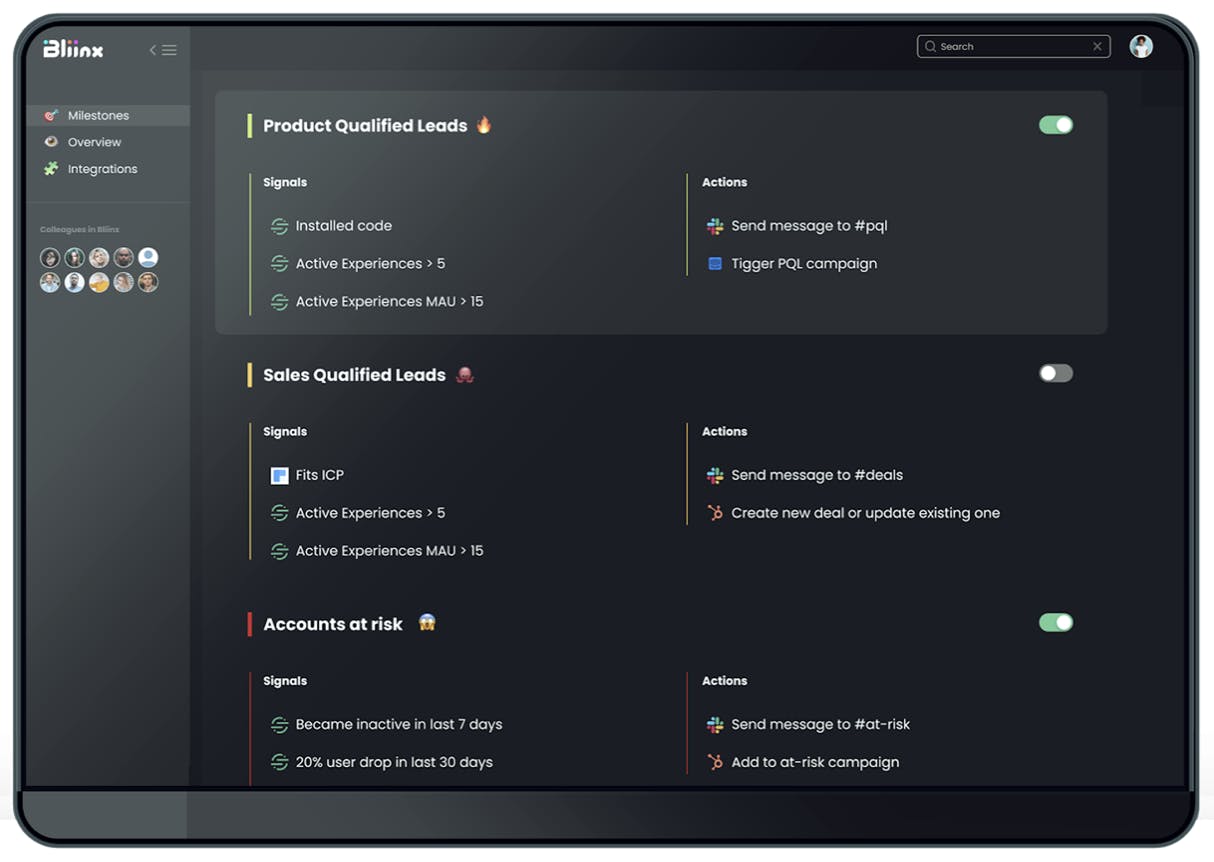 Where are you right now with Bliinx? How has the journey been, have you gone through accelerators and are you funded by VC's?
Melanson: I started working on the project about a year-and-a-half, two years ago, it was really an idea out of college. So after a lot of learning, we raised an angel round really quickly, and a couple of months later we got accepted to 500 Startups. From there we raised a pre seed round and we've been iterating on the product, trying to really find our positioning, and find the people that have the problem, and figure out what's the best version of the problem that we can solve.
How did getting accepted into 500 Startups shape Bliinx?
Melanson: It's a game changer. I don't think we would have been here today if it wasn't for 500 Startups. It was an amazing experience, you're surrounded by so many smart people, and have such an expertise that you don't normally have access to. You get what you take out of it, so I pushed it to the max, every time there was office hours, I would take it, every time there was an investor meeting open, I would take it. I would really, really push and it got us to great results, and it's through 500 Startups that I've met our lead investor.
Can you tell us about your tech stack?
Espinoza: I want to keep it simple, this is the main rule of the company. We've built our system with microservices, use NodeJS and NoSQL for our back-end and have built a robust back-end infrastructure to build our proprietary engines for data orchestration. The rest of our platform is built on typescript and we use MongoDB to manage our databases.
How did you decide to go with MongoDB?
Espinoza: My first startup, we used MongoDB, and had a great experience. We use MongoDB, and I really love it. We don't have to care about backups, or anything to do with the infrastructure. It's plug and play, so what's amazing for us is I come from the background where you have to build everything. So going with the NoSQL database is fantastic because you don't have to maintain all the schema, which can be really messy. Like I said, we try to keep it simple.
What excites you now about working with Bliinx?
Melanson: With the rise of companies that are product-led or marketing-led, and the fact that people are working remotely, sales is changing, and I think it's for the better. Tools on the market need to adjust, yes people want to try it out before they buy it, but they don't want to go through a sales rep, they still want to meaningfully connect with people in sales. And sales reps are a big part of that journey, it's just that you don't reach out cold to sell, you have them try it, and then you're more of a consultant, or the hand holder through that way. So it excites me about figuring out a way for people to build meaningful connections in business, with us being so remote.
Espinoza: Everything that we build in here is new for me, and that's what excites me. Working with a lot of data coming from everywhere, and building something valuable for you, let's do something valuable with a lot of data. This is the magic box that we build in our building, this is a great opportunity.
What advice would you give to someone starting up their own company?
Melanson: 99% of people just don't start, so my main advice is to just start. That's really what the hurdle is, that's the toughest part, people think it's recruiting a technical co-founder, or raising money is the toughest part, but it's starting. You can go so far validating your idea, without having a single line of code.
Espinoza: Don't start with titles. In the beginning, you're just people with a project. The other is to go talk to people who are doing the same thing. Finding other people to bounce ideas off of, just to validate ideas, that is something that has helped me a lot.
Interested in learning more about MongoDB for Startups? Learn more about us here.