Pods, Planning and a Special Offer: MongoDB World Countdown T-4
Four weeks to go before MongoDB World opens its doors to the MongoDB universe of developers, architects, operators, data scientists, and anyone who works with documents - data in its most natural form. This week, we're having a look at the Builder's Fest, how you can plan your schedule now, and a very special offer on conference passes.
Pod Racing
We're announcing more details of the third day of MongoDB World, our very first Builder's Fest. This constructive, interactive experience will be made up of multiple pods where you can race around one of the many MongoDB related themes.
You'll be able to move from pod to pod and enjoy the chance to build better data models, work with a MongoDB Stitch powered Rover, find out how to get the most out of MongoDB University or compare notes with MongoDB users who use the same platform as you. Then you could find out how to secure your applications and MongoDB better, discover the power of Stitch, expose some data insights with Charts and find out how to work with the community. Or you could meet the new part of the MongoDB family, the Realm Mobile team, then swing by the hardware pod to talk about MongoDB on the biggest and smallest hardware.
There's so much to do. We've got the pod theme list here:
Community: Build in an open community & participate to code for good.
Birds of a Feather: Build your flock with platform-themed un-conferencing.
Realm Mobile: Build better apps faster.
Hardware: Build small, build big - this is all about hacking hardware.
Schema Design Patterns: Build your data foundations with techniques for modeling your data & documents.
Startup Accelerator: Build from local to global, see how the accelerator helps builders scale.
MongoDB Stitch Planetary Rover: Build, program & drive.
MongoDB University: Build to learn & learn to build at the MongoDB University Pod.
Security: Build the locks & learn their strengths & weaknesses.
MongoDB Charts and Compass: Build your deep data exploration plans with tables & charts.
MongoDB Atlas: Build to deploy & deploy anywhere.
MongoDB Stitch: Build serverless applications.
Games: Capture the flag, code in the dark, code as fast as you can - flex your skills in games and challenges.
There'll also be hands-on workshops in the Women and Trans Coders Lounge and replays of the most popular talks from the previous two days. Will you be able to race through all the pods? That all depends on your planning, and talking about planning…
Session Scheduling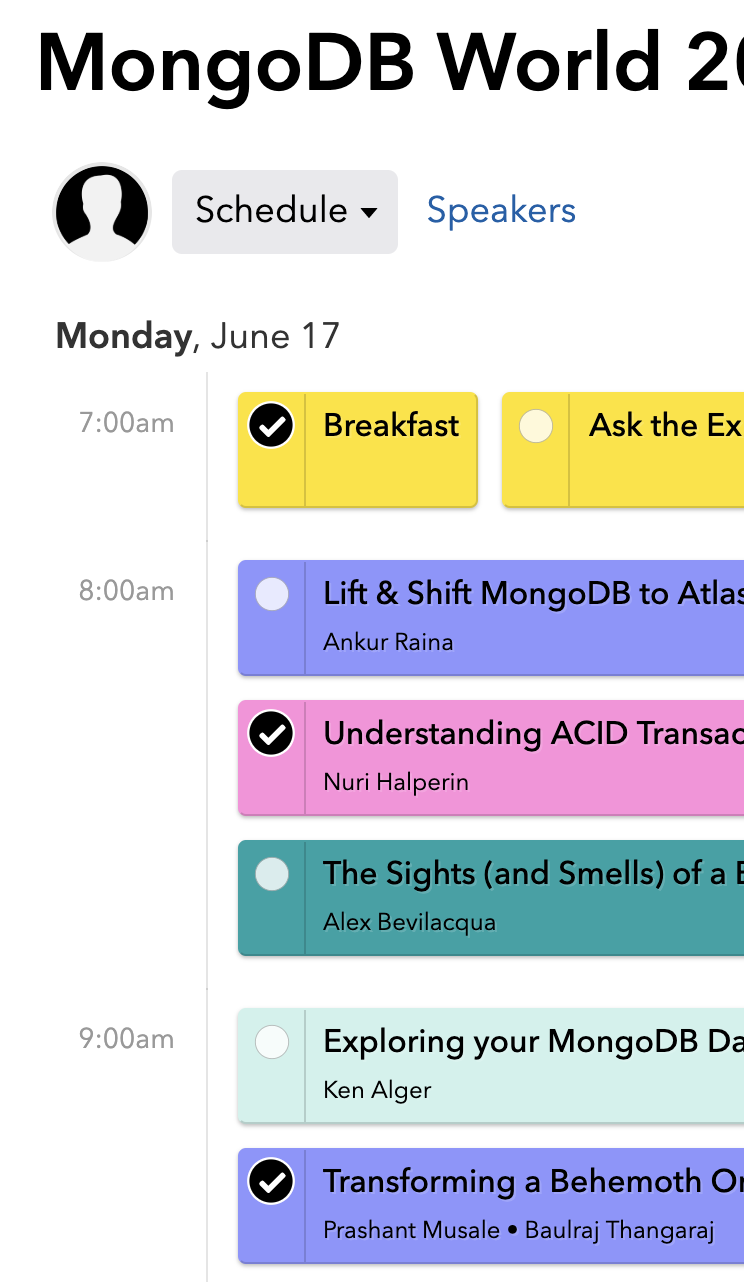 Our sessions are now laid out with exact times on https://mongodbworld2019.sched.com/ so you can start your precision planning of your days at MongoDB World. If you sign up on the site, you can save all your choices and it is as simple as checking off the talks. You can then sync it to mobile apps and calendars, just export it or, go old school and print it out. Whichever way you choose, just make sure you are coming along.
BUILDer's Flash Sale
If you haven't booked your pass for MongoDB World 2019 yet, then this is your best chance for the best deal. To welcome our day 3 Builder's Fest, we have a special discount code — BUILD — which if used by Friday, May 24th, will snag you a $149 pass into the MongoDB event of the year.
That's it for this week's MongoDB World Countdown. Have fun planning your time at MongoDB World 2019.