New Online Archive with Performance Improvements and Enhanced Metrics
We are excited to announce several new features coming to Atlas Online Archive. With these improvements, customers will observe higher performance, be able to choose which region hosts their archival data, and have greater insight into the data stored in the archive through improved metrics.
New storage engine
We have optimized Online Archive through the introduction of a new storage engine that captures metadata during archival to power faster query performance. The new underlying storage service minimizes the overall data scan when querying the Online Archive. Additionally, the new storage engine delivers additional benefits in the form of storage optimizations like sorting as well as ongoing rebalancing to deliver consistent performance over time.
With this feature, you will experience faster Online Archive querying performance while your overall costs are decreased when querying against the archives.
Ability to choose a storage region
With the new Online Archives, the users will be able to select the storage region at the time of creating an Online Archive. There will be a feature to choose one of the supported Data Federation regions from the dropdown during the creation process. In addition, we display the closest region so the users can make an informed decision about their storage region.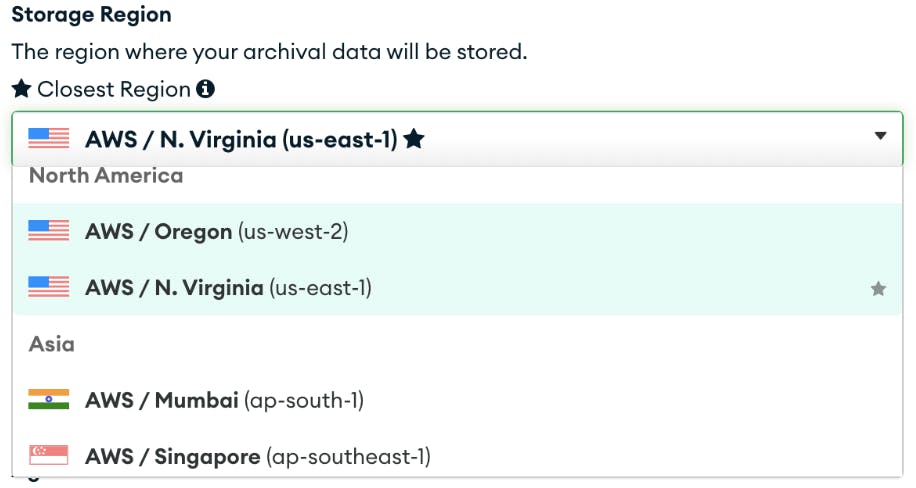 Enhanced metrics
With these new enhanced and improved metrics, we are helping customers better understand what data is in their archive such that they can connect to the appropriate endpoint for their use case and have insight into the performance of archival jobs. With these enhanced metrics, users can see a dashboard including the total # of documents in the archive and overall Archive data size (with a tooltip to explain metrics), what rate are archival jobs archiving, Min/Max Date Fields in the archive, and other statistics that are helpful and important for the users to increase the visibility of the archives.

Newly created archives
Note that only the newly created Online Archives on or after 06/07/2023 will see the performance improvements and enhancements initially. All existing archives created before 06/07/2023 will continue to function as-is (without the new improvements and enhanced metrics). Over the coming year, we will migrate all existing archives created before 06/07/2023 to the new backend storage service.