Network, Build, and Learn at MongoDB.local Events — Now Free to Attend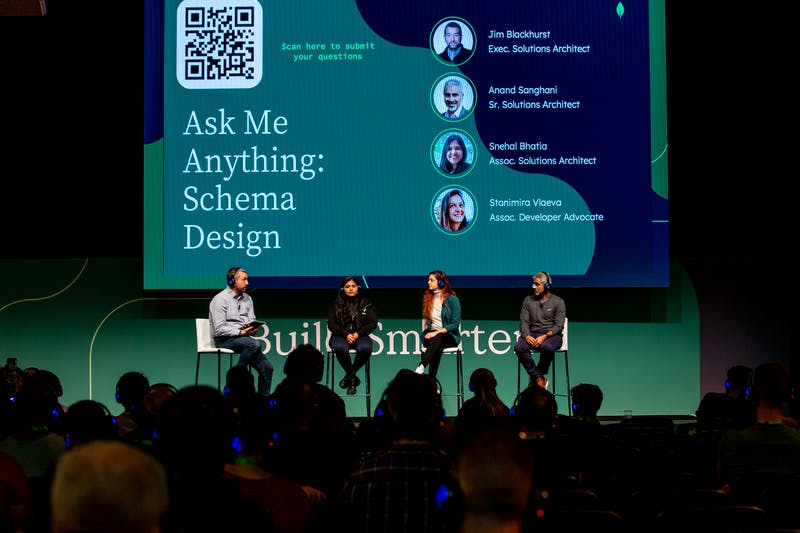 Every year, MongoDB hosts popular MongoDB.local events in major cities around the world. Packed with workshops, talks, and keynotes, these one-day, in-person gatherings bring together engineers, entrepreneurs, and executives from the surrounding area.
This year, for the first time, admission to MongoDB.local events is free. (Note that admission is granted on a first-come, first-served basis, limited only by seating capacity.)
Five upcoming events
Five MongoDB.local events are scheduled for the remainder of 2022, and you can register for the .local event near you through the links below or through the MongoDB.local hub page.
From sessions on the future of serverless to demos of next-generation technology, here's what to expect at a MongoDB.local event near you.
Learn from the experts
Whether you attend keynote presentations or participate in customer discussions, you can tap into a wealth of knowledge from people and organizations that are thoroughly familiar with today's technology landscape. You'll learn from MongoDB experts, who will share hard-earned knowledge, practical solutions, and technical insight based on firsthand experience with common issues.
You can also attend talks from MongoDB customers, which are generally centered around a specific use case and solution — a sort of shared retrospective for the public. At .local Frankfurt, for example, an engineer from Bosch will discuss the company's evolution from individual documents to time series data in an IoT environment.
All MongoDB.locals include sessions for a wide array of skill levels and specialities, such as a deep dive into the new Queryable Encryption feature or an introduction to building a basic application using Atlas Device Sync and React. These workshops offer practical, actionable advice that you can implement immediately upon returning to your office.
Expand your professional network
MongoDB.local events also offer many opportunities to expand your personal and professional network. In particular, these gatherings are a great way to connect with members of your local MongoDB User Group, who are likely working with the same technologies (or facing similar challenges) that you are.
Whether you're searching for a new job or business opportunity, looking for tips and techniques to implement in your own environment, or just browsing for inspiration, you'll likely find what you seek at MongoDB.local.
Explore the latest products
Product booths are another highlight of MongoDB.local events. Staffed by MongoDB product teams, these booths are where you can pick up limited edition stickers, discuss the latest developments with expert engineers, and see new MongoDB features in action.
Every event also features booths where third-party partners, vendors, and allies demonstrate cutting-edge technology, show how their platforms and services work in tandem with MongoDB, and answer any questions you may have.
Stop by these booths to explore the next big thing in data, see how MongoDB can provide new solutions for pressing problems, and come away with helpful, personalized advice for your own challenges.
Enjoy a one-of-a-kind experience
From Frankfurt's Klassikstadt to London's Tobacco Dock, MongoDB.locals are held at unique, memorable venues. Step inside refurbished historical sites, such as a former factory turned automobile museum or a shipping wharf converted into a top-tier event space.
In addition to a full day of talks and tutorials, attendees can enjoy breakfast, lunch, snacks, and drinks served at MongoDB.locals. Join us for a day packed with learning and networking opportunities in a venue near you.